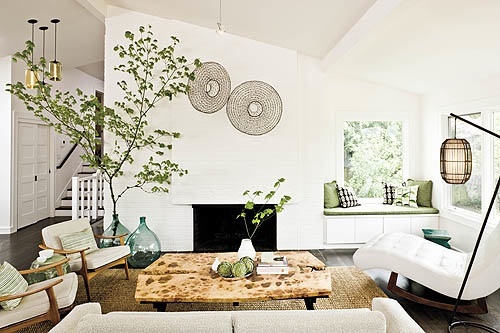 Photography by Lincoln Barbour
Grace Bonney was fresh-out-of-college in a ho-hum public relations job with dreams of a career writing for shelter magazines.  She couldn't figure out how to get her foot in the door so she launched a blog in 2005 called Design*Sponge.
"I started writing to warm up my voice," she says, figuring the blog could also serve as her "online portfolio."
It worked.  Her blog led to a fulltime position as web editor of House and Garden. Until it folded.  She took the same position at Domino magazine. It too folded. She went to Craft Magazine next but when it too went under, she decided that relying on others for employment wasn't such a hot idea so threw all her effort into Design*Sponge.
While traditional shelter magazines featured professionally decorated homes and unattainably expensive décor, Bonney wrote and photographed the way creative people in her Brooklyn neighborhood lived.
Design*Sponge isn't about flawless floor plans or the latest luxury products. It features imaginative, lived-in, spaces, not austere museums. It shares fresh ideas about reworking and repurposing cast-offs, and features cool DIY projects that don't require art degrees to tackle. 
Design Sponge grew organically to develop a global following of like-minded people, and its 250,000 page hits per day make it the most popular design site on the Web. And now there's the book, Design*Sponge at Home from Artisan publishing, $35, 400 pages, illustrated.  It's divided into sections so that readers can flip through for inspiration or get step-by-step instructions for specific projects. It offers sneak peeks into stylish homes, before and after pictures, DIY projects, and the basics of flower arrangements. A few Oregon homes are featured in the book, including the one pictured above.
Bonney talked about the blog, the book and upcoming events in Portland. Here's an edited version of the conversation.
Why a traditional print book after so much success online?
Everyone wonders that. And, at first, I wasn't sure anyone would want a book. I wondered what's the point? Who's going to pay when they've been getting the information for free online?  . . . It's good to have both. People still crave that tactile experience that comes with a book, newspaper and magazine, and niche or specialized publishing. They like flipping through a book.
I felt like all the design books out there  . . . just show pretty homes and don't tell you how to do it. Or it is very workshop oriented, spiral bound. and not very pretty.
Your average reader expects so much more. It's not enough to give someone a pretty home. They want to know how to do it.  We had to think about how can we educate the reader  . . . so have sidebars on design history, DIY projects.  There's a house in the book where they made their own wallpaper and we thought that was such a great idea. So we researched companies that make wallpaper where you can design your own and produce your own  . .  like Wallpapermaker.com and Adamprints.com and include that kind of information.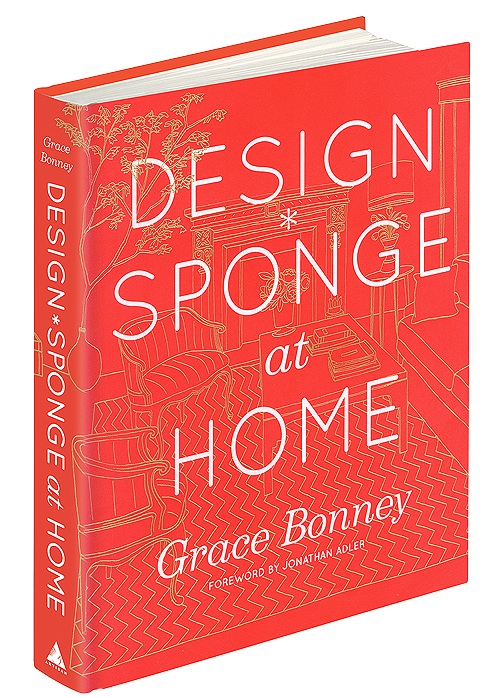 The book features homes around the world including Portland, and it's not really obvious that one is European, South African, Australian or North American. Is the idea of regional design irrelevant now?
For a while I really thought that designers in Stockholm were inspiring New York, and then realized you have to look deeper to see what is truly local to that community. (And how a global trend is interpreted locally.)
There are people who choose to embrace those that are doing things as locally as possible –it's almost in an overkill sense at this point in some places. The hyper local movement crosses all mediums – food, fashion, music, crafts, home.  It's especially strong in Portland, but that desire to keep it local is happening everywhere, and what that means;  considering the point of origin, how things were made, where they come from.
You live in Brooklyn but have tweeted a lot from Portland this summer and and about how much you like it here. What's the connection?
I spent all of July in Portland. . . It was a chance to break out . . . and work on a summer project, a summer-themed Design*Sponge Summer Newspaper. I used to work a record label and manage a street team. I put the word out on twitter and within an hour we had an army of about 40 people in cities all over the country . . . who delivered the free paper to coffee places, design stores, book stores.  It had one lone ad. It was a labor of love, and sort of a test for us. Projects are creative. If it works and if it's fun, we'll figure out how to make it sustainable after that.
At this point, I think the Brooklyn/Portland connection is overly documented  — there was that big piece in the New York Observer  — about our shared interests in artists and communities. There are similarities. But New York is much faster paced and has a higher sense, an almost unattainable sense, of what it means to be successful. It's not enough to have a successful business in New York, you have to have a business featured in the New York Times and sell millions and millions.
In Portland, if you are your own boss and can make that work, then you don't necessarily have to kill yourself to be bigger and better and make more money. If you can sustain a business and make a living, that's good. This summer in Portland was an important reminder that life isn't all about work.
Grace Bonney will be in Portland again this month.
Design*Sponge at Home Party
When: 6:30-8 PM, Monday, September 26
Where: West Elm, 1201 NW Couch St, Portland, OR, 503-224-4480
Vivian McInerny; [email protected]; 503-445-8820