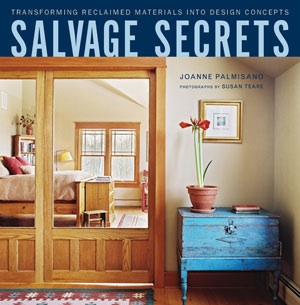 Joanne Palmisano is hunting down the old and ailing with intention to resuscitate.
"See that," she says making a beeline through the aisles of the Goodwill superstore in Southeast Portland to a rickety chest of drawers. "I would paint that!"
She would also replace the shabby pulls. If it were missing drawers, she could put in shelves. If the top had a peeling veneer, she might remove and replace it with floral wallpaper.
The author of Salvage Secrets book, blog, and soon-to-be-released TV series on the DIY Network, delights in giving creative transfusions to castoffs.
Based in Vermont, Palmisano is a frequent visitor to Portland where her identical twin sister lives. She loves talking trash-to-treasure and has a creative eye for repurposing old items.
"I've been doing this since  . . . before I can remember," she says. "My parents used to joke that they could always find me in the junk room trying to build something."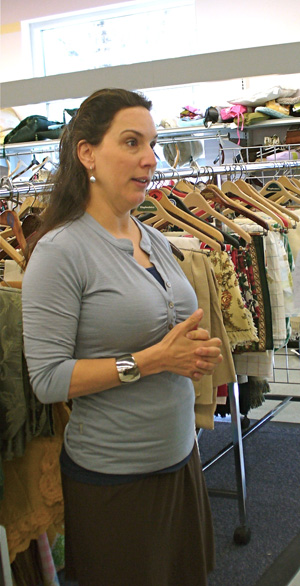 Walking through the 16, 490-square-foot Goodwill store, Palmisano found inspiration for projects. 
• She scores a framed, floral, needlepoint piece. "Someone has spent an amazing amount of time on this," she says. People aren't interested in displaying framed needlepoint pieces these days, she says, so she frequently finds them in thrift shops and turns them into one-of-a-kind throw pillows and "redonates" the frames.  Or she might hot glue or nail together two or three frames of varying sizes to create one impressive frame for a favorite piece of art.
• She finds inspiration in a dated acrylic blanket with a huge pink flower in the middle. She would cut  around stains or tears  to make bench cushion covers, she says, putting the flower pattern off center for interest. She often buys stained vintage table cloths and chenille bedspreads to repurpose as cushion and pillow covers for a cottage look.
• She is enthusiastic about  '80s vintage stereo speakers and  suggests turning one on its side and adding a glass top to serve as a side table, or bracketing two to a wall as floating shelves.  Anyone old enough to remember when giant stereo systems dominated every teenage boy's room may find this idea less than charming.
• Attach several wicker baskets in an interesting pattern to a bathroom wall ( "I'd probably just put a screw through the bottom directly into the wall," she says) as open shelving for toiletries, soaps and small towels. Paint them all one color for consistency.        Photo by Dale Emanuel
• Palmisano gathers up several inexpensive, clear glass vases of varying heights; the sort used by florists. For a dramatic centerpiece, she says, arrange them on a colorful table runner, putting the tallest ones in the middle,  tapering down on either end. Fill with water and floating candles, or sand and candles. "Look for wide mouths," she warns, so the heat of the flame can escape without cracking the glass.
• Reclaim stained wood serving trays. She likes to decoupage paper images on the trays and cover with three coats of shellac. She transports food to a potlatch dinner party and leaves the fancy tray as a hostess gift. "They can regift it," she says, creating a sisterhood of the traveling tray.
Shopping tips from Goodwill
• Best days of the week to shop: Sunday, Monday and Tuesday as most donations come in over the weekend
• Best days of the month for furniture: the end of the month when people tend to move and discard furniture
• Best store for housewares: the Portland Superstore, 1943 SE 6th Ave., Portland
• Best stores for furniture: Fischer's Landing Store, 1200 SE 162nd Ave., Vancouver, Wash.; San Rafael Store, 1640 NE 122nd Ave., Portland.
• Information on store locations and more at Goodwill.
Vivian McInerny is the managing editor of Oregon Home. Reach her at [email protected].
Joanne Palmisano, left, and Vivian McInerny check out furniture at Goodwill; photo by Dale Emanuel