Written by Addie Hahn » Photos by Blackstone Edge
When the Jetton family decided to undertake a series of remodels that would better accommodate their closeknit family and increase the beauty and workability of their 1950s ranch home in Portland Heights, they chose to collaborate with Garrison Hullinger Interior Design, a firm renowned for innovative, purposeful spaces, both commercial and residential.


Alison Federrson and Collin Kayser
WHAT WERE THE PRIMARY REMODELING GOALS?
Fedderson: When the Jettons first approached us, they wanted to personalize the house they'd recently purchased to make it more welcoming and comfortable, valuingtheir love of entertaining family and friends. Most of all, they wanted it to feel like theirs, while adding a bit more contemporary appeal to the design.
Kayser: At 145 square feet, the masterbathroom was a fair size with a decent layout. However, it was heavy in ornamentation, and its material palette was dark and dated.
HOW WERE THE SPACES ULTIMATELY TRANSFORMED?
Fedderson: A dark, traditional kitchen was lightened up with fresh, creamy paint on the existing cabinets. We added bright quartz countertops that line the perimeter of the room and contrasted the oversize island with a leather-finish black granite that offers practical seating for hungry eaters. To layer in even more character, the range hood was refinished in an elegant faux-copper finish that is subtle and simple to clean.
An adjoining dining room with a long wood table flows into the Jetton family room, where we allowed their art collection to pop, including their beloved longhorn mount that welcomes you into the space, accompanied by comfortable couches and custom ikat linen curtains in citron for that added statement layer.
In all the areas we designed, we made sure to make each area purposeful with the correct scale and amount of furniture, allowing the client to get the maximum use out of each space, whether it is a weeknight with the family or entertaining a crowd.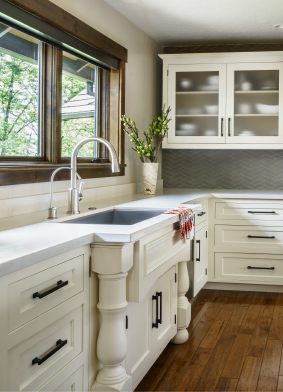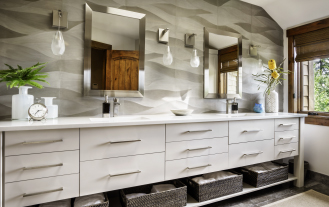 Kayser: The new design speaks to the way the Jettons now use the space and reflects more of their personal style.We removed the bathtub and had a new, larger custom his-and-hers modern vanity built and fitted with an engineered stone countertop. We focused on storage and practicality. Everything has its place, including outlets in the recessed medicine cabinets.
A mix of gray tones are carried through the marble floor, plank tiles and pebble stones in the shower and in an undulating, wave-like limestone focal wall. Faceted glass sconces,rectilinear faucets and streamlined cabinet hardware contrast the organic feel seen elsewhere in the space. The goal was to have a mix of elements that worked harmoniously together.
WHAT VALUES HELP GUIDE YOUR DESIGN PRACTICE?
Fedderson: Following our corevalues of implementing practical and functional design, along with keeping transparency in our processes. We work hard to build overall trust. We have the clients' best interests in mind and always aim to create complete, beautiful spaces.
Kayser: Designing a space for a client is truly about making their vision come to life. Our goal is to blend functionality and aesthetics. When the Jettons embarked on their master bathroom remodel, they had a lot of trust in our team based on our previous involvement in their home—they wanted us to think creatively and push them beyond the expected. Our studio is great at balancing all aspects of the client relationship and design project.
Adriane Jetton, the homeowner, recently told Garrison Hullinger that she agrees. "You have cultivated a rare group of talented, consistent and genuinely nice people who listen and get things done," she said.
The Jetton family undertook two separate remodeling projects. In the first, in 2014, led by Alison Fedderson, senior designer, they redesigned their kitchen, dining area, living room, TV room and hallway. In the second, in 2015, led by Collin Kayser, senior designer, they overhauled the couple's master bathroom.
Design Firm, Garrison Hullinger >> [email protected]
Save
Save
Save
Save
Save
Save
Save
Save