Photos by Christopher Dibble
Curl describes herself as a baker and candy maker. She is the owner of a successful candy business called Quin. If perhaps that doesn't ring any bells, Saint Cupcake probably will. She was the founder and original owner up until a few years ago. Following her string of successes, Curl has become well known for her deliciously creative culinary skills. Her recipes have appeared in numerous publications including The Wall Street Journal, The New York Times and O Magazine to name a few. She was also recently recognized as one of the Top 100 Most Creative People in Food by Fast Company Magazine.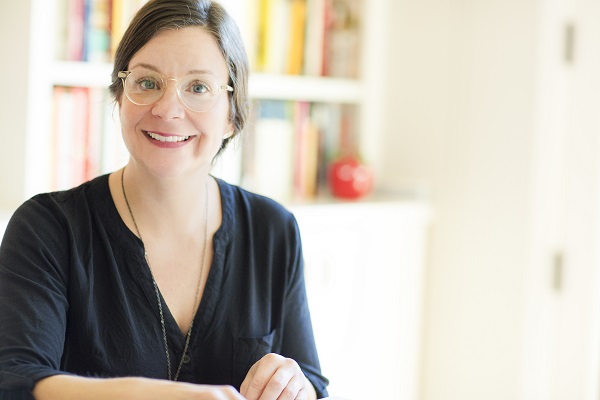 Jami Curl at home

Curl loves candy specifically for its eternal charms, and through Quin she brings the guilty pleasure into a modern age with a contemporary flair. Her business is a testament to her imaginative personality, a yearning to meld old with new, which can be found not only at her candy shops but displayed prominently within her home as well. A quick tour of the '60s-inspired decor of her open living room reveals a stylish collection of personal treasures.
Just inside the front door, there are two striking items to welcome Curl's guests: an original George Nelson side table and a vintage papier-mâché burro. "I have a mix of random things," says Curl with a laugh.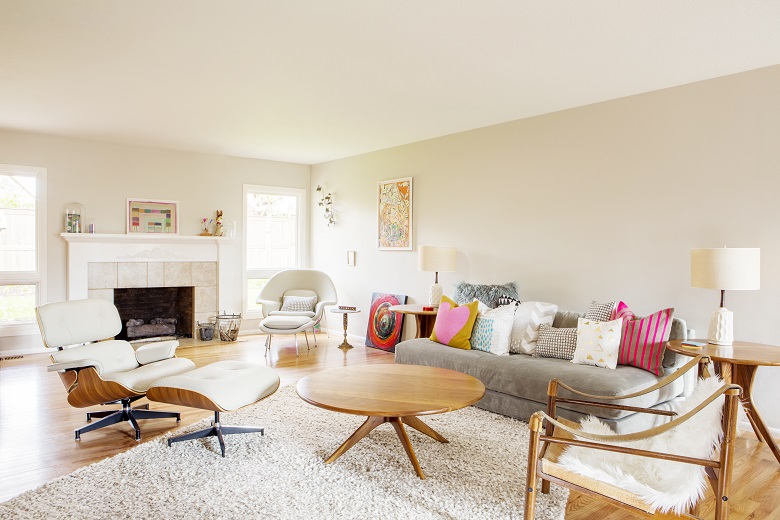 The bright, open design of the living room helped Curl first fall in love with her midcentury home. She says, "The decor of the space was purposefully pared down to the items I love most."
Somehow Curl makes everything fit together. Many of the prized items she has on display were actually gifts from other people, she says. And, as Curl puts it, "Pretty much everything I have has a story behind it."
Curl's story of becoming a successful baker and candy maker is certainly not a typical one. Before owning Quin, or Saint Cupcake for that matter, she made her living as a marketer for the Oregon State Bar. "It was a pretty buttoned-up job," she explains. "My main purpose was to convince the people of Oregon that lawyers are not bad," she adds with a laugh.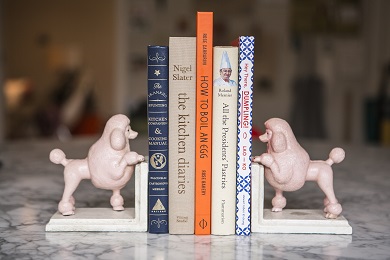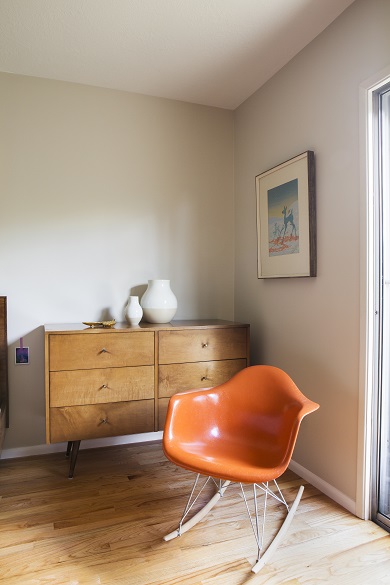 Poodle bookends from Budd+Finn (buddfinn.com)                                              Vases from woonwinkle (woonwinklehome.com)
At the time, Curl did baking and catering on the side as a weekend warrior, but when she began pursuing a master's degree to advance her marketing career, she came to a crossroads. "I just had a realization that this is not what I should be doing with my life," she says. So one day she surprised her colleagues and bosses when she told them that she would be quitting her job at the end of the month to open up a bakery. The rest is history; that risky career move to follow her heart certainly paid off. "I love that I am able to do this.



These days I can be 100% me, in my work and life," Curl says. Curl's current living arrangement is equally as divergent. Before living here, she resided in much larger homes, over 4,000 square feet in size. She fell in love with this two-bedroom abode, which is less than half the size of her previous dwellings, due not only to its inherent charm but also as an opportunity to embrace the benefits of living smaller. "Bigger houses are a lot of work to maintain and just get filled with so much stuff ," she says. "When I moved to this house, I was able to pare everything down and just keep the things I love the most —the things that make me really happy."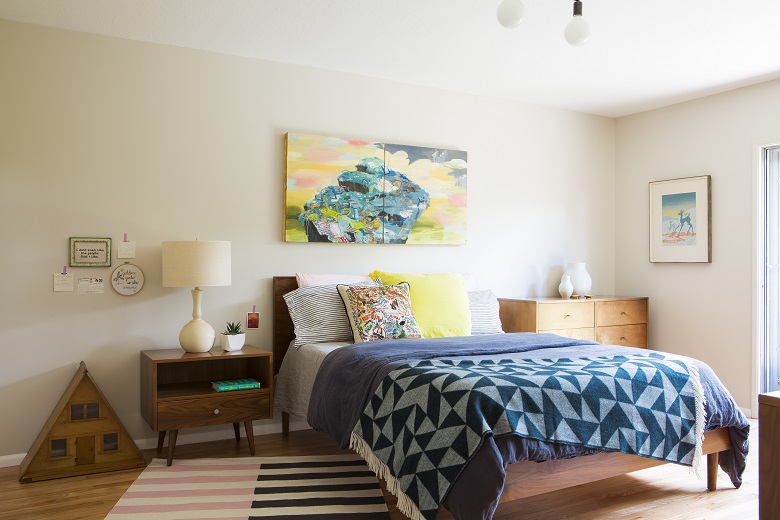 Curl's bedroom decor continues a timeless theme with personal flair. In the bottom corner of her bedroom, you'll see one of her prized possessions: a vintage dollhouse gifted to her from a friend. Artwork above bed by Marc Roder (marcroder.com)
A soothing environment is certainly beneficial since Curl works a great deal from home, developing recipes and even doing photo shoots for her upcoming cookbook, due for release early next year. "Pretty much everything is done right here," Curl says while showcasing the dining room, which, in conjunction with the kitchen, is essentially her home office.
With all the dedication it takes to be a successful entrepreneur, Curl also makes ample time for being a mom, striving to create a comfortable home environment in which to spend time with her 9-year-old son, Theo. "We have a lot of things in common. Theo loves to read, and is super into musical theater. He's like a 45-year-old man in a 9-year-old's body," she says with a smile.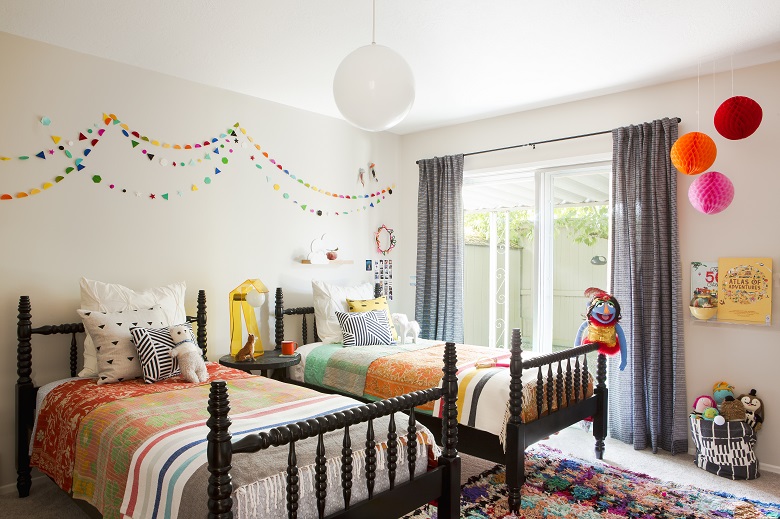 The bedroom of Curl's 9-year-old son, Theo. Featuring two classic twin-bed frames and a colorful decor, his room showcases a vibrant character all its own, as well as a shared family affinity for embracing vintage style. Striped pillows from woonwinkel (woonwinkelhome.com). Rug from Kat+Mouche (katandmaouche.com).
Theo's bedroom reflects these timeless ideals, in a room that continues the midcentury motif and has its specific place for everything. "I don't think he gets out a ruler, but he'll know right away if things are out of place," she says with a laugh. That preciseness seems to run in the family. As Curl explains, baking and candy making are things that require a lot of control.
At the same time, however, she says that being innovative is instrumental to her success, since there are so many creative things that can be done with candy. "That's why I love every single thing about candy—it's essentially limitless," she says. "There are so many ways to capture flavor and so many ways to layer ingredients together. To figure out how to make something taste how you want it to taste, without using something that's totally fake, is so much fun."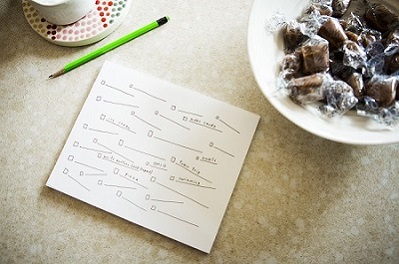 A notepad designed by Michelle Ott, who did the illustrations for Curl's cookbook.
Perhaps more than anything else, through her talent for baking and candy making, Curl aims to spread happiness. "An easy way to do that is by giving people something to eat," she says with a laugh. "I mean, how amazing is it to have someone cook for you?"
Want more Jami Curl? Check out our new section, tasteBUD – this issue features three fall-themed recipes including chai tea caramels!
Save
Save
Save
Save
Save
Save
Save
Save
Save
Save
Save
Save
Save
Save
Save
Save
Save
Save
Save
Save
Save
Save