Photography by Olivia Ashton
For Amy Carnahan, interior designer and mother to three children under 8, the idea that family-friendly spaces can peacefully coexist with sophisticated design is nowhere more evident than in her own light-infused Portland ranch.
Carnahan's home is not only functional – a key element in a family-friendly space – it's infused with a sense of playfulness and personality, surfaces that stand up to daily life and loads of light.
"I have to have a lot of light," says Carnahan. "In Oregon there are a lot of dark spots. White walls make everything brighter. It really can transform your house."
The white walls also function as a serene backdrop that highlights Carnahan's minimalist sensibilities and subtle, muted color palette – think blush, sun-washed blues and desert-tone neutrals.
---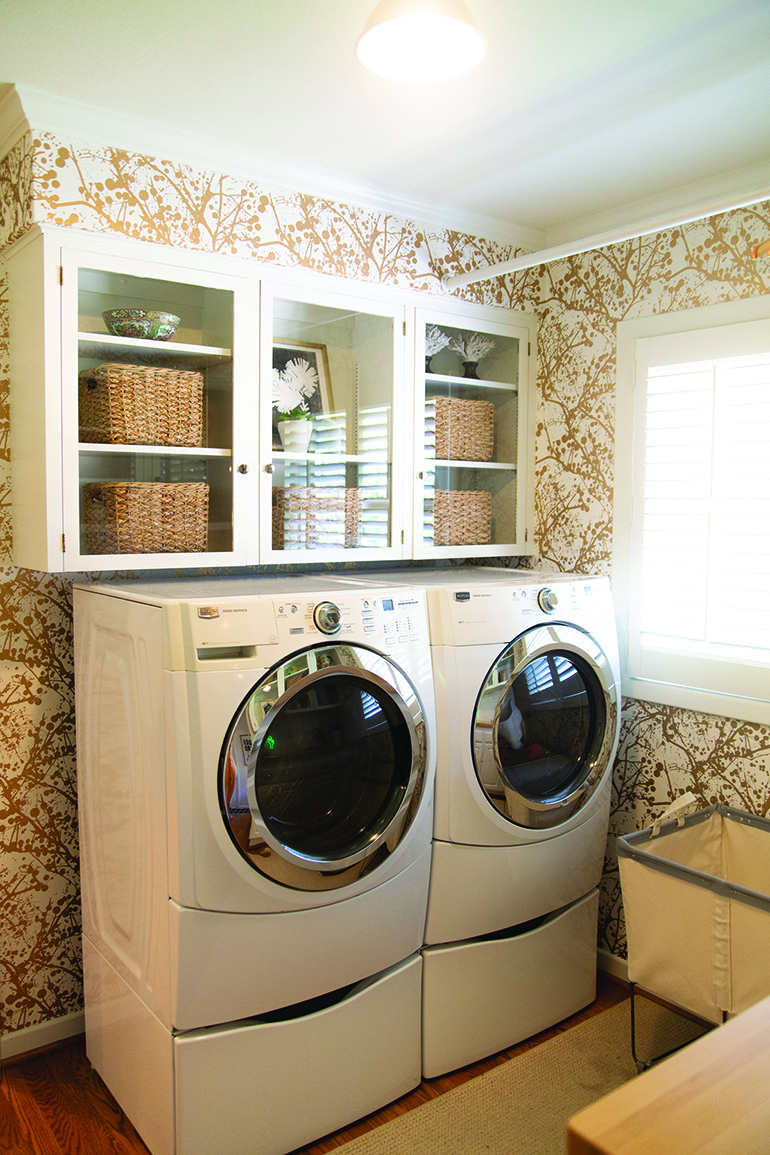 ---
Carnahan draws inspiration from nature and travel, her style reflecting her years of global adventuring after college in Arizona.
"I think it's a huge piece of how I bring the outside in," she says. "I pull a ton of inspiration from the Southwest and the desert."

She's also unabashedly enthusiastic about greenery, with cacti and succulents making appearances in almost every room of the house.
Carnahan's minimalist ethos is best summed up by the statement "not a lot of things but the right things," as she artfully mixes high and low to create playful, clutter-free spaces injected with personality.
"Be practical about what you spend on furniture so you can live with dirty hands," advises Carnahan. "Choose textures and colorways that don't show the dirt, or choose surfaces that get better with age."
Case in point: a gray, tweedy sofa and a camel-colored leather sectional that anchor the living room, while being almost impervious to the abuse of the under-10 set.
---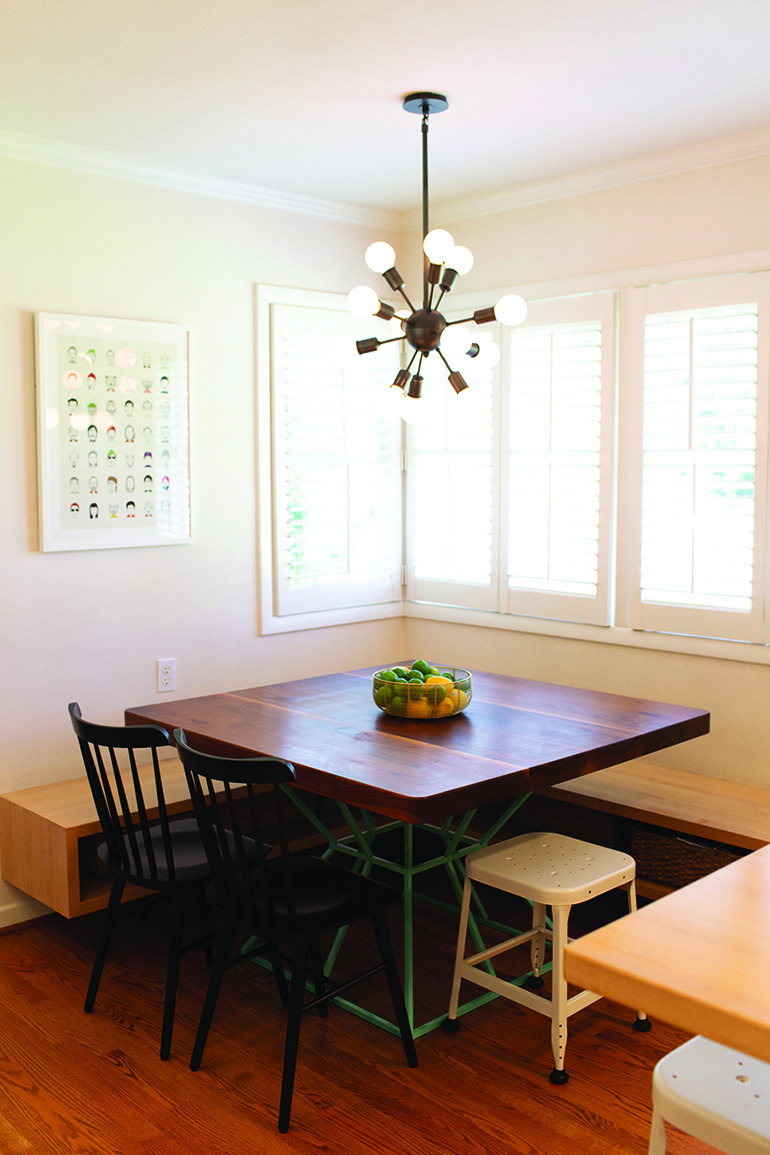 ---
A clear acrylic coffee table is modern and fun, and deliberately scaled to maximize floor space – key for giving kids ample play area. The translucent material adds to the illusion of space and is yet another easy-to-clean, kid-friendly surface – simply towel off any fingerprints.
A sleek, hand-built media console (made by Sacramento, California-based Matthew Lechowick Design) is currently used for toy storage but can easily transition back to its intended purpose.
"Inside are eight matching baskets full of toy trucks," laughs Carnahan. "The toys are here, but you just don't see them. Everything has a place, so the kids can help clean up. It's an easy task, for them and so gratifying on all levels for me and for them. Life can be overwhelming and complicated. An organized, tidy and functional home is so harmonious for families."
"There can only be one showstopper in each room" is another mantra of Carnahan's, and the statement piece that sets the tone for the living room is a large-scale canvas by Brooklyn, New York City-based artist Samantha French. "Breakthrough" shows a swimmer just about to break the surface of the water, executed in hues that are echoed throughout the space.
---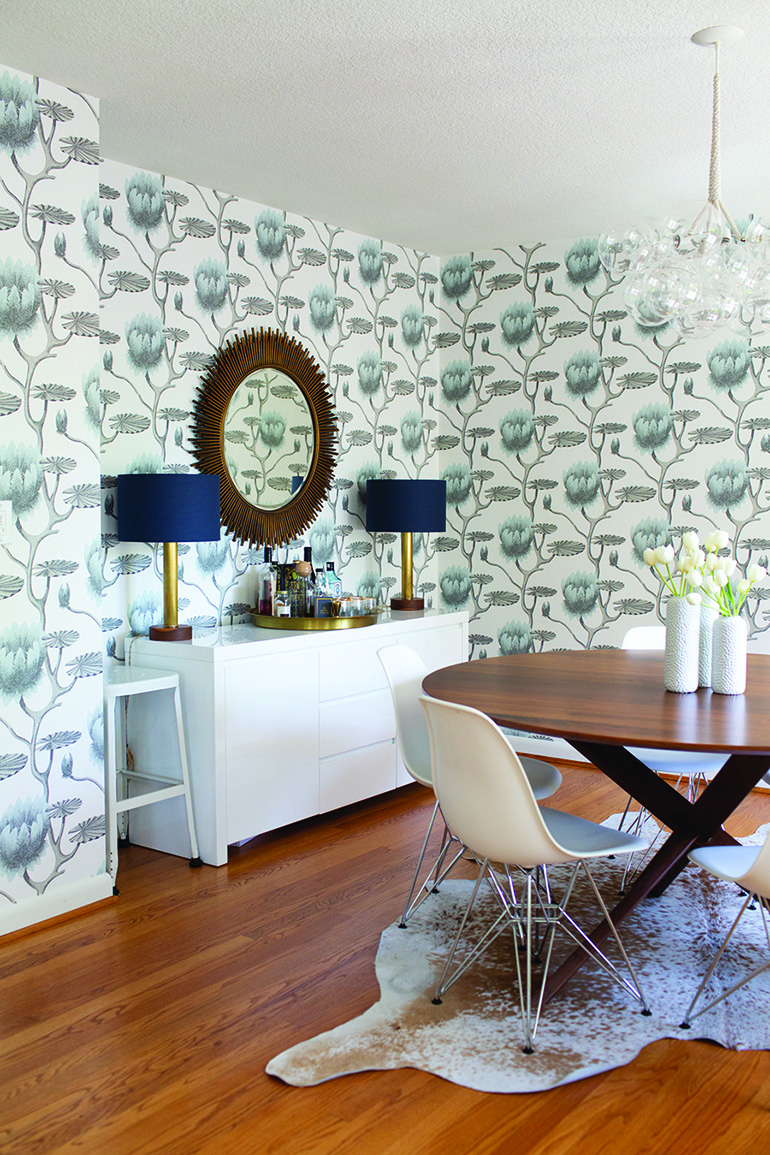 ---
"We all love the water – everything from lakes to the ocean to swimming, and this painting reflects that part of our family," Carnahan says.
Wallpaper is another type of showstopper of which Carnahan is a huge enthusiast (her home boasts six different designs), and she uses it to add texture, depth and a focal point to a space.

"Wallpaper brings a really playful element into a room, which is super important for a family-friendly, warm home," she says. "It adds so much personality. It's also a design element that doesn't require other parts and pieces."
A striking, organic print covers all four walls in Carnahan's dining room. A simple white sideboard and round custom walnut table complement, but don't compete with, the bold pattern. The table is a cozy gathering spot whether there are four or ten people around it.
In the kitchen's breakfast nook, Carnahan skipped the upholstered banquette in favor of practical white-oak built-in benches that can hold about seven squirmy kids (think sleepover pancakes) and that are easy to wipe down. A mix of materials – from the walnut tabletop and bright blue industrial metal base to a pair of black wood chairs – keeps the space feeling modern, fresh and functional. A playful midcentury Sputnik light over the table is a subtle nod to the era of the home.
---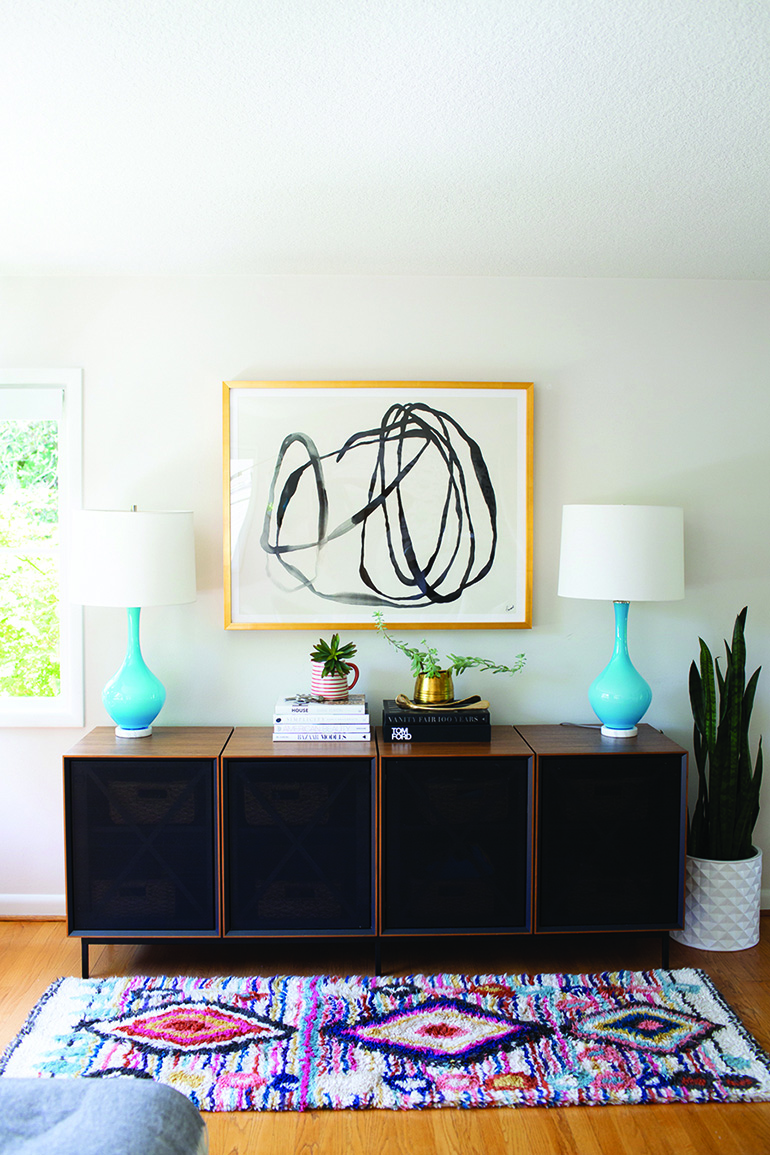 ---
"The fun thing about design today is that you can mix all these elements," says Carnahan.
The adjacent laundry room is anything but an afterthought.
"Moms spend a lot of time in the laundry room. I do laundry every day, so I wanted it to be a happy, upbeat space even though I absolutely hate to do laundry."
Butcher-block countertops provide a forgiving work surface, while the walls sport a cheery yet sophisticated wallpaper – a white and gold splatter of abstract branches – and lots of cabinet space.
It's functional and fun; another mantra worth repeating for design in harmony with family living.
---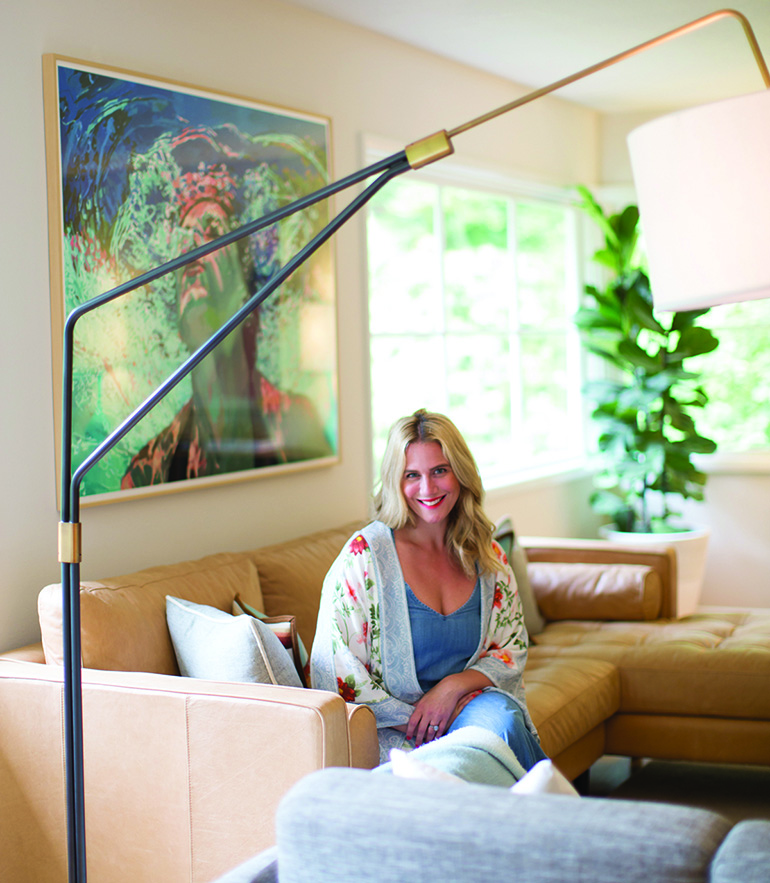 ---
THREE EASY TIPS FOR FAMILY-FRIENDLY LIVING
Choose durable materials for large furniture so you don't have to worry. Tweeds and leathers are a yes! Stay away from expensive upholstery and fabrics when your kids are little – who needs the stress? You can add those elements later.
Stick to basic materials, especially in eating areas. Choose materials like wood that you can just wipe down. Ditto for paint finishes. I love a matte finish, but it's not functional – it shows every fingerprint.
Keep toys and kid stuff organized in a cabinet and/or baskets. If everything has a home, it makes it easy for kids to help clean up.
---
>> For more information, visit: amycarnahan.com