Sparrow Furniture helps refugees reimagine their future.
---
Ismail is a soft-spoken man with an upbeat attitude. He talks positively about his family life in Salem. His children, ages 10 and 11, love their school, and his wife is active in their community. He shares his plans to see more of North America as a long-haul truck driver when COVID is in our rearview mirror. But he's reticent about the details of the journey from his native Pakistan and the years he, his wife and two children spent seeking asylum.
"Pakistan was too dangerous for us," he says. "I wanted a better life — a better future for my family." That's about as much as he wants to share.
For over two years, Ismail has been working as one of eight apprentices in the wood shop at Sparrow Furniture, a nonprofit in Salem that provides refugees job training, 1,300 hours of one-on-one English lessons and help securing permanent employment. Since its launch in 2017, Sparrow Furniture has graduated eight refugees into the workforce and society while selling upcycled furniture from its shop in the Broadway district of the state capital.
---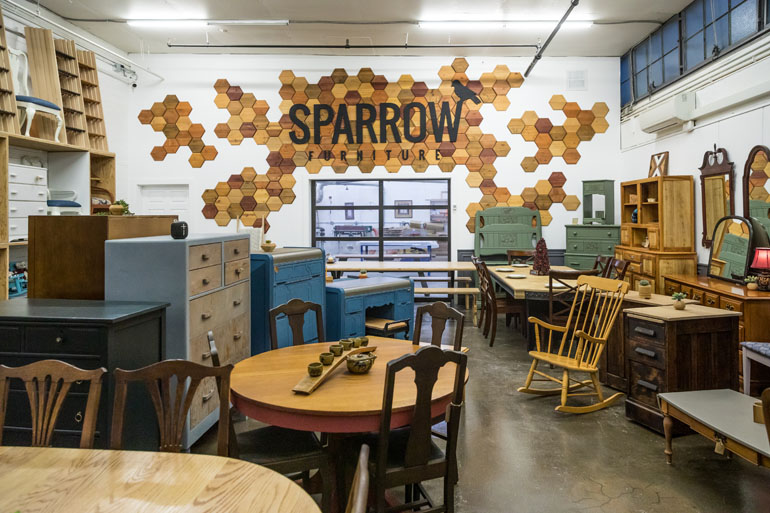 ---
Sparrow's reputation for quality craftsmanship and unique furniture has spread quickly. People come for the great prices and beautiful designs, and for the sense of positive community building. "The team at Sparrow is wonderful to work with. They built us a beautiful, custom dining table and bench," said customer Amy Woods Hiatt. "It's always fun to browse the showroom! You just never know what you might find."
The project is the brainchild of Luke Glaze, who answered a proposal request from Salem Alliance Church. The church owned a historic building near downtown Salem that was once a commercial laundry, and it was looking for a creative use of the space to serve the refugee community. Glaze, an international development professional, invited Jess Bashouim — a public health expert he met while working on economic-development opportunities for high-risk populations in the Middle East — to join the team. The idea was to create a space where newly settled refugees could learn a viable trade, gain experience navigating an American workplace and cultural norms, and improve their English-language skills.
"One thing that stands out about Sparrow and our refugee program is that we are the only one in Salem providing job training and English-language training. That combination really helps give our employees that extra boost into a successful career and resettlement," says Bashouim.
With master craftsman Adam Fortier running the workshop, Sparrow opened in 2017 as an environmentally friendly and socially conscious furniture-upcycling nonprofit. In their light-filled and cheery showroom, shoppers can browse brightly refurbished dining and bedroom sets, custom wooden housewares, and other wooded accessories. Furniture and locally sourced wood come through donations, including wood scraps that would otherwise go to waste.
---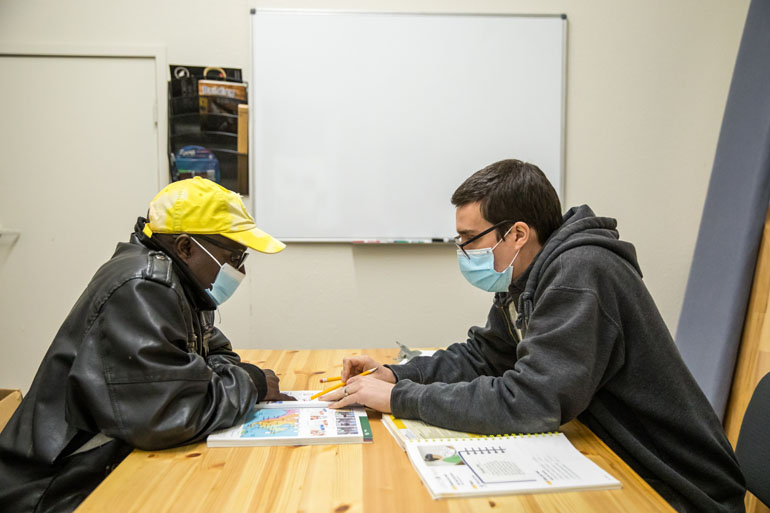 ---
Word of their beautiful reimagining of donated and thrifted hardwood furniture spread quickly, and the custom orders started pouring in. Their work today is now nearly 70% custom furniture. It is sought after by local businesses, including Basil & Board, Isaac's, Studio 3 Architecture, and Rich Duncan Construction. You'll find Sparrow's custom work at Salem's Broadway Coffeehouse, Masonry Grill and Northwest Rehabilitation Associates.
Sparrow Furniture has been a soft landing spot for just a few of the millions of people who become displaced each year (in 2018 it was 11 million people globally, including 35,967 from Pakistan). Ismail and his family fled violent religious persecution in Pakistan in 2013. That year the family was able to obtain tourist visas to Thailand, but they boarded a plane without the intention of returning. Arriving in Bangkok, they went directly to the United Nations, hoping to gain refugee certification and sanctuary while they awaited resettlement in the West.
Thousands like Ismail and his family waited in limbo, unable to work and unable to return home. Then the Thai government began to round up and detain refugees against the U.N. Refugee Convention's guidelines.
Ismail was caught up in a sweep. He and his family found themselves stuck in squalid and overcrowded detention centers. His wife and children were eventually released, while Ismail, unable to pay an extortionary bail fee, spent the next two years in a Thai jail continuing to work toward asylum in the United States. His family occupied a one-room apartment where they relied on international aid organizations working in Thailand to survive.
---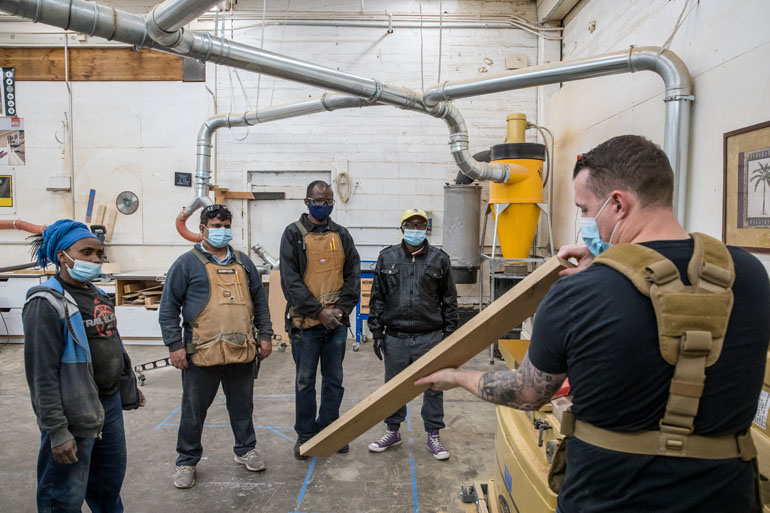 ---
It was five years before Ismail, his wife and two children were able to make a move to the U.S., where they were relocated to Salem. With the assistance of his caseworker and refugee-services organizations like Salem for Refugees and Salem Alliance, Ismail joined a small group of other refugees at newly founded Sparrow Furniture.
All of Sparrow's products are made on-site by refugee apprentices like Ismail. Interns complete an 18- to 24-month program designed to culminate in a permanent job placement worthy of their new skills, such as cabinetry makers and skilled construction or carpentry positions. Men and women work in both the workshop and retail storefront. Interns come from seven different countries, including Sudan, the Ivory Coast, Syria and Iran. While Sparrow is a STEP provider with the Oregon Department of Human Services, the program is mostly self-sufficient. Salaries and overheads are funded through showroom and custom sales.
With a background in construction in his native Pakistan, Ismail has been one of Sparrow's most successful interns. When he was laid off from his current job due to pandemic shutdowns, Sparrow was happy to welcome him back while he works toward his dream of becoming a commercial truck driver. He doesn't mind this small setback, because Sparrow became an integral part of his family's successful start at a new life. "At Sparrow I developed new skills and a new community, and I am feeling very positive about my future."
---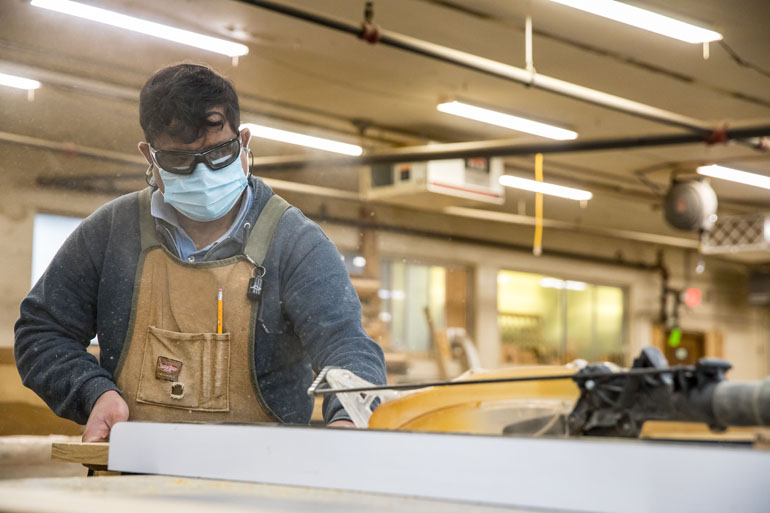 ---
Sparrow by the Numbers: Beautiful Furniture, Bigger Impact
1,300 hours of one-on-one English tutoring per intern
1,000 pieces of refurbished or custom furniture sold
45 individual refugees impacted through employment, including family members and dependents
9 countries represented
8 current refugee interns
8 successful refugee graduates
---

---
DIY Furniture Refinish the Sparrow Way
1. Choose solid wood. Wood furniture is strong, naturally beautiful and easily repaired. For veneer or other mixed surfaces, chalk paint is a creative choice with more flexibility.
2. Don't skip the prep. A professional-looking refinish starts with a (mostly) clean slate. Scrape off veneer, fill holes, and sand out surface damages and imperfections. Clean the entire surface with a strong degreasing cleaner, assuring no dirt, wax or oil remains. Remove all hardware and finish each piece of the furniture separately. If painting, carefully tape off the areas for a clean line and to prevent multiple colors from mixing.
---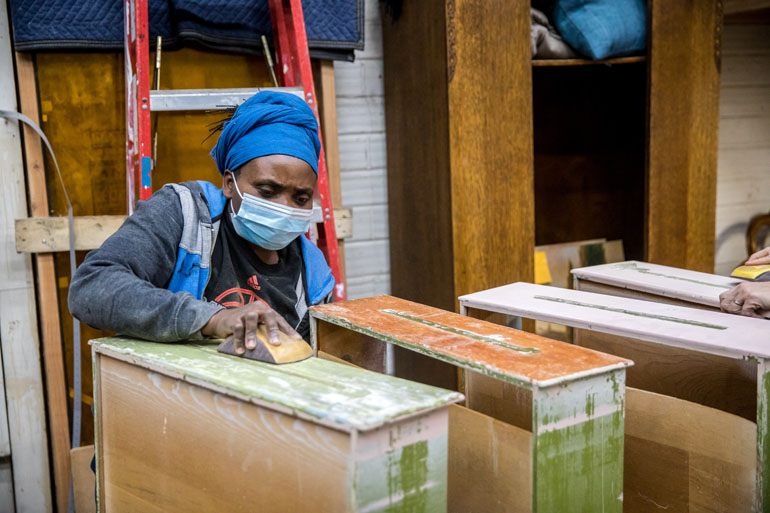 ---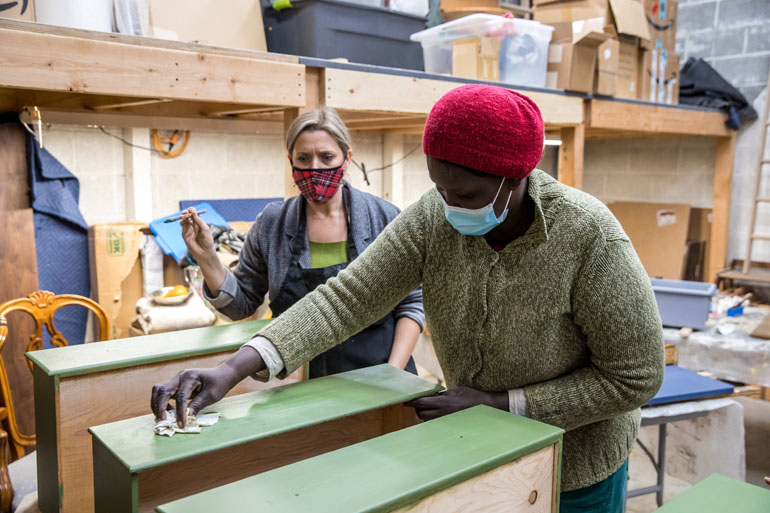 ---
3. To paint or not to paint? Pieces that can be prepped to the point of looking new can handle a wood stain or wax. Otherwise, painting is more forgiving. You'll get better results on uneven and repaired surfaces by mixing chalk additive into acrylic or latex paint. Paint lightly with even strokes, and avoid going back over wet paint. Let each coat dry thoroughly. Finish with a curing wax rubbed for shine or brushed on for a matte finish.
---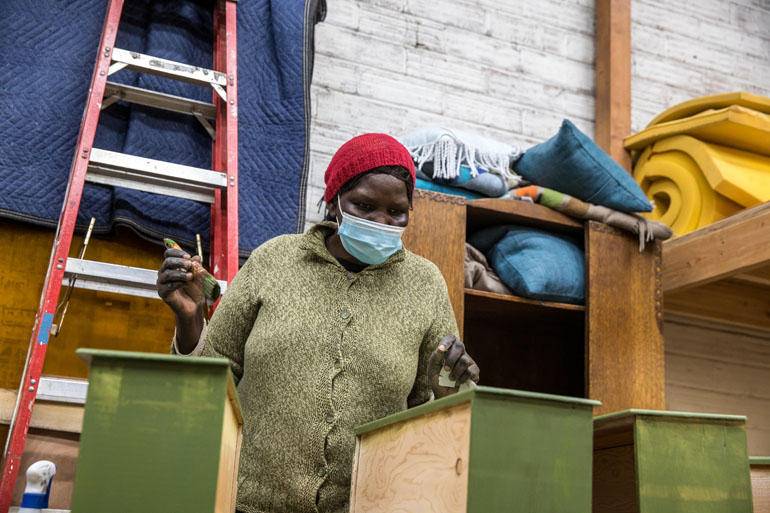 ---
4. Be patient. Let it dry! Most paint and finishings take at least 24 hours to properly cure. Many take much longer. If you handle your item too soon, it will easily scratch and lose color.
5. Change up your hardware. Pick some new knobs to match your unique and eye-catching style! Whether new or repurposed, the right hardware can really enhance your design.
---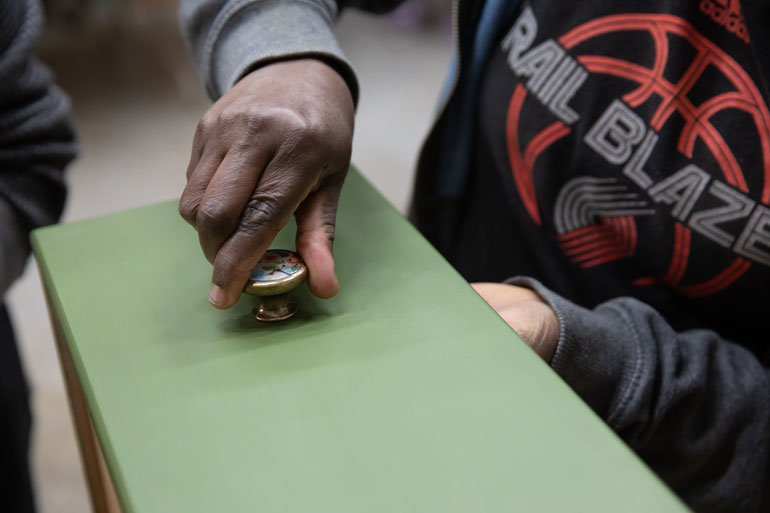 ---