Photography by Jason Kaplan
Liz Kamarul has developed quite a following for her effortless combination of thrift store finds, local and artisan home decor and clever DIY. Starting out as a home stager and stylist, she's built her reputation by using her sweet bungalow in North Portland as a staging ground for enviable boho-chic interiors coveted by almost 100 thousand followers on Instagram. Today, some of those fans might shed a tear to see the cozy house filled with boxes and the dynamic black-on-black geometric wall disassembled. But don't despair, Liz and her husband, Tim and their two pups, Bo and Cudi ("the boys") are taking their style show on the road — in a retro Winnebago camper Liz found on Craigslist for $5,000.
---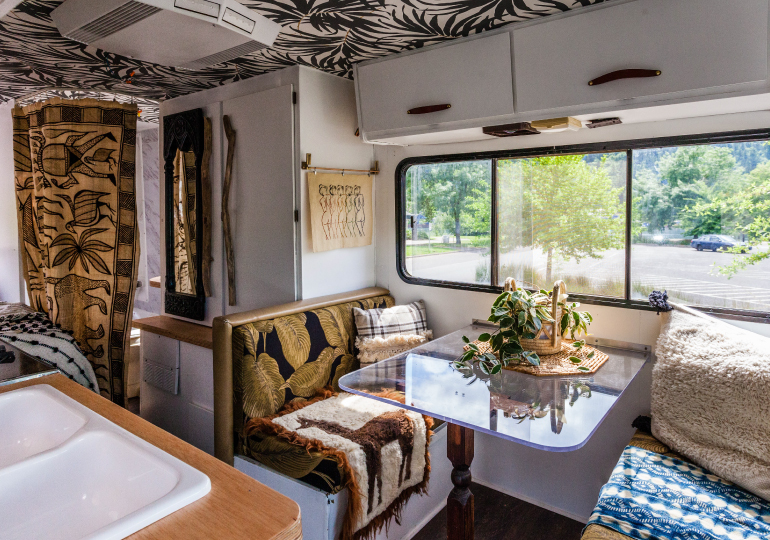 ---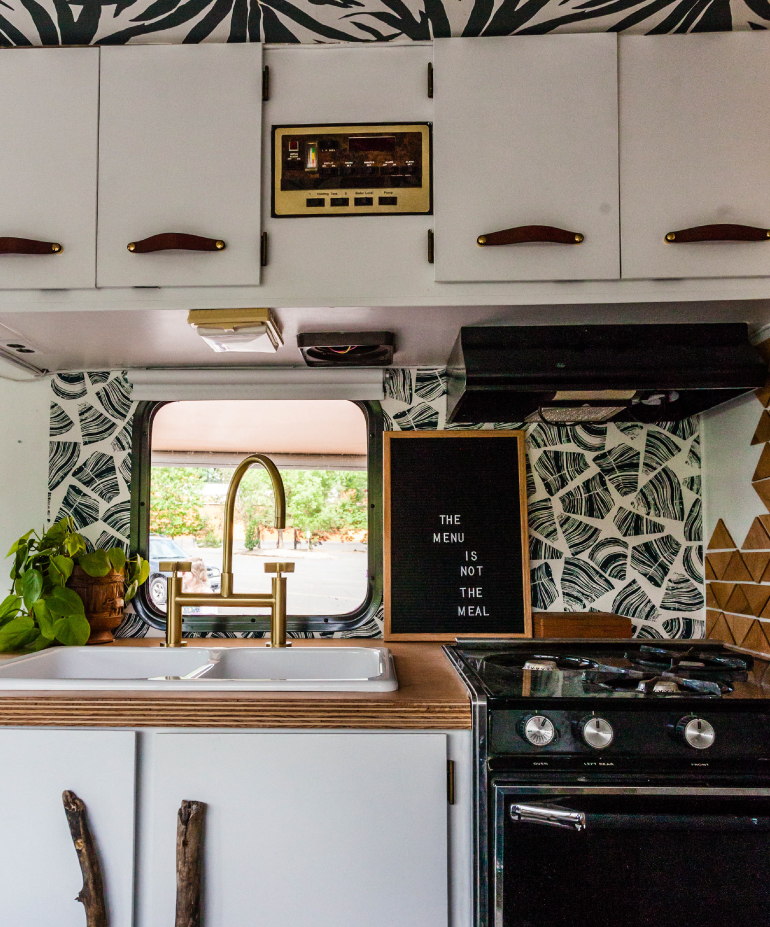 ---
Since February, Liz and Tim have been refurbishing the camper on the weekends. Some of Liz's favorite DIY projects have transitioned from the house to the RV. "I've recreated the geometric triangle wall on a smaller scale," Liz explains, "and I couldn't give up a wall of flamingos. This time, in the bathroom, I'm using an ornate wallpaper with a collage of flamingos from New Wall instead of painting them myself." Blending some new and some thrift items, Liz continues to do what she does best — make magic on a budget with texture and pattern. Wallpapers from Anthropology and Hygge & West adorn ceiling and kitchen backsplash. Instead of expensive butcher block, a DIY layer of lacquered plywood makes a functional and beautiful countertop. Found driftwood cabinet pulls look natural next to a lux brushed gold faucet and leather cupboard handles donated by Rejuvenation.
---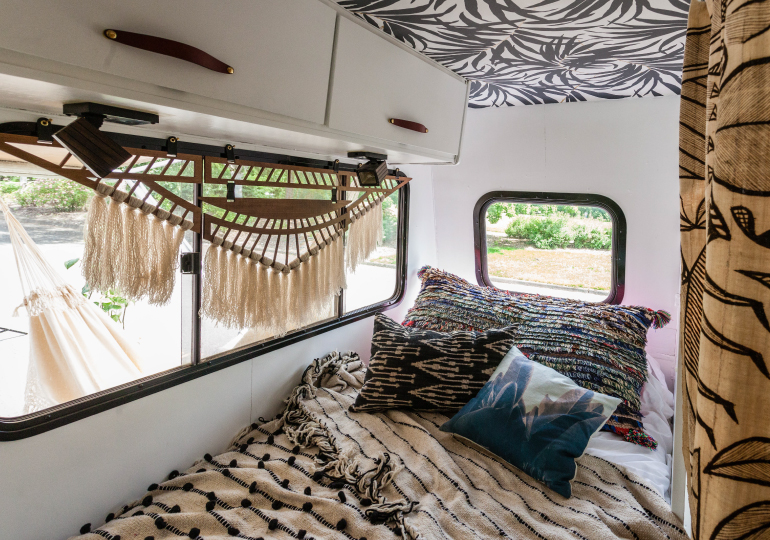 ---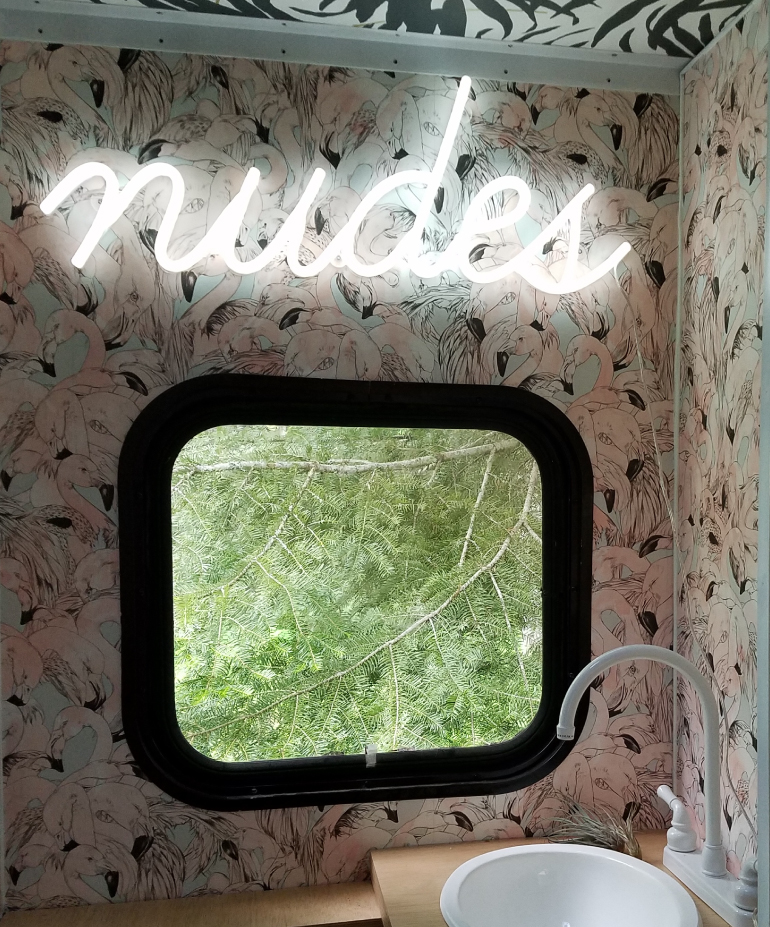 ---
Original details like a faux wood paneled refrigerator blend right in with Liz's eclectic and visionary style. "We tried to keep as much as we could. We painted the ugly yellow tub to a fresh white with a tub refinishing kit, and left most of the dashboard area untouched. The new upholstery on the dining nook is from local company, The Whole Nine Yards, while the support leg for the table is from ReClaim It!." Liz made new seat covers from a thrift blanket and she's on the hunt for the right textiles to replace the RV's privacy system. A divider curtain and decorative mirror are from Artifact — a vintage consignment store. After all, Liz's custom hashtag is #thisiswhyihavetothriftshopeveryday.
---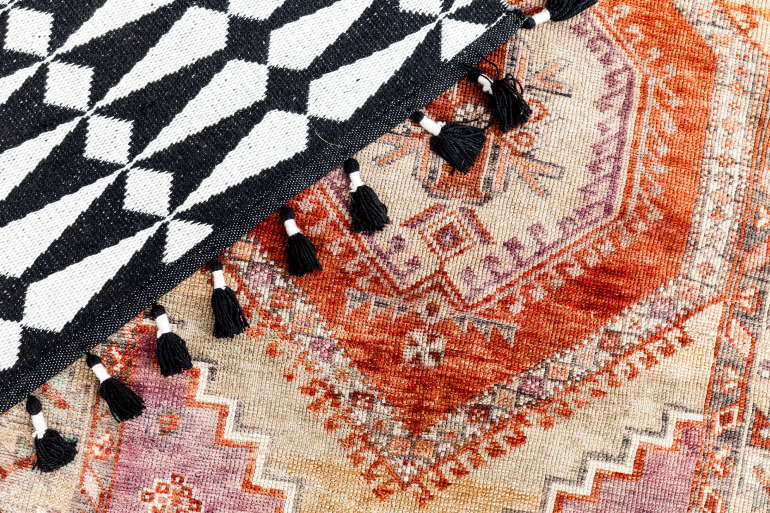 ---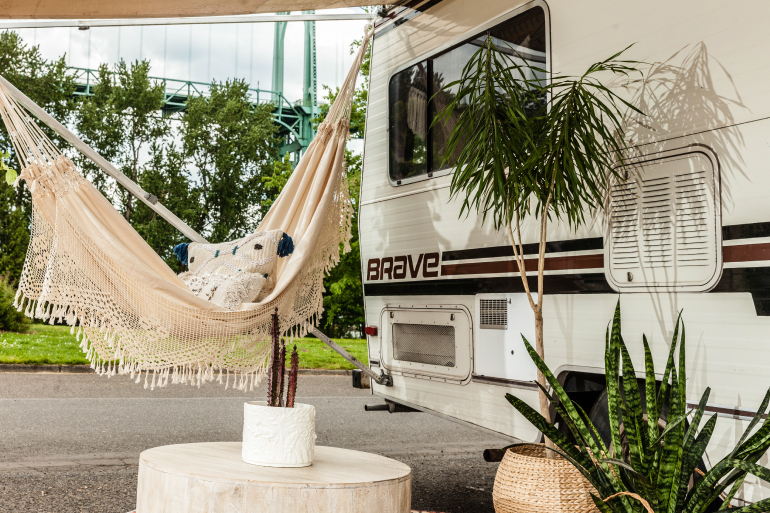 ---
You can follow-along with the Liz and Tim's travels and the latest in swoon-worthy design and style ideas Instagram or www.lizkamarul.com.