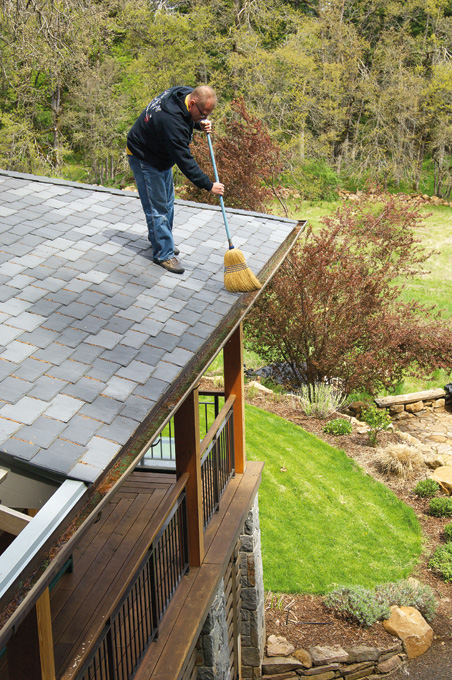 Above: Joseph Eastburn sweeps the roof.
Below: Jon Taylor Carter styles a Hood River home.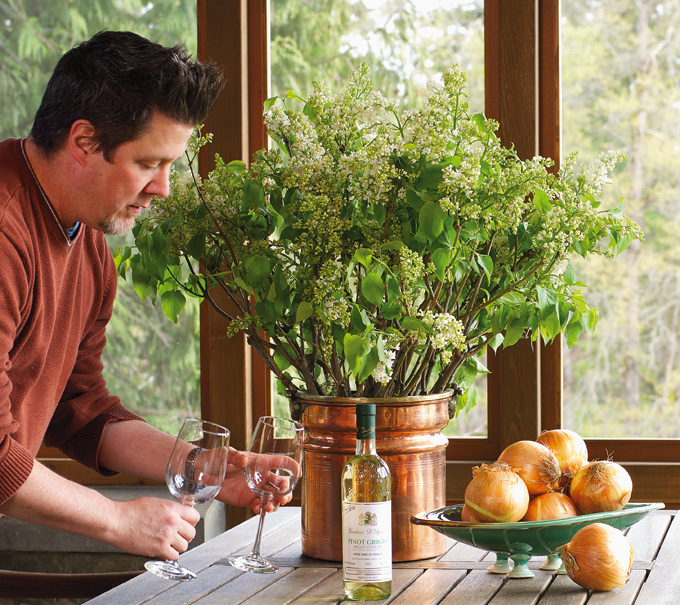 Producing a beautiful home magazine is not always a gentle art. See that young man on the roof? Photo assistant Joseph Eastburn risked life and limb three stories off the ground at the command of our creative director, Jon Taylor Carter (aka "The General"). The roof had to be pristine for our feature of this Hood River home, and Joseph got the broom duty.
People, this is only the tip of the iceberg when it comes to what JT does (or has others do) while directing our photo shoots. A partial list: moving furniture, cleaning floors, making flower and fruit arrangements, keeping young children happy and smiling for the camera (think Crying Santa Picture Time), asking (nicely) for wardrobe changes, sweeping up sheep poop and hiding naughties found in a few bathrooms.
These shoots often go on for more than 12 hours, because JT and crew arrive at sunrise to catch the morning glow and stay for the sunset light. It's akin to a home invasion. But it's a testament to JT's skill and charm that we have not (yet) been charged with assault. In the end, homeowners are always glad JT has been on the scene, and I'm always thrilled to see how his hard work and vision pay off in our photographs.
But brilliant writing is a gentle art. The brainstorm of managing editor Vivian McInerny, we launch in this issue an occasional series of Oregon authors musing about their homes, starting with John Daniel, a three-time Oregon Book Award winner who writes evocatively about Oregon and the Northwest. Daniel most recently won the 2011 award for The Far Corner, a collection of 18 essays about rivers and forests, Kesey and Stegner. I hope his essay encourages you to discover him if you haven't already.
Why do you live where you live? Send me your story and we'll consider publishing it on OregonHomeMagazine.com. Home is bigger than the houses we live in, and I'd love to hear about what that means to you.