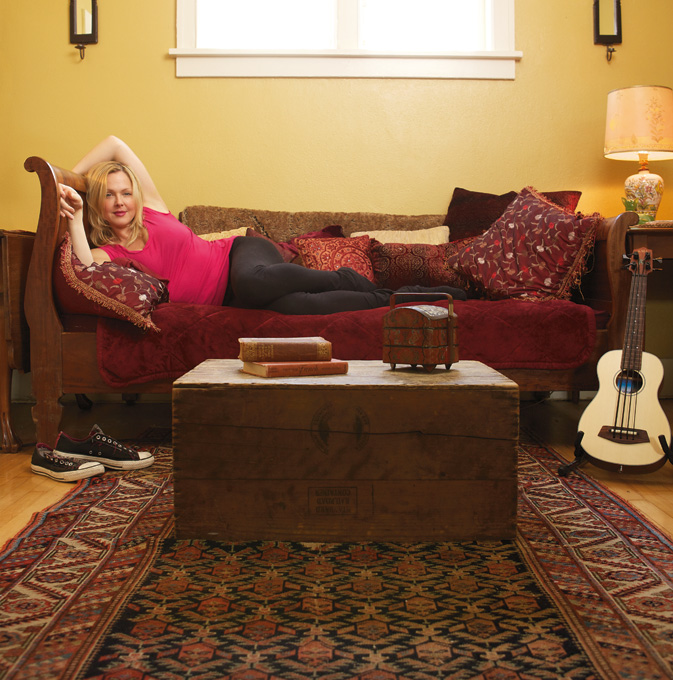 Photo by Michael Cogliantry
She's thunderclouds and lightning bolts. She's hurricanes and choppy seas. She lives large, loves larger and has a voice at least 8 miles wide. "I've grown up here onstage," says Storm Large. "I'm kind of Portland's adopted kid."
Devoted audiences have followed her from early angry 
performances in smoky nightclubs to a powerhouse one-woman stage show that unfolded like a melodic memoir. She tours with Pink Martini and will perform with the Oregon Symphony at Carnegie Hall next spring. Her book, Crazy Enough: A Memoir, published earlier this year, reveals an emotional risk taker and burgeoning artist struggling to find her place amid the fallout of her mother's mental illness.
"People come up to me and say, 'Oh, we're so glad you didn't die,'" Large says with a laugh. Her life has calmed down through the years. "I kind of have a va-va-voom thing onstage. When I'm at home, it's all about the lay-low chill."
Child-size sleigh bed/sofa: "It's a man trap. Make a warm meal and sit him in that, and he won't leave. It's not much of a trick. It's more of a treat."
Shipping-crate table: "One of my break-up spoils."
Lamps and rug: "They came from my grandparents' farmhouse and are apparently very fancy pants."
Her mother's writing desk: "I love the weird, ornate 'octopussy' stuff on the front."
Vintage railroad-car luggage racks on wheels: "I like wood that has seen some action."
On her bookshelves: Her grandfather's 1940 Thesaurus: "I always have it nearby when I write." Also, French novels give to her by Thomas Lauderdale when she was first learning French songs, and a nonfiction book on the human brain.
On her walls: Her vintage wood "Storm Haven" sign was a gift from a regular at Dante's music venue in Portland, where she performed. "Someday when I have a farm, I imagine that on the gate." Hanging on a wall is a Vargas pinup girl poster from a man who thought it looked like her.
{besps}articles/2012/2012_AugSept/Storm|width=680|height=500{/besps}
{besps_c}0|01.jpg|Singer Storm Large in her parlor.|PHOTO MICHAEL COGLIANTRY{/besps_c}
{besps_c}0|02.jpg|Singer Storm Large in her parlor.|PHOTO MICHAEL COGLIANTRY{/besps_c}
{besps_c}0|03.jpg|Singer Storm Large in her parlor.|PHOTO MICHAEL COGLIANTRY{/besps_c}
{besps_c}0|04.jpg|Singer Storm Large in her parlor.|PHOTO MICHAEL COGLIANTRY{/besps_c}
{besps_c}0|05.jpg|Singer Storm Large in her parlor.|PHOTO MICHAEL COGLIANTRY{/besps_c}