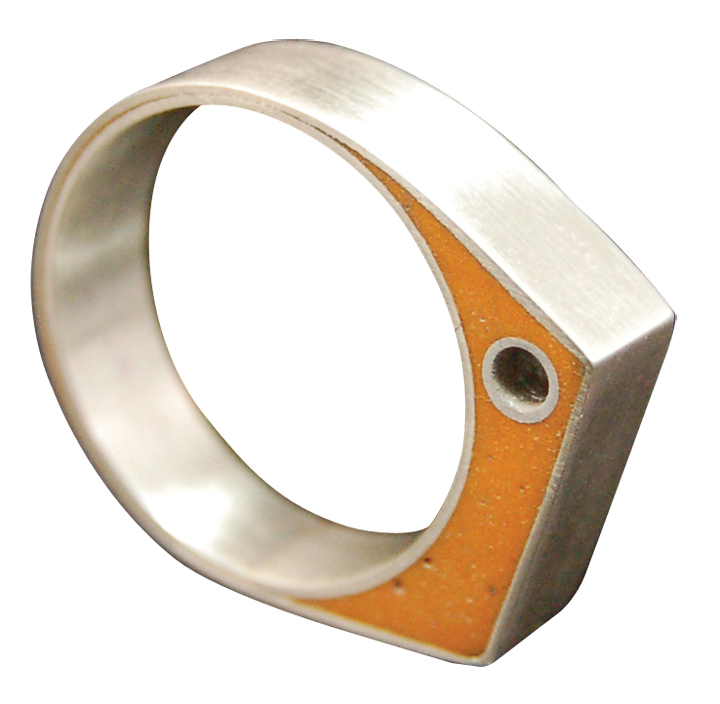 Look closely at Mel Stiles' jewelry and you'll see the traces of the architect she once was. "A lot of my designs are more contemporary, more modern and use bold color combinations," she says. "I'm very interested in composition and form and the function of the material, which I think comes from working as an architect."
Stiles, a Pennsylvania native, received a degree in architecture from Pennsylvania State University in 1996 and moved to Phoenix, Ariz., where she discovered jewelry-making. "I took my first class in silversmithing in 1998 and started making jewelry at home," she says.
  After moving to San Francisco to escape the Arizona heat, she continued to work on her jewelry designs. "I'd spend hours in the garage working on them," she says. "Eventually I discovered that I liked making jewelry more than I liked doing architecture."
In 2003 Stiles moved to Portland, and, instead of working as an architect, she makes jewelry out of a basement studio in her home. Using silver and scrap metals such as aluminum, she creates frames into which she pours opaque colored resins. "When I pour the resins, I overfill the forms," she says. "When it's set, I sand it down so that the design comes through and you can see the metal details inside the resin."
  In addition to bracelets and rings, Stiles also makes earrings, cufflinks and necklaces under the label Stubborn. The orange resin-and-silver ring (left) is $200 and the aluminum, silver and resin link bracelet (below) is $250. Stiles' jewelry ranges from $35 to $300 and can be found at Redux (811 E. Burnside St., 503-231-7336) in Portland and at Foxgloves Gallery (35890 Seventh St., 503-368-3909) in Nehalem, Ore.
Contact jewelrymaker Mel Stiles at stubbornworks.com.