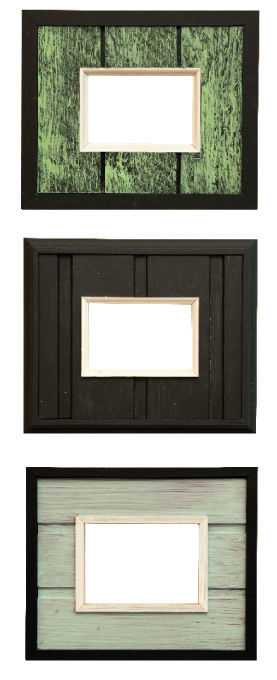 With green becoming mainstream, you've probably embraced repurposing in some form by now. Historic building repair specialist Andrew Curtis goes a step beyond. His job as president of Portland design/build firm Full Circa has given him over 20 years' experience in restoring and preserving historic homes, so it's no surprise that his personal aesthetic is also inspired by reuse. His new project involves repurposing lumber from a historic house into beautiful frames. The kicker? The house the lumber was repurposed from already has a long history of recycling over the past 130 years.
When Curtis bought the house, he learned about its long history from the two sisters who owned it. Their parents lived in a tent in the backyard for two years in the 1920s, as the sisters' grandfather salvaged lumber for the house from Victorian-style 1870s homes in Northeast Portland's Irvington neighborhood. After buying the house, Curtis carefully took it apart, repurposing pieces such as the V-groove ceiling boards in a new residence on the property. Rather than let the leftovers go to waste, Curtis has used the lumber for a third time in creating more than 250 original frames.
An art major, Curtis put his studio art degree in found-object sculpture on the back burner to work on general contracting and raising a family. "These frames are a way to force me back into the art world," Curtis says. The historical pieces would perfectly frame photos of your own personal history. 
$45-$120; available at crackedpots Art Show, July 24-25, at McMenamins Edgefield; Last Thursday on Alberta events; or contact [email protected]