For embroidery artist Emily Katz, the best kind of art is art you can do with a needle and thread—or a hook and yarn. "I've always been interested in tactile arts," she says. "I went to a Waldorf school, and we learned to knit, crochet and quilt. I did things that were hands-on, and that really taught me to think outside the box when it comes to making art."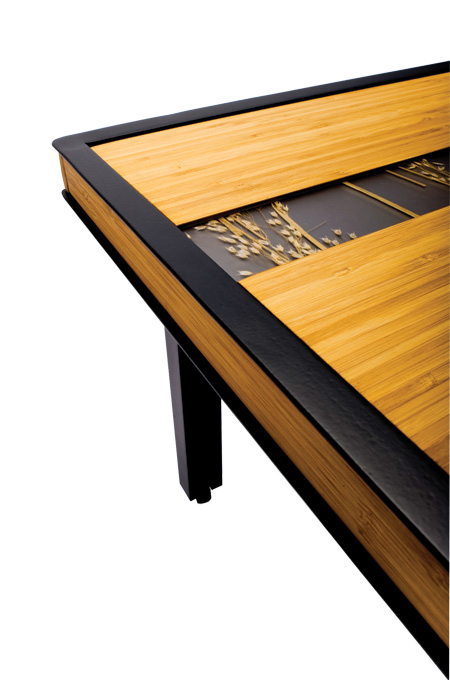 Katz, who moved to Portland from Colorado when she was in first grade, studied art for two years at the Maryland Institute College of Art in Baltimore. While there, she focused on printmaking and noticed a similarity between stitching and etching. "In raised etching, the line in the print is similar to the line you create in embroidery," she says.
In 2003, she moved back to Portland. After embroidering a T-shirt for a former boyfriend, she began designing embroidered clothing before deciding to concentrate mostly on art pieces that you can display. "I taught myself how to embroider with a sewing machine," she says. "I used vintage machines in the beginning, learning as I went along."
To make a piece, Katz starts with a background of natural, sustainable canvas. She creates all of her whimsical embroideries such as this portrait (above), which she calls Wild Swans, in a freeform fashion. "I don't have any programming for the sewing machine," she says. "I rarely make a sketch beforehand. I just sit down and see what happens. Typically, whatever I'm interested in at the time influences what I embroider."
Katz uses thread color and tension to give each piece a unique look from the front and the back. "I always use a straight stitch, but I play with the tension so that, on the back, the design looks a little different," she says. "I use threads in a lot of different colors and styles. Sometimes I'll use a different color in the bobbin, so the back is in a different color than the front." This 22-by-22-inch embroidery is $500.
Contact embroidery artist Emily Katz via e-mail at [email protected].