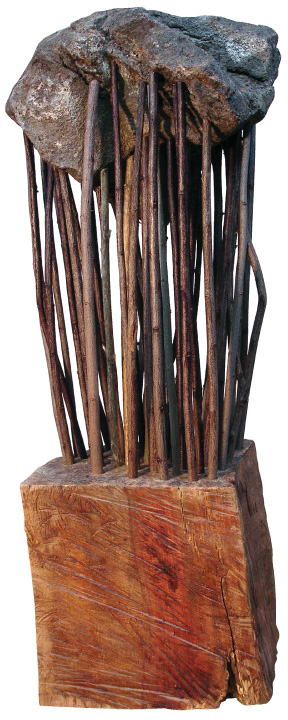 When mixed-media sculptor Stephen Adams moved from San Francisco to Oregon six years ago,it changed his art. "I'd been a painter, and just before I moved here I was doing almost exclusively digital art, which keeps you inside most of the time," he says. "I got tired of always sitting in front of the computer, and I got really interested in all the amazing natural material you find in Oregon—the woods and the rock and the environment in general. The material was so incredible I knew I wanted to make something with it, so I began to make pieces with the items I found."
  The Texas native had always planned on having a career as an artist. "I always knew I wanted to do something creative," he says. "Initially, I thought I wanted to be a writer, but in high school, I stumbled into art." After receiving a B.F.A. from Rice University in Houston, Texas, he spent several years working as a painter, printmaker and sculptor before moving to the West Coast in 1995, where he focused on digital imagery.
  In his basement studio, which includes a woodshop, welding tools and a viewing wall, Adams works with found materials such as copper pipes, salvaged lumber, twigs and rocks. Copper is one of his favorite materials to work with because it's lightweight and can look highly polished or very weathered. Sticks and Stones 2 (left) is part of a series of sculptures using twigs and stones. This piece is made from the remnants of a log, sticks and a rock, and the sculpture supports itself. "When I work with found material, I often juxtapose the pieces in odd or paradoxical ways. In this piece, I like the idea that something as fragile as the sticks, when put together, can hold up something as heavy as the rock," he says. "I enjoy turning everyday objects into something that has more meaning when you put them together." The 33-inch-high and 15-inch-wide sculpture is $800.
 
Contact sculptor Stephen Adams via his website at stephenadams.com. Adams' work can be seen at the Springbox Gallery (2376 N.W. Thurman St., 503-228-1600) in Portland.