Arnon Kazmarov and Fergus Kinnell took very different paths to Oregon, but a meeting at a party at a mutual friend's house led the two metalsmiths to start a blacksmithing studio, K & K Forgeworks.
Kazmarov, who moved to Portland in 1994, was born in Russia, moved to Israel as a teenager and then found his way to Japan, where met his wife, who was from Oregon. "I started messing around with steelwork when I was a kid and I apprenticed to a blacksmith," he says. "I moved to Japan to study the language, and I even worked as a linguist, but while I was there, I also trained with some master Japanese blacksmiths and had my own shop."
Kinnell grew up in New York City and studied geology at the University of Vermont before moving to Portland in 1991. "I saw Portland as an industrial city that was very different from East Coast cities," he says. "I took welding classes and ended up working on a special-effects team for a movie."
Five years ago, Kazmarov and Kinnell set up shop in North Portland, where they specialize in custom pieces and make everything from knives to architectural hardware to gates to tile. "It's satisfying to take a piece of steel and transform it into whatever tickles your fancy," says Kazmarov. "You heat up the steel and it becomes very plastic and you can split, puncture and add texture to the metal."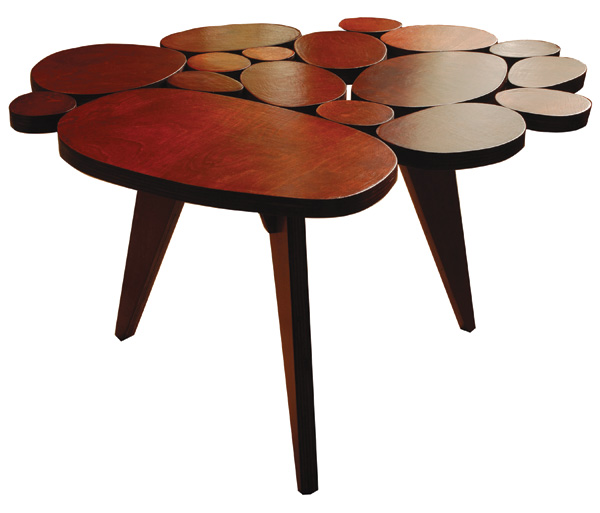 The artisans' tile, which is forged from stainless steel and can be used in backsplashes or inset into other materials such as concrete, references pop culture in some of its designs. A recurring motif in the 1982 sci-fi cult classic "Blade Runner," for example, inspired the Bladerunner tile (pictured, left). The cover of "Unknown Pleasures," the English post-punk band Joy Division's 1979 release (it features an astronomy encyclopedia's white-on-black rendering of 100 successive pulses from the first pulsar discovered), informed the look of the Joy Division tile (pictured, right). "Metal is a real challenge," says Kinnell. "It's a tough medium, and I like being able to work through its difficulties." Tiles start at $25 for a 4-inch by 4-inch tile, but the metalsmiths welcome commissions of any size and shape.
Contact metal artists Arnon Kazmarov and Fergus Kinnell at K & K Forgeworks (1812 N. Columbia Blvd., 503-807-9613) in Portland or via the company's website, kandkforgeworks.com.