From a very early age, fiber artist Leena Riker has been working with yarn. "I grew up in Finland in an environment where a lot of things were made by hand," she says. "I was born before World War II, and during the war, we had to be creative about making the things we needed. My mother taught me to sew, knit and crochet when I was 4, and I kept that up."
Riker, who received a medical degree in Finland, came to the U.S. to work at the University of Pennsylvania. She eventually moved to Portland, where she was a professor at the Oregon Health & Science University and taught and trained graduate students and conducted clinical research on strokes. While working, she continued working with fibers and taught herself to weave on a 6-by-6-foot loom. "I've always taught myself," she says. "I'd research and teach myself one structure at a time, often learning Scandinavian patterns I knew from my childhood."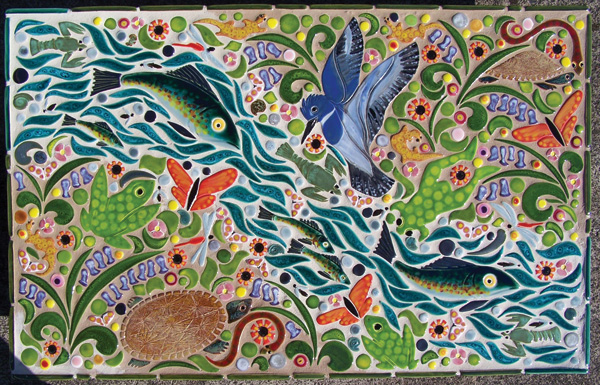 After retiring, Riker found herself with the time to learn new weaving skills. "The twine baskets that the Native Americans of the Columbia River Gorge made have always fascinated me," she says. "Once, I had to spend several weeks by myself in Wyoming, and I wanted a project to work on  but I couldn't take my large loom with me, so I began to teach myself to make baskets."
To make her baskets (below), Riker imports dyed paper yarn in a wide range of colors from Finland, which she uses for the ribs of the basket. Then she looks through her collection of yarns and fibers to choose the material to weave the basket. "I have huge quantities of all kinds of yarn," she says. "I always tell people that my home is my studio because it's loaded with yarn." She leaves the ends of the paper yarn unfinished to create the basket fringe.
Riker has made baskets as small as a thimble and as large as 6 inches high and 7 inches wide. "Making baskets is a very intensive experience," she says. "It's all by hand, using just your fingertips." Her baskets range from $250 to $450, depending on their size and style.
Contact fiber artist Leena Riker via the RiverSea Gallery (1160 Commercial St., 503-325-1270  or go to the gallery's website, riverseagallery.com) in Astoria, Ore.