Architectural metalworker Joseph Mross specializes in custom, hammered-copper kitchen and fireplace hoods done in an Arts & Craft-style, but he's made all sorts of other things, too. "I've done light fixtures, awnings, doors and even a hammered-pewter entertainment center," he says. "Once, I was asked to make a forged basketball hoop."  
An Oregon native, Mross received a fine arts degree from the University of Oregon, and began incorporating architecturally-designed metal pieces when he was working with his father, who was a building contractor. "That's how I discovered the Arts & Crafts period," he says. "We were working on a house for an artist, and he introduced us to a Craftsman magazine. The older designs inspire me, and then I combine different aspects of them to my own works."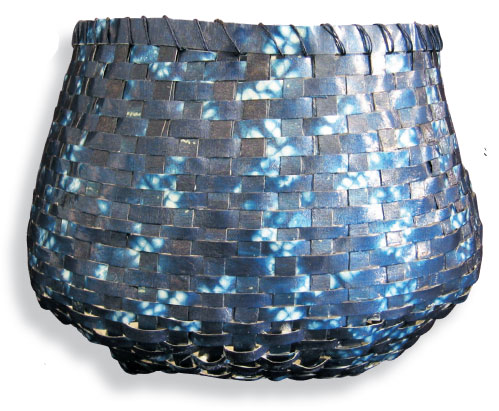 As the design, director and founder of the Eugene, Ore.-based Archive Designs, Mross designs and fabricates wares (fireplace screens, surrounds and doors; wrought-iron furniture; and copper sinks and countertops are also among his creations) in old outbuildings that are converted into workshops on his 33-acre farm. The studio is also a family affair: Mross's father helps with production and his sister does some of the repoussé work.
Mross works with a variety of metals, but most of the projects are copper and wrought iron. Each hood (pictured) starts as sheets of copper that hammers, air hammers and embossing presses shape. The pieces are put together using cold construction techniques. "I like the joinery to be part of the design, so all the parts need to work together and the rivets and joints are left exposed," he says.
Each piece is custom-designed for its space, and one of the things Mross likes most about his work is the way it combines function with art. "I'm drawn to the way this work crosses the line between architecture and something more industrial," he says. "I like using old industrial processes to create an aesthetically pleasing piece." Fireplace hoods start at $1,500. Kitchen hoods range from $5,000 to $8,000.
Contact metal artist Joseph Mross via his Web site, archivedesigns.com.