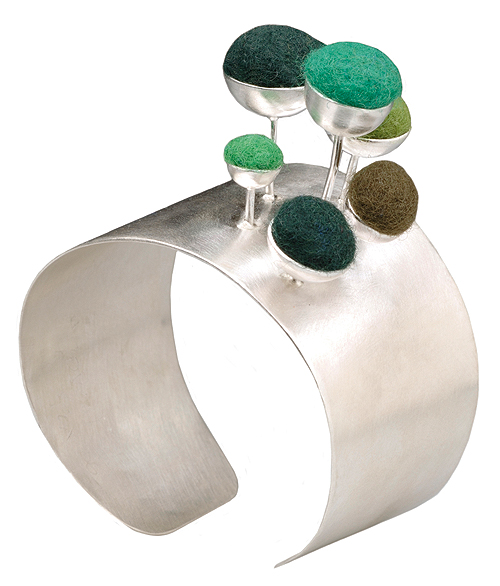 If you like to pop an all-black outfit with one crazy piece of jewelry, you'll love the attention-getting rings, earrings, cuffs, brooches and necklaces that Sarah Fox fabricates. "My jewelry says, 'Hell, yeah! I'm taking on the world!'" says the artist and freelance producer (OPB and HGTV are among her previous clients).
Raised on five acres in West Linn, Ore., Fox, a newlywed who recently moved to Hood River, Ore., to begin married life with her scientist-husband, attended the University of Chicago for two years and graduated with a degree in international studies and anthropology from Kenyon College in Ohio. As a high-schooler, she learned jewelry-making basics from her mom, metalsmith Carla Fox. More recently, she taught herself to felt to create jewelry she envisioned in her mind's eye. "A couple of people have told me that my jewelry looks like Dr. Seuss' characters, but I haven't looked at his books since I was a kid," she says of bracelets such as Sprout (right), which has topiarylike felt accents "growing" atop a silver cuff. "I just pay attention to where the materials want to go and I'm not afraid to get out of my comfort zone." Her latest obsession is with hollow forms.
So who are the women snapping up Fox's avant-garde adornments? "I have the coolest clients!" she says. "They're fun, wacky and have a good sense of humor. I just sold a bracelet to a woman to commemorate her birthday: She'd just turned 90!" Earrings start at $100; custom necklaces cost $3,000. The Sprout bracelet costs $445.
Contact jewelrymaker Sarah Fox via her website, sarahfoxdesigns.com.