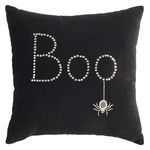 Around this time of year, body parts start showing up in my neighborhood. It's a nice neighborhood. The bloodied hands clawing their way up from shallow graves are top quality. The disembodied heads smiling from porch swings never bore strangers with talk of their obvious separation anxiety issues.  Once, a single severed ear appeared on the front lawn of a homeowner with minimalist tastes and a thing for David Lynch.
This year I expect to see pies.
Nothing incites terror more than pastry after you've seen the Portland Center Stage production of  Sweeney Todd. In the macabre musical about a barber given to extremely close shaves and a baker with a most unusual recipe for success, pies are, so to speak, the smoking gun. Sweeney Todd seems a fitting October design inspiration.
A barber chair and a rolling pin never looked so scary.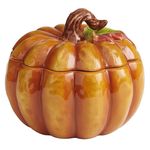 Decorating for Halloween is an art for some people. One house along the trick-or-treat route of Alameda Ridge in Portland created an entire haunted house visible from the sidewalk that included ghoulish guests sitting around an elaborately set dining table. On another block, winged gargoyles glared down from the eaves of a Gothic-style house. (Bonus points for thematic consistency.) In the front yard of a third house, a mechanized skeleton and cat threw my hound for a loop. She really wanted to make a grab for the juicy-looking bones but there was the issue of the green-eyed feline the size of a small car.
Some people go for the gore. I'm more of a naturalist favoring ripe pumpkins, bales of hay and dried corn. The pilgrim-harvest look makes me seem all granola-crunchy-Earth-Mama, but honestly it's just because I'm a squeamish whuss around severed limbs, plastic or otherwise. On the set of Grimm for a story earlier this year, I wandered past a rat-eaten prop corpse that made me physically gag. A rodent in a cage is bad. A rodent in a rib cage is very bad. It was hard to tell if the artist responsible was offended or flattered by my discomfort.    
Here's a little non-scary design inspiration. 
Picture above: Boo Pillow, $20,  lidded pumpkin bowl, $10, both  from Pier 1 Imports.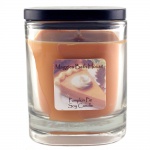 At right, Pumpkin Pie Soy Candle by Maggie's Bath House, $8, at Made in Oregon stores.
Vivian McInerny is the managing editor of Oregon Home.