As its name suggests, among the neighborhoods of Portland, the Pearl is like an elegant gem nestled among industrial buildings and busy streets. Often considered to be Portland's artistic hub, there's an eye for design everywhere you turn, from the local watering holes, to the interior design stores themselves. Check out our guide below to discover our favorite places, spaces, and more in the Pearl.
---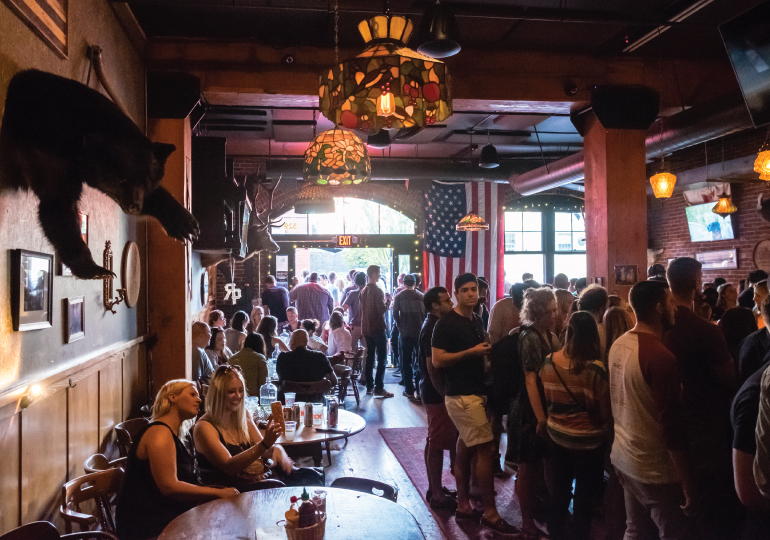 ---
1 | RIVER PIG SALOON
529 NW 13th Ave, Portland
If you want: Classic pub grub and libations with a modern twist
A locale as eclectic as its namesake (River pigs were lumberjacks who were responsible for driving timber down the hills and river to the saw mills), River Pig Saloon serves as the local watering hole for both local businessmen and women, to the yogis meeting up after a class around the corner to feel comfortable. They offer a tempting array of craft beers and cocktails to suit any palette, with a focus on simple and fresh flavors. Beyond being a place to grab a drink after work, River Pig Saloon also plays host to monthly block parties where both long time residents of the Pearl and newcomers to the neighborhood can gather and feel welcome.
---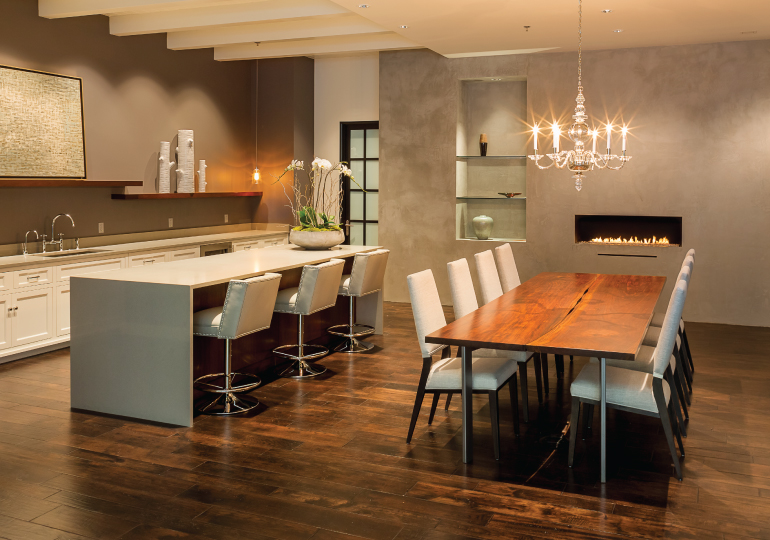 ---
2 | O'DONNELL GROUP REALTY
1221 NW Everett St, Portland
If you want: A piece of the Pearl to call your own
As The City of Roses (and the Pearl itself) continues to welcome new residents from near and far, O'Donnell Group Realty serves to find both international and national buyers alike a piece of Portland to call their own. But for owner Kathleen O'Donnell, it's about more than just real estate. Playing an active role in monthly First Thursday festivities, as well as donating the office space for meetings and non-profit events, it's about supporting the Pearl community. "I think that the Pearl will continue to attract visitors," she explains. "It's a microcosm of what makes Portland, Portland".

---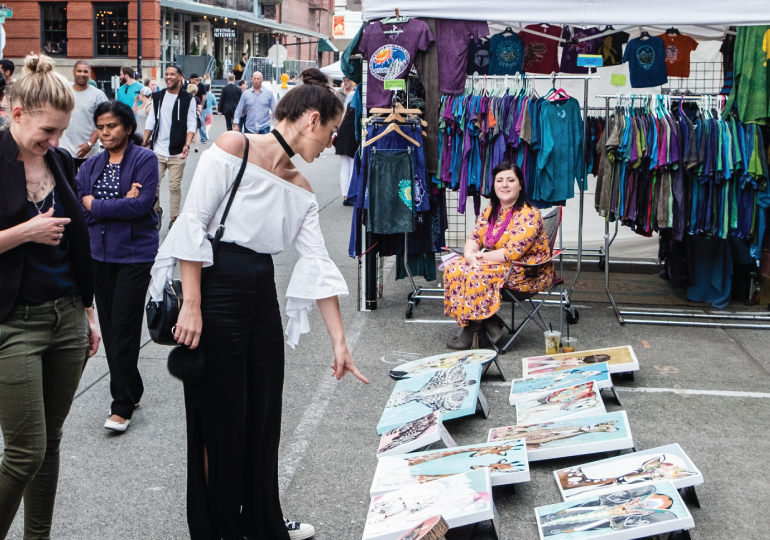 ---
3 | URBAN ART NETWORK
www.urbanartnetwork.org
If you want: A taste of the Portland art scene
With the arrival of spring comes the highly popular and anticipated First Thursday Street Gallery. For one vibrant evening each month from April through October, artists at all stages of their careers spill out into the streets of the Pearl to display their wares for residents and visitors to enjoy. Behind the event is non-profit Urban Art Network; run primarily by volunteers, all of whom also participate in the event as artists, First Thursday has been going strong for seventeen years to date with no signs of stopping. It's a reflection of "the tremendous art-appreciating community we live in," says organizer Jennifer Kapnek.
---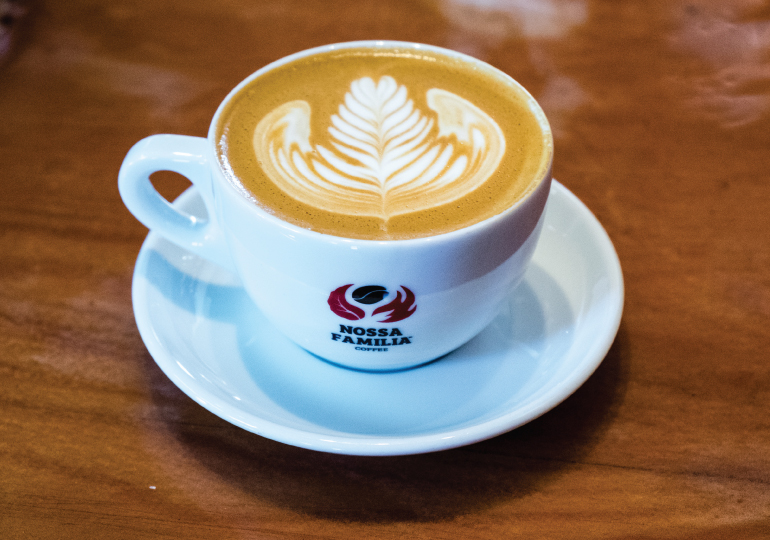 ---
4 | NOSSA FAMILIA COFFE
811 NW 13th Ave, Portland
If you want: Hand-crafted brews with a true family feel
Founded in 2004 by Brazil native Augusto Carneiro, who grew up working on his family's coffee farms, Nossa Familia stays true to its name. From bean to brew, visitors can get an in depth look at the coffee being roasted and packaged by hand, as well as enjoy offerings from the in-house espresso bar. And just how Nossa Familia serves as a gathering place for both coffee-loving residents and visitors alike, so it is reflected in the neighborhood in which Carneiro calls home. "What we love most about the Pearl is how welcoming it has been," he explains. "The Pearl draws a wide variety of people…it seems like there's always something going on".
---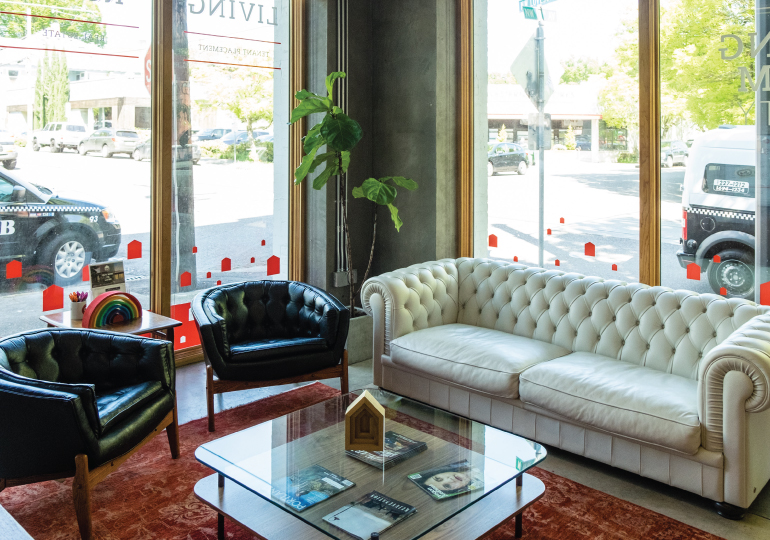 ---
5 | LIVING ROOM REALTY
1636 NW Lovejoy St, Portland
If you want: To find your 'living room' in the Pearl or beyond
As their name suggests, Living Room Realty's mission is to help their clients find their 'living room' and in turn, a piece of Portland to call their own. With the Pearl growing in popularity, their sixth location on NW Lovejoy location seemed like a natural fit and today serves what owner Jenelle Isaacson describes as one of the most financially diverse neighborhoods in the city. "The Pearl is a neighborhood brimming with urban amenities where people can work, live, and play all within a few blocks," she explains. "Because of that, the area is more vibrant, safe, and inclusive than ever."

---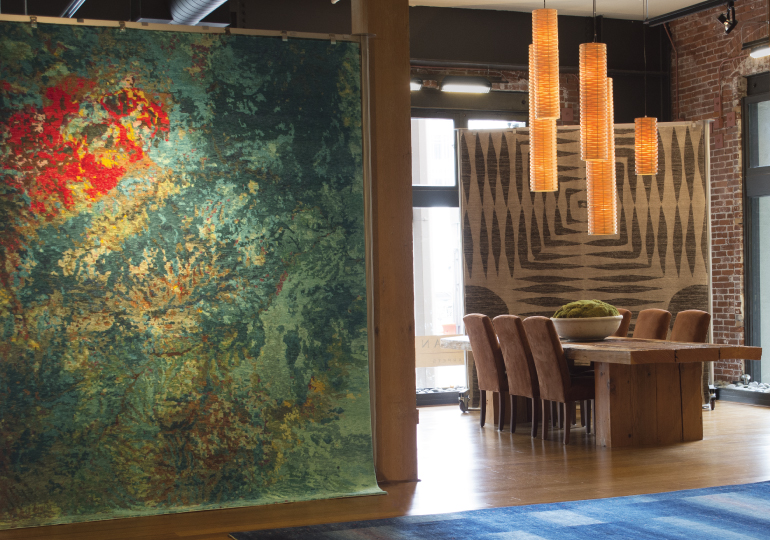 ---
6 | TUFENKIAN CARPETS
515 NW 10th Ave, Portland
If you want: Handcrafted rugs with a dose of Tibetan style
Bringing a taste of Tibet to Portland, Tufenkian Carpets specializes in modern designed rugs crafted by hand from all natural and renewable materials. With the Pearl's vibrant art scene already in place, finding a home there was an easy transition, and as the only Tufenkian outlet location in the world, it serves as a hub for local designers and homeowners alike, much like the Pearl itself. "With an eye on our history, the Pearl continues to grow," explains Showroom Manager Abby Mages. "And with more growth means more businesses, more homes, and more opportunities for the Pearl to foster the continually growing Portland art scene."
---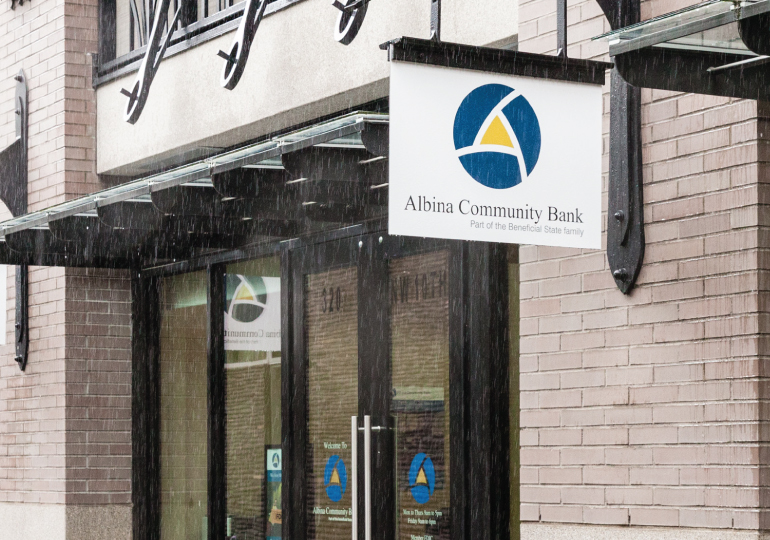 ---
7 | ALBINA COMMUNITY BANK
Recently relocated to 320 NW 10th Ave, Portland
If you want: A bank with a distinctly neighborhood feel (and mission)
With all of their branches calling Portland home, Albina Community Bank represents local businesses to a T, but their location in the Pearl is a lot more than just a place to make a deposit. With a mission-based banking focus to value people and planet over profit, Albina Community Bank provides financial education to improve financial literacy as well as bank supported volunteer efforts around the community, which fits right in to the Pearl's diverse and welcoming feel. "The Pearl is Portland's most vibrant neighborhood," President Sue Campo notes. "You often run into people you've come to know like a neighbor".
---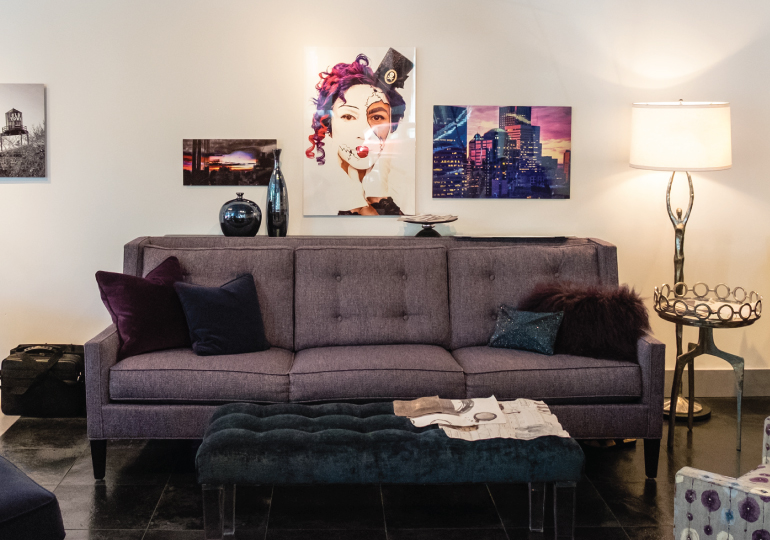 ---
8 | SPECTACULAR DESIGN
347 NW 9th Ave, Portland
If you want: Luxurious designs with a serious dose of fun
When it comes to all things interior design, it's hard not to take notice of the shop front in the Pearl that Spectacular Design calls home. Taking inspiration from hotel-style luxury with pops of color and natural elements, designer Anita Sande and her team create spaces that reflect each client's personality, while remaining warm and inviting for all. Taking a dose of inspiration from the neighborhood, Sande also enjoys using mixed materials in her designs, from velvet paired with wood to linen paired with metal; they embody a lively and playful nature that is at the heart of the Pearl. "The Pearl…[is] headed toward more and more cool stuff everywhere you look," she explains. "I call it the multiplication of cool".
---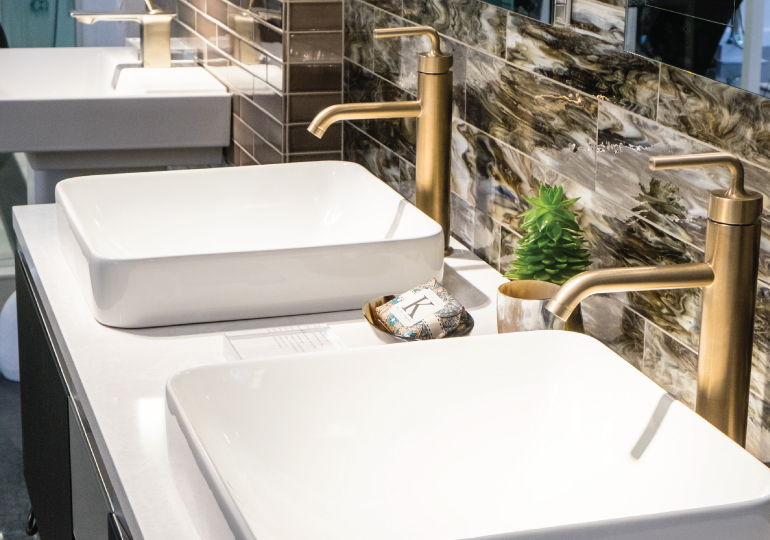 ---
9 | KOHLER SIGNATURE STORE BY KELLER SUPPLY
1100 NW Glisan St, Portland
If you want: To make all your bathroom and kitchen dreams come true
With its clean lines and floor to ceiling windows, Keller Supply's storefront is a stand out on the busy streets of North Portland. Owned and operated in partnership with brand Kohler, the store wears the badge of Kohler Signature Store with pride and serves as a hub for all things kitchen and bath, from surfaces and floor treatments to fixtures and lighting. With the Pearl's distinct bent towards design, it's a match well suited for all. "We love being a part of this community!" says Store Manager Naomi Bryson. "We see the Pearl as the center of the Portland design world".
---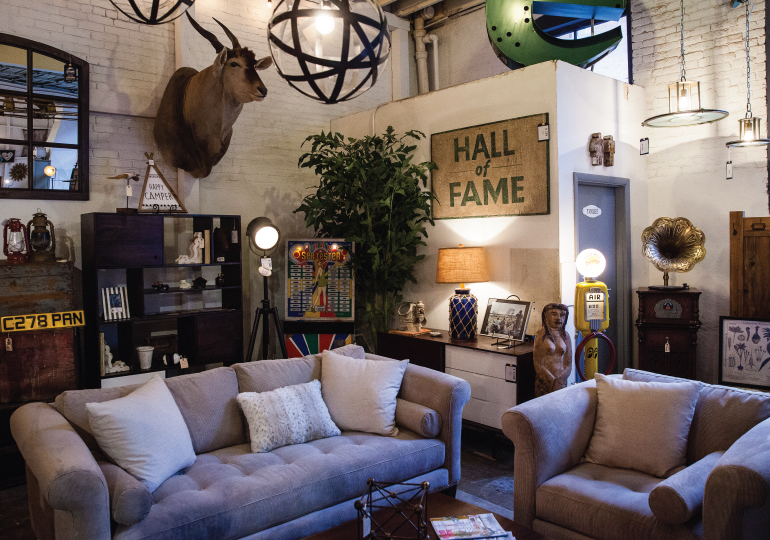 ---
10 | CITY HOME
825 NW Davis St, Portland
If you want: Old and new home furnishings with a serious dose of whimsy
Walking into City Home is a bit like walking into a curiosity shop. From a handmade reclaimed wood ping-pong table in the entryway, to a stuffed wild boar on the showroom floor, it's definitely not your typical furniture store. It's second location, it occupies a 1906 historic brick building in the heart of the Pearl, where it feels right at home among the other design outlets. And while owner Kim Pelett is serious about helping her customers find the perfect piece for their home, she notes that "the soul of City Home lies in the blending of old and new…and not taking itself too seriously".
---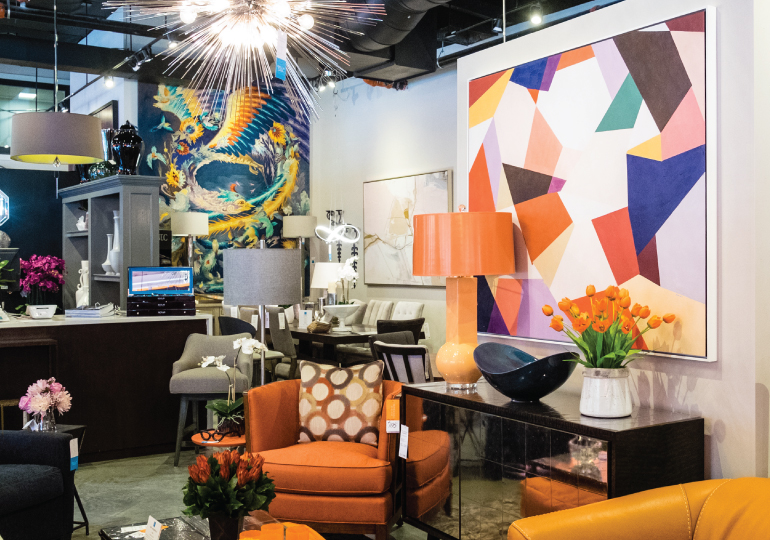 ---
11 | BELLA CASA
223 NW 9th Ave, Portland
If you want: Hand-picked home wares with an eye for elegance
A Portland favorite for 20 years, Bella Casa's name is fitting: stepping into the store feels like you're visiting a beautifully decorated and lived-in home. With everything from furniture and lighting to gifts and accessories, it's easy to spend the day browsing the spacious showroom, but if you're looking for something specific, the in-house design team can help find that perfect piece to compliment your space, much like how Bella Casa compliments the neighborhood it's in. "[The Pearl] feels like one of Portland's most special areas because of all the life and action that is here," says founder Richard Codanti. "It offers excitement for those that live here or just come for a visit".
---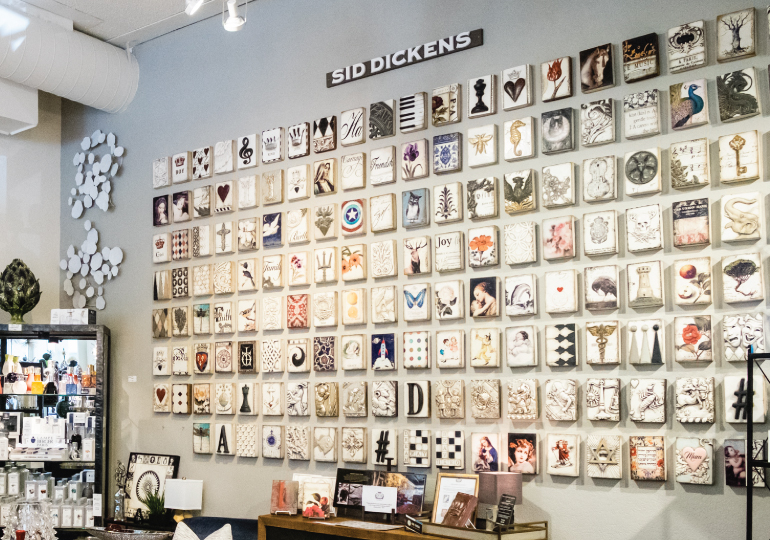 ---
12 | CURATE
901A NW Davis St, Portland

If you want: Eclectic gifts for you and your home
Sister store to Bella Casa (and its next-door neighbor!), newly opened Curate specializes in uniquely curated accessories and gifts for the home and beyond. From jewelry to barware to an eclectic collection of colorful wall clocks, there's something for everyone at Curate; though it's clear that each item in the store was chosen with a distinct eye for design, fitting for the Pearl and something that owner Richard Codanti takes great pride in. "Curate has become a favorite store for our clients," remarks owner Richard Codanti. "We often hear from that it is their 'go to place'".
---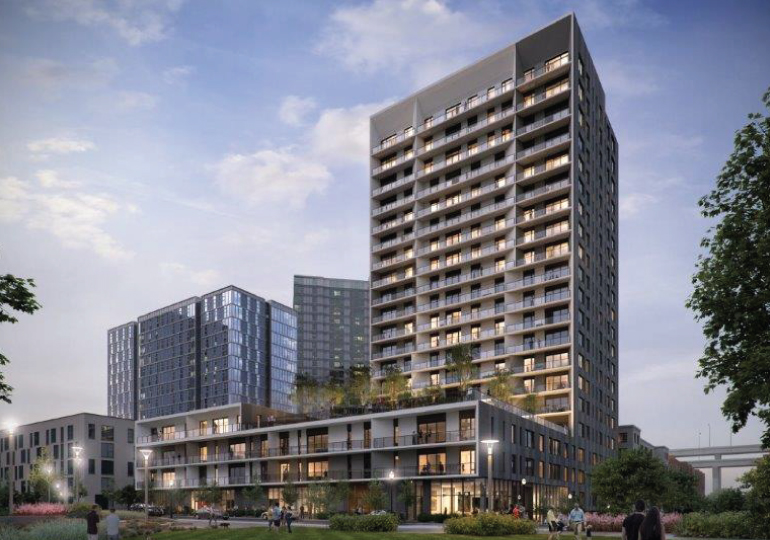 ---
13 | HOYT REALTY GROUP
1130 NW 10th Ave. Portland
If you want: A Pearl-area realtor with a local touch
To live in the Pearl is to live steps away from the shops, restaurants and art venues that call it home. With rise in popularity as a neighborhood, Hoyt Realty Group is poised to match their clients to the perfect home for them, but with a distinctly local touch. The team at Hoyt Realty Group knows the neighborhood, it's about more than just real estate. "City parks, hotels and restaurants have turned this neighborhood into a vibrant mixed community," says principal broker Marilyn Andersen. "We get to know our customers and enjoy working with our friends and neighbors." Currently selling Vista, the newest condo in the north end of the Pearl, Hoyt continues to provide the best real estate services from every corner of the district.
---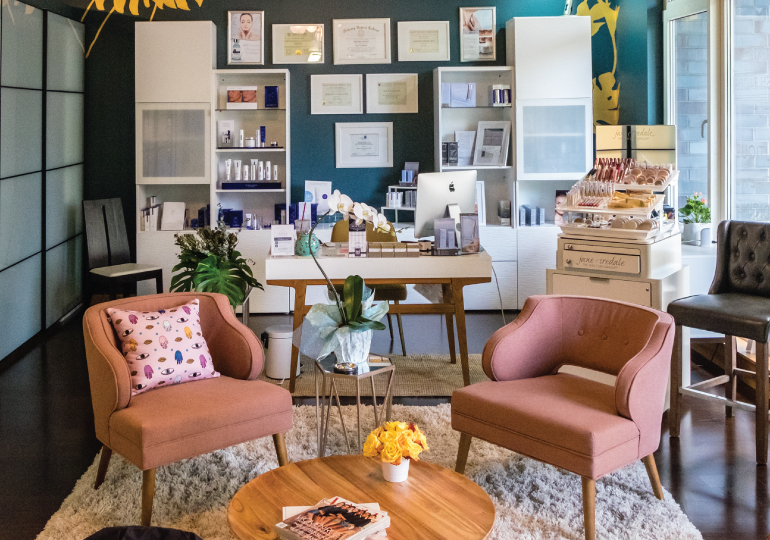 ---
14 | FRESH FACES RX
1255 NW 9th Ave, Portland
If you want: A beauty practice with a boutique feel
Though the interior of Fresh Faces RX feels luxe and upscale, much like the neighborhood it calls home, everyone working there is distinctly down to earth. From facials and peels to manicures and makeup, all the treatments offered are to encourage their clients to love the skin they're in. And much like the practice itself, Medical Director JoDee Anderson takes great pride in the neighborhood (and their neighbors) they've recently come to call home. "They welcomed us like family," she remarks. "[The Pearl] is a gorgeous piece of Portland…there is something for everyone here".