AN ECLECTIC MIX OF OLD, NEW AND THE ARTFUL
Vintage typewriters ($75 to $300), an 18th century sofa with down cushions in a fabulous silk ($2,000), new mossy balls ($9 to $30) and local artists' work are at home at NOUN (3300 S.E. Belmont St., 503-235-0078 or go to nounshop.com), which owner Stephanie Sheldon (pictured), a transplant from Ohio who graduated with a degree in English Lit, defines here as "A Person's Place for Things."
If you're among the house proud who use "estate sale" as a verb, you'll like Sheldon's picks. She's into vintage Sterling fans ($48) with clean lines and collectibles such as salt-and-pepper shakers ($7 to $16), but retro-look new pieces such as a pink Big Chill fridge ($3,000) are here, too.
"It's not a secret where I get some of my stuff," she says. "I'll tell my clients which estate sale I found something at, and they'll say, 'I was at that sale and I didn't see that chair there!' And I'll go, 'That's because I was there before you!' Sometimes you don't 'see' something if it's dirty or with the wrong shade. I like to reconceptualize things. It's my special gift!"

TEA FOR TWO…OR ONE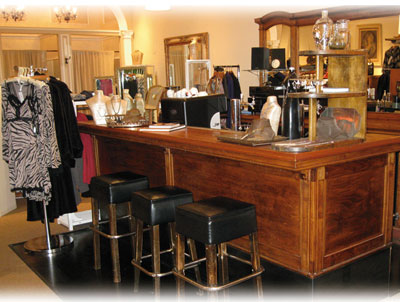 The ORIGINAL TAO (3430 S.E. Belmont St., 503-736-0119 or go to taooftea.com) will transport you to such faraway places as China, Sri Lanka and India with its teas and tea accoutrements (think Yixing teapots made from a special purple clay, $35) for the discriminating tea lover.
You can select specialty teas from the 33 copper tins and more than 100 silver tins that elegantly line the wall behind the wabi sabi-edged slab of maple that serves as a countertop. Look for compressed discs of tea, such as this 2005 Mansa Old Growth Tea Forest ($75), which brew 80 cups.
THE TAO OF TEA WHOLE LEAF TEA BAR dishes up snacks from India and Japan ($3), exotic entrees such as Gobi Parantha ($9), an Indian flatbread filled with cauliflower and cilantro, desserts and—duh!—tea in a Pier 1 meets Starbucks ambience.
FLUFFY GOODNESS FROM THE SOUTH
The only way the biscuits at PINE STATE BISCUITS (3640 S.E. Belmont St., 503-236-3346) would seem more authentic would be if they were sold next to a weird nonfood item (knives? shoes?) or if the North Carolinians who opened this always-crowded place last year would ramp up their drawls (say "Wayne" as "Whine"—and drag it out for, oh, 15 seconds).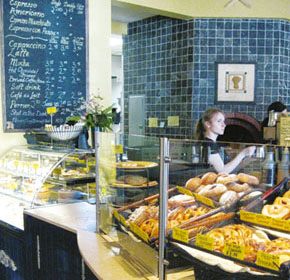 The five-table, four-stool diner sets some fine fixings atop its knotty pine-fronted countertop like this stack of Creamtop Buttermilk Biscuits and jam ($1.50 per biscuit, $3 for a biscuit with jam, butter and honey, or pimento cheese spread). Just grab a little reading material before you head for this popular joint: The line out the door goes by faster when you're not watching your watch!
TU-TUS AND TOO-CUTE CLOTHING AND TOYS FOR KIDS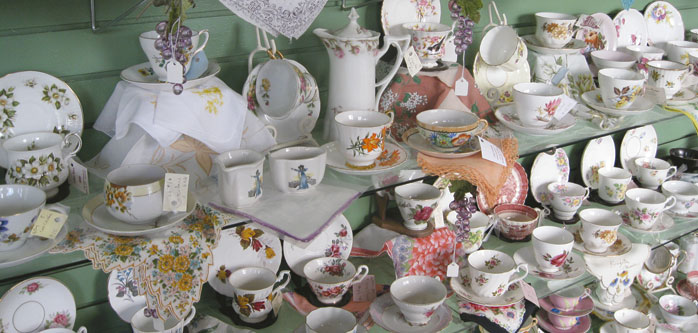 It's not surprising that a husband-and-wife team owns POLLIWOG (2900 S.E. Belmont St., 503-236-3903 or go to polliwogportland.com), a children's clothing, toys, music and baby paraphernalia (think slings and carriers) store. You feel the family-friendly vibe as soon as you enter the shop. The parents of two children, shop co-owners Phoebe Smith-Buls and Chris Raak stock stylish made-in-Thailand clothing from Tea ($34 for a sweet little dress in a Japanese-inspired fabric) and Citizens of the World for little people from newborns to size 10. Girls in their fairy stage will have to use their magic wand to choose between oh-so-Tinkerbell dresses with attached wings ($34) and the racks of Kaiya Eve Original Pettiskirts (pictured) puffed out from 25 layers of tulle and stretch lace ($82, but the expandable ribbon waist is meant to last your little one for a handful of years).
If you haven't given birth to a girly-girl, check out the 27-piece cookware and dining set ($42) made from recycled milk jugs or the Automoblox ($40) for your best car-crazy boy or girl.
BY THE NUMBERS
May we suggest: Pretend you're in the Tar Heel state of North Carolina and get you one of them Creamtop Buttermilk Biscuits at Pine State Biscuits, located near S.E. 36th Ave. Then walk down to S.E. 29th Ave. and shop your way back to work off all that strawberry jam you slathered onto your biscuit(s). Next time, go for the grits!
1) 2900 S.E. Belmont St.—POLLIWOG. Fairy dresses share space with Pediped hand-crafted, soft-soled leather shoes at this well-edited children's clothing and toy shop.
2) 3300 S.E. Belmont St.—NOUN. You'll find everything from etched barware to vintage furnishings to local artists' canvases at this popular home furnishings store.
3) 3300 S.E. Belmont St.—SAINT CUPCAKE. Little cakes wearing swirls of icing 'hats' keep a stream of kids walking to the back of Noun for their cupcake fix.
4) 828 S.E. 34th Ave.—ANTHEM RECORDS. Got someone in your life who can't live without earbuds in? Send him to this music store.
5) 3415 S.E. Belmont St.—ZA ZEN. This narrow boutique sells affordable clothes in great fabrics and a nice selection of jewelry that won't break your bank account.
6) 3430 S.E. Belmont St.—ORIGINAL TAO. Tea aficionados can buy the best teas from around the world in quantities both large and small at this beautiful tea and tea accoutrement emporium.
7) 3430 S.E. Belmont St.—THE TAO OF TEA WHOLE LEAF TEA BAR. Have someone else brew you up a great pot of Nepali Oblong and enjoy it with a Japanese snack or street vendor food from India (roasted yam and lime, $5) at this tea bar that feels as if you are half a planet away.
8) 900 S.E. 35th Ave.—HISTORIC BELMONT FIREHOUSE SAFETY LEARNING CENTER & FIRE MUSEUM. Learn about fire safety by riding in a fire call simulator and sliding down a 6-foot-long firepole!
9) 3640 S.E. Belmont St.—PINE STATE BISCUITS. Grab a cup of Stumptown coffee ($2) and an order of biscuits and gravy ($5), then plop on the bench in front of this diner and watch it disappear!