HIS ALOHA SHIRTS ATTRACT BUYERS FROM HAWAII!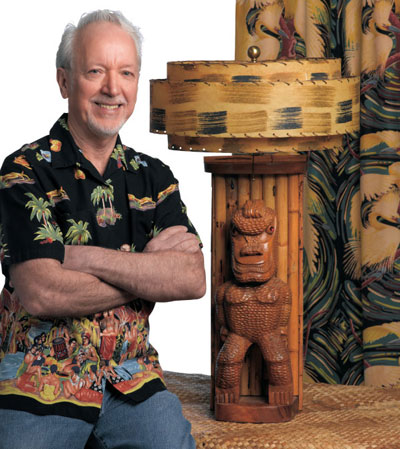 Whether you want to dress to impress while you play bartender behind the tiki bar in your mid-century home or simply want to pay a fair price for an Aloha shirt before you get to the Big Island, check out the racks at BAMBOO REEF, booth F13 in Antique Alley, an antiques mall in the lower level of the 42nd St. Station (2000 N.E. 42nd Ave., 503-287-9848). At the bottom of the staircase, take a left, then another left, then duck into this colorful booth. Roy Derring (pictured) is the man behind this ever-changing stock of Hawaiian shirts, all arranged by color. Look for well-designed vintage and reproduction shirts in immaculate condition in 100 percent cotton or rayon with labels such as HILO HATTIES ($16) ("The Hawaiian Original . . . made in Hawaii"), GOTCHA SPORT ($20) and PARADISE FOUND ($18). "I have a lot of Hawaiian dealers who fly to Portland to buy my shirts—and then they take them back to Hawaii to sell," says Derring.
Shelves on either side of the shirt racks are filled with tiki bar accessories such as these hulagirl vessels that can be used as glasses or vases ($22) and this 1920s tiki lamp ($295). "Do you want the short version or the long version?" asks Derring when questioned about how he got into the all-things-Aloha trade. "My aunt and uncle used to manage the Aloha Shop at the Meier and Frank store downtown. When I was a boy, I'd visit them there and I guess it made an impression on me. Now this is my forever full-time job."

OUT WITH THE NEW…IN WITH THE OLD!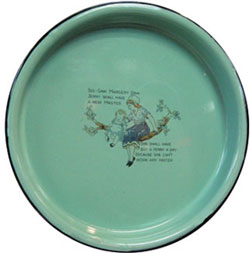 If you're always on the prowl for a vintage treasure that's a good deal or a total steal, browse the aisles at ANTIQUE ALLEY (2000 N.E. 42nd Ave., 503-287-9848), HOLLYWOOD ANTIQUES (1969 N.E. 42nd Ave., 503-288-1051), RALPH'S HOLLYWOOD FLORIST (2005 N.E. 42nd Ave., 503-249-1888) and RITADECO (1925 N.E. 42nd Ave., Suite D, 503-253-5793), which sells a mix of collectibles ($50 for a Kennedy campaign poster), new gifts and artwork.
This 1930s Swedish child's plate ($20 in booth #24 at Hollywood Antiques) would make a nice baby gift or the perfect fruit bowl for the table in your country kitchen. "I have the best dealers," says Tina West, a former county assessor who's owned Hollywood Antiques for four years. "Some people even say I have a ghost. Supposedly an antiques dealer died in the building and, in one corner of the basement, some people hear a man jangling change in his pockets, yet no man is in sight!"
LET A CUSTOM SEAMSTRESS WHIP UP WHAT YOU NEED
Got a chair with great lines stashed in your basement because its fabric is circa 1984? Drive it over to LISA'S UPHOLSTERY(2000 N.E. 42nd Ave., 503-288-8187), where Lisa Erickson will turn your ugly duckling into a swan. "I have clients in Portland, Eastern Oregon, Las Vegas, Seattle and California," says Erickson, who's spent the last 23 years on everything from pillows to reupholstery for vintage sofas to silk bedspreads ("The silk was $1,000 a yard!") for a luxe yacht. "The only thing I don't do are window coverings. They're a nightmare to do—really!"
BY THE NUMBERS
May we suggest: Park your car near the antiques and furnishings shops in the district's north end. Break for a burger when you reach merchandise overload, then hit the best of the rest.
1) 2005 N.E. 42nd Ave.—RALPH'S HOLLYWOOD FLORIST. Fresh garden flowers look pretty here amid vintage treasures.
2) 1969 N.E. 42nd Ave.—HOLLYWOOD ANTIQUES. Two levels of booths filled with good old stuff will part you with your money.
3) 2000 N.E. 42nd Ave.—HIMALAYAN GIFTS & CANDIES. Why wait for your next trek to Nepal to stock up on candles, tea, incense and henna tools?
4) 2000 N.E. 42nd Ave.—BAMBOO REEF. Get that Hula Guy feeling going for your favorite dude with a vintage Aloha shirt.
5) 1928 N.E. 42nd. St.—PERIODICALS & BOOKS PARADISE. Pinching pennies? Buy these home mags that have been "pre-owned."
6) 4211 N.E. Sandy Blvd.—HOLLYWOOD BURGER BAR. Nothing could be finer than eating a burger in a diner. Go face down!
7) 4148 N.E. Hancock St., Suite A—TUESDAY MORNING. Into brand names? These close-out sales will save you big money.
8) 1925 N.E. 42nd Ave., Suite D.—RITADECO. New and vintage goodies rule in this delightful shop.
9) 1905 N.E. 41st Ave.–DANIA. Four levels of furnishings will give you good ideas for every room.
10) 4023 N.E. Hancock St.—POSH DESIGNS. Two interior designers run this store, which is filled with quality furniture and colorful home accessories.
11) 1724 N.E. 40th Ave.—LEMONTREE. Artsy goodies and gifts make a cool statement here.
12) 4071 N.E. Sandy Blvd.—SHAG. Mid-century modern fans will love these decades-old finds.
13) 4010 N.E. Broadway St.—A-BOY PLUMBING. Shop for your next claw-foot tub or sink—then buy that light bulb you need in this hardware store and fixture showroom.
14) 4121 N.E. Halsey St.—TRADER JOE'S. Forget shopping for your family's next meal. Head for the buckets of oh-so-cheap stems and buy yourself a big bunch of love!