Photos by Jeff Freeman
Designer: Pangaea >> interior-design-portland.com
Pangaea, owner of Pangaea Interior Design, is well aware of how physical surroundings can impact the people who live in them. Since leaving her full-time job as an artist, she has established herself as an intuitive designer who partners with clients to create visually stunning rooms that are deeply satisfying to use.
Recently, Pangaea was awarded the 2015 Home Builders Association Excellence Award for Best Kitchen Design for a renovation in a Southeast Portland home belonging to Richard and Linnaea Bursch. Here, she offers three of the principles that helped to make this soothing space—along with so many of the others she designs—remarkably simple to work in and maintain.
1. Define Your Workspaces
Everyone has slightly different priorities in the kitchen. Once they are identified, the task is clear: to create a space that makes preparing the foods you love straightforward and enjoyable. For any workspace, Pangaea explains, "the design goal is ease."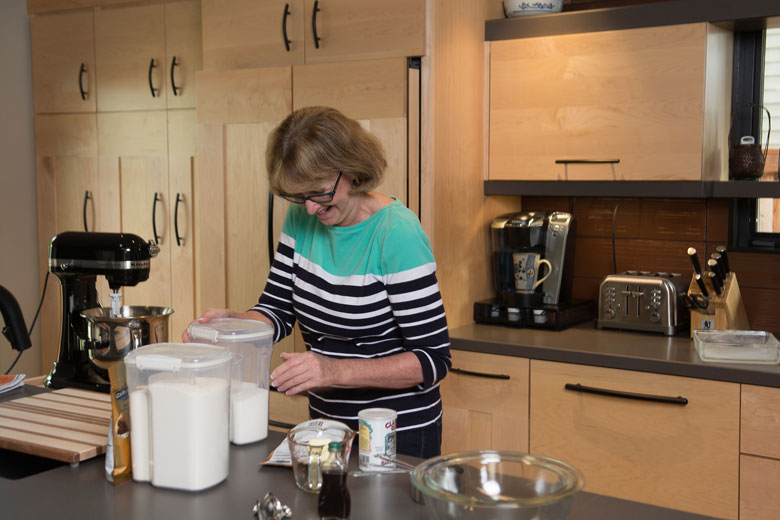 Homeowner, Linnea loves to bake, so her kitchen was designed around that.
With Linnaea Bursch's love of baking in mind, Pangaea established a zone where the homeowner can stand and grab spices from a drawer, pull flour from a cupboard, and prep dough with the aid of a mixer that raises to counter top level. When she needs to sliver almonds or chop chocolate, Linnaea uses a cutting board that lays across her prep sink. A touchless faucet means she can wash up with the tap of an elbow or wrist and eliminate the need to wipe down a sticky metal surface later.

A roll out organized spice drawer is key for making baking easy.
A love of coffee was translated into a coffee corner in the updated room, with a Keurig machine that sits below a cabinet, with a lift-up door that houses cups and coffee pods. The refrigerator, where the Bursches can reach for their cream, stands just to the left of this area. Dishwashing duties were streamlined with two accessible dishwashing drawers installed directly across from a dish drawer.
2. Build In Flexibility
When faced with limited kitchen space, as many of us are, thinking creatively can usher in new, exciting possibilities for how a room can be put to use.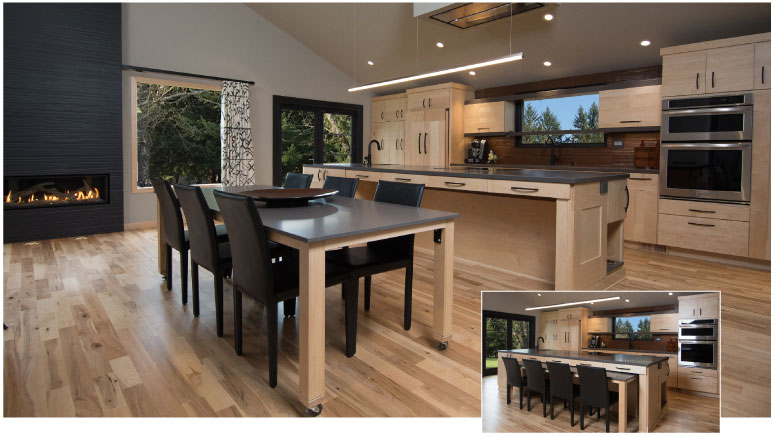 A roll-out dining table tucks into the island to allow for multi-use of space. Lapitec countertops are used for easy care and cleanup.
When Linnaea works in her kitchen, she can now use it as a craft space, in addition to cooking, baking and entertaining there. On the back of her new island, expertly tucked away, is a long maple dining table that seats up to 10 people. When not being used to feed large gatherings, the table rolls back and functions as a breakfast bar, with a high-tech Lapitec countertop that matches others throughout the kitchen.
When Linnaea feels like working on Ikebana, the Japanese art of flower arranging, the table comes out and transforms into a floral arranging station, with a set of shallow drawers for tool storage along the top edge of the island and a craft supply closet just four feet away.
3. Choose Materials Wisely
Kitchen surfaces and fixtures can make the difference between a room that is complex to care for and one that cleans up quickly.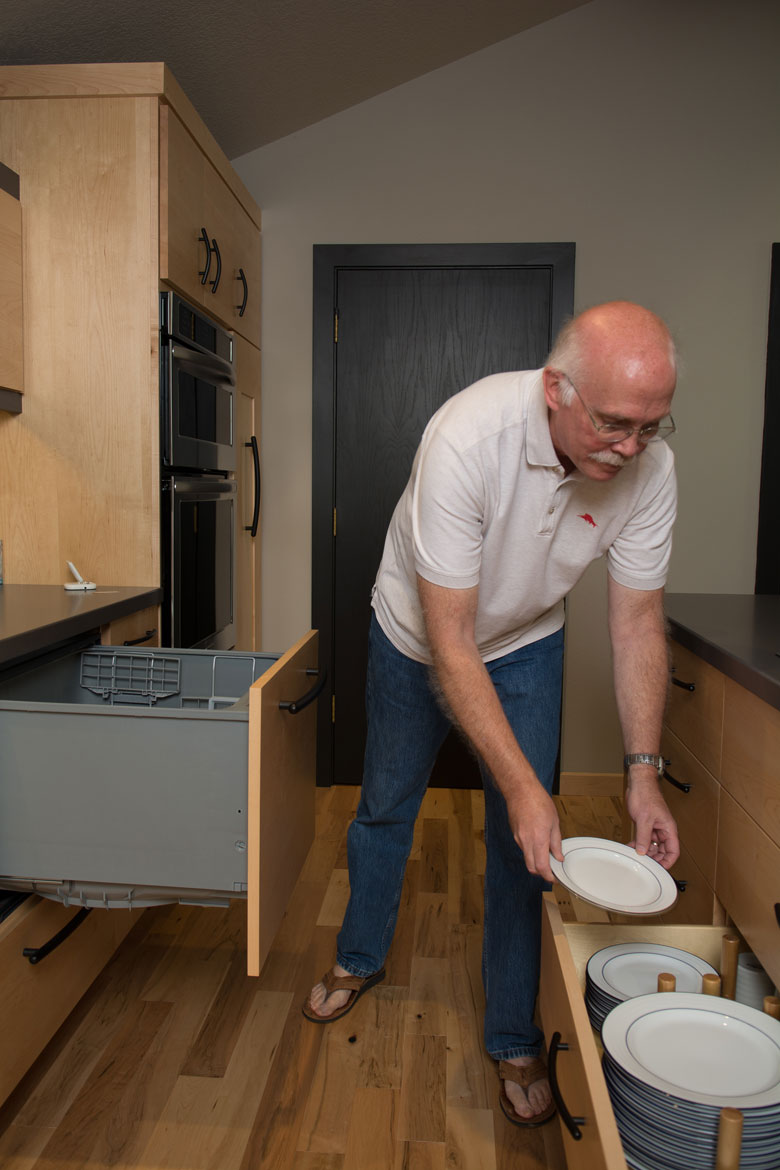 Richard unloads the dishwasher with ease due the close proximity of the dish storage.
Pangaea recommended Lapitec countertops for the Bursches—a cutting-edge sintered stone material that requires virtually no care and stands up to the test of hot pans.
Installing backsplash tiles that are on the larger side—in this case, 5-3/4" x 19-3/4"—and pairing them with a dark toned, newer generation of epoxy grout that resists staining and wipes down easily eliminates the hassles traditionally associated with tile.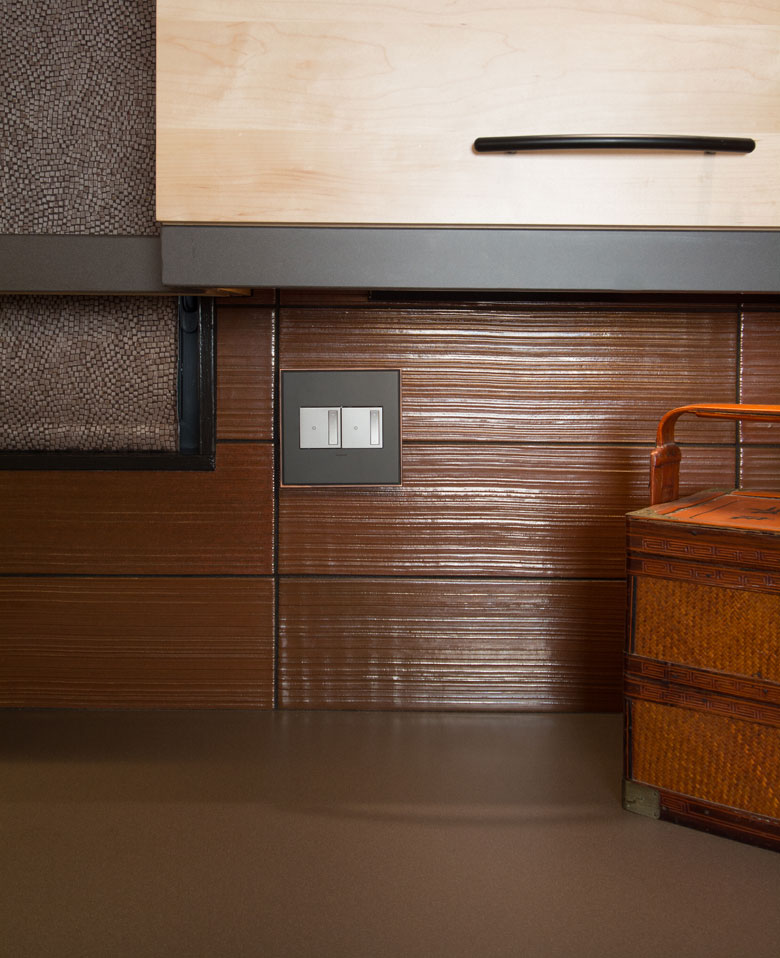 Backsplash tiles larger in size and with a darker tone eliminate cleaning hassles.
A flush-mount range hood and an eight-foot suspended linear light are both exceptionally easy to clean.
The Bursches' wood floors require little special care. Luxury vinyl tiles or planks are another excellent option and stand up beautifully to high traffic and spills.