While you may not consider your patio or backyard to be a room all its own, in fact, as temperatures warm and trees start to blossom, your yard can easily become a retreat that welcomes you with natural beauty and fresh air at home.
"Carrying the inside out is really the trend," explains Al's Garden Center patio furniture buyer Teri Schafer.
Sturdy, elegant outdoor furniture—in extruded or cast aluminum, wrought iron or all-weather wicker—is often the boost Northwest backyards need to move from a simple greenspace to one homeowners lounge, cook and entertain in.
Al's—an Oregon company with locations in Sherwood, Gresham and Woodburn, and deep roots that span back three generations—is the local source when it comes to patio furniture and gorgeous pottery that complement new and existing outdoor spaces alike. Its furniture comes with a warranty of betweenthree and 15 years and is selected to minimize maintenance in our damp climate.
In 2016, Al's is proud to showcase their most stunning lineup of furniture yet. Whatever customers choose, "we want people to feel like they're getting something very special," explains Schafer.
New to stores this year is the timeless Hanamint Mayfair collection—a beloved cast-aluminum set that features arch patterns and arm scrolling and comes in a variety of options, from deep-seating club chairs to sectionals and tables.
The Gensun Manhattan cast-aluminum line offers bold, new contemporary deep-seating choices that will modernize any patio with handsome lines and stylish cushion options.
Erwin and Sons' Biscayne is a simple, chic, all-weather wicker collection of club chairs and sectionals.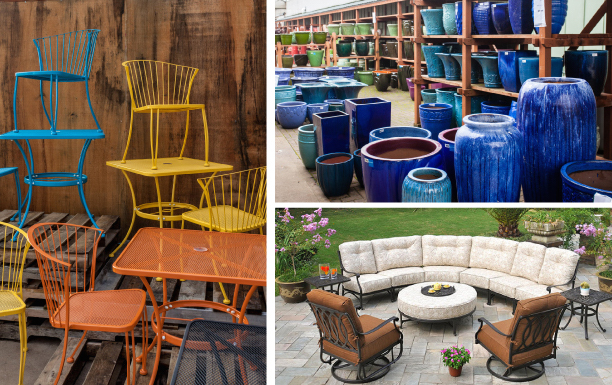 Al's keeps in pace with trending colors for home and garden and, this year, is featuring a cushion palette that includes fashionable oranges, terra cottas and blues, along with more classic muted tones.
Ceramic pots have also arrived in soothing orange tones, along with earthy, up-to-date blues and browns that add instant color to patios and can be matched to furniture cushions or picked to provide stunning contrast.
"We offer a higher grade Vietnamese pottery," says pottery buyer Darcy Ruef, which adds up to a heavier pot and longer life span. Al's excels at helping customers combine plantings with fresh pops of color and texture.
"You can have one or two grasses or evergreen plants and then change colors with the seasons," Ruef says. In early spring, around their perimeter, pots shine with primroses or ranunculus, which can be switched out for bright, trailing annuals in summer, and richly toned pansies and mums again in the fall.
Once people create an inviting outdoor space for themselves, they may find they are gravitating there year-round. Some of Al's customers have even placed roof structures over the areas they have established. Then, as Schafer notes, "they can even enjoy the space in the rain."