Bathroom Design
Photos by Edis Jurcys
Designer : Anita Sande >> spectacular-design.com
This guest bathroom is too beautiful to be relegated to the status of "guests only." In fact, interior designer Anita Sande worked hard to ensure that the spa-like bathroom would be irresistible even to the homeowner.
Sande, owner of Spectacular Design in Northwest Portland, transformed this once basic guest bath into an earthy yet elegant place for pampering, complete with a steam shower and soothing lighting that enhances the spa experience.
"I wanted it to be a space that is visually beautiful and nurturing on every level." The objective was to have this space be beautiful for guests and also a space that the homeowner would want to luxuriate in on a daily basis.
"Stepping into my steam shower elevates my experience beyond what I ever expected. I am especially fond of the blue light," says homeowner Nancy Wernecke.
We chatted with Sande about how she converted this once bland guest bath into a nurturing retreat.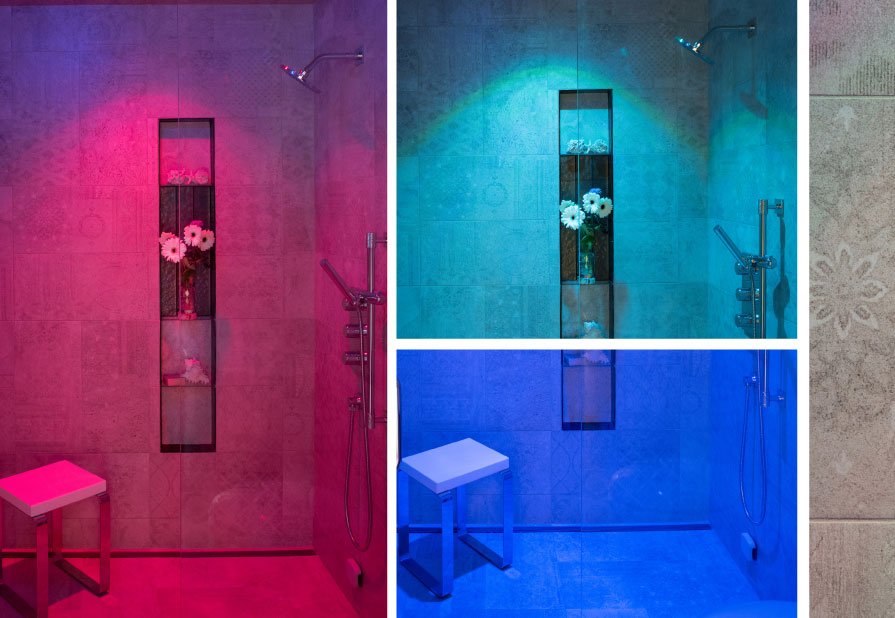 Designer Anita Sande used colored lights to create a soothing space that the client can use to rejuvenate.
Tell us about The multi-colored lighting.
The lighting is designed to change color, and when the color changes, it really changes your experience. It's a steam shower, and when you adjust the lighting, the steam combines with the color.  You can change the light according to how you want it to affect your mood.
The tile really stands out. How did you come up with that?
I brought the client various sets of material samples and color combinations. Whenever we were talking about materials, her hand would go back to that particular piece of porcelain tile. I followed her subconscious.  We both really love the tile because the imagery makes it feel like there are messages from the past coming through. And no tile is like another in this bathroom. There are about 36 different patterns.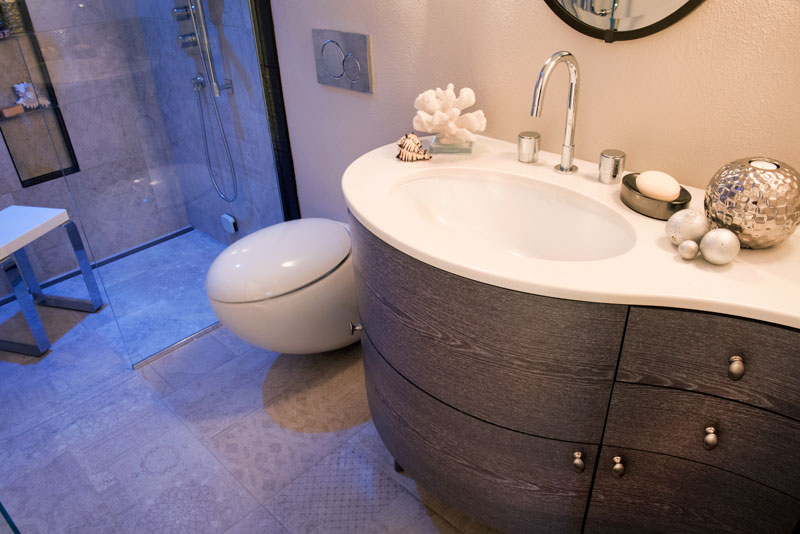 Designer Anita Sande

accents the tranquility of the room with a rounded vanity and unique tile.
Why a steam shower?
It's a level of caring for your body and mind that a regular shower doesn't have. It's incredibly relaxing.
What inspired the curved elements in the bathroom?
I think it's so important to incorporate different shapes into an overall design. The vanity has the most delicious curved shape. Oddly enough, I have had that vanity in my files for so long but had never had the right occasion to use it. When I showed it to Nancy, she said, "That's the one!" We both love the way it ties in with the floating egg-shaped toilet from Switzerland. The curves of the vanity and the toilet allow the small room to feel more spacious.