Good design looks effortless. It rarely is. Ask anyone who has tried to create a cool mid-century look only to end up with a hot mess of mishmash. Getting the right color, texture, lighting and proportions within four walls is a balancing act.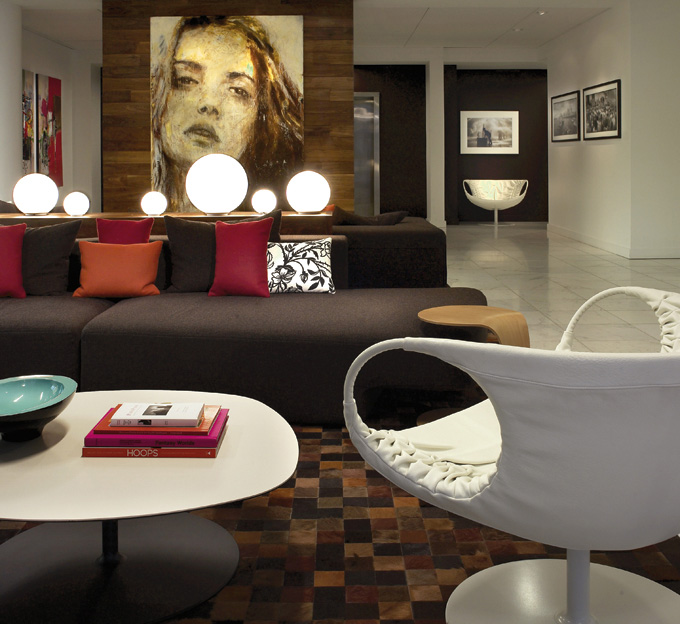 The Hotel Modera lobby in downtown Portland strikes that balance with a look that is pulled together without being too matchy-matchy.
"It's a comfortable modernism," says James Staicoff, "not too strict or cold."
The Staicoff Design Company (formerly Corso Staicoff) deconstructed design elements and provided tips for getting the look. We sourced similar styles for the budget conscious. Read on for our choices.
---
Splurge: The hotel's curved-arm Smock chair by Morroso makes a dramatic statement; $4,096, Hive Modern.
Skimp: A white leather Tirup chair is armless but sits low and swivels; $399, IKEA.
Tip: "Designers once had rare access to furniture sources that now sell to all."

Splurge: Phoenix sofa from Morroso keeps a low profile, a post-modern signature. Sold in modules. Two-seat with chaise, about $12,250 at Hive Modern.
Skimp: The Armless Sofa in basket-weave fabric has  similar silhouette; $959 at West Elm.
Tip: "We used warm tones, red and oranges, and textures" to soften the modernism.

Splurge

: Maharan fabric pillows were custom-made in 
Oregon by Nikki Desrosiers (

[email protected]

).

Tip: "That deliberate contradiction between modernist black-and-white and traditional botanical print produces energy and creates a sense of whimsy in the space."

 

Splurge: Asymmetric shape lends '50s glam to Phoenix table Morroso; $2,930, Hive Modern.
Skimp: Broader base and round top aren't as striking
but still exude mid-century vibe; $129, Dania.
Tip: On sofa table in background, "globe lights of various sizes and random placement look more playful. If a place gets too solemn it's not inviting." Cords are hidden in the table.

Splurge: Encaustic portrait by Tyler Marchus, $5,000. Janelle Fendall Baglien of Studio Art Direct curated the art for the hotel.
Skimp: Portland Art Museum members can rent original works by regional artists starting at $40 for three months.
Tip: "Everything can't be a hero in the space. The hair-on-hide rug is nice but it's a background piece." Custom-made by Kyle Bunting.