Choosing fun and trendy, or traditional art pieces is a unique and stylish way to decorate your home or office walls. A gallery wall starts a conversation and allows someone to get a glimpse into your history and personality. It makes a statement.
FIND A THEME
Unless you're aiming for a truly eclectic, bohemian wall full of mismatched pieces, in which case you don't need a guide, you could start by choosing a theme based on color, art type or other unifying element.
---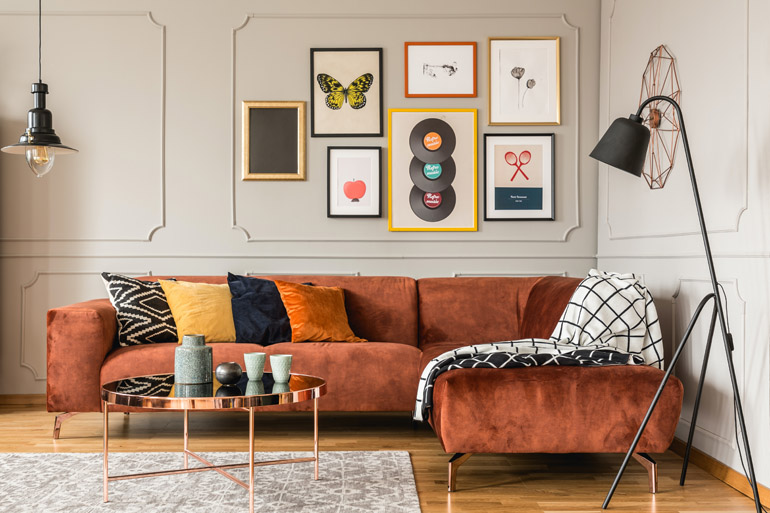 ---
COLOR
Color can be intimidating, but you really only have to focus on one if you wish. In some rooms for example, the art within the frames can all share a similar shade of green, bright neon colors, an organic theme or certain color or style of photography. Using decorative pillows, a lamp, rug, or vase can help tie it all together. Pick a color that makes you feel happy, relaxed, or excited.
You can take it further by developing a color palette, such as a wide range of various blues, greens and grays in this room. But you don't have to learn your color wheel to get this sophisticated. Online tools like Pictaculous will give you a palette based on the colors in an image you've uploaded. You can also go online and look for images of gallery walls that speak to you.
If you're stumped by color combinations, you'll probably find neutrals easier using various hues of nude, earth tones, and white.
---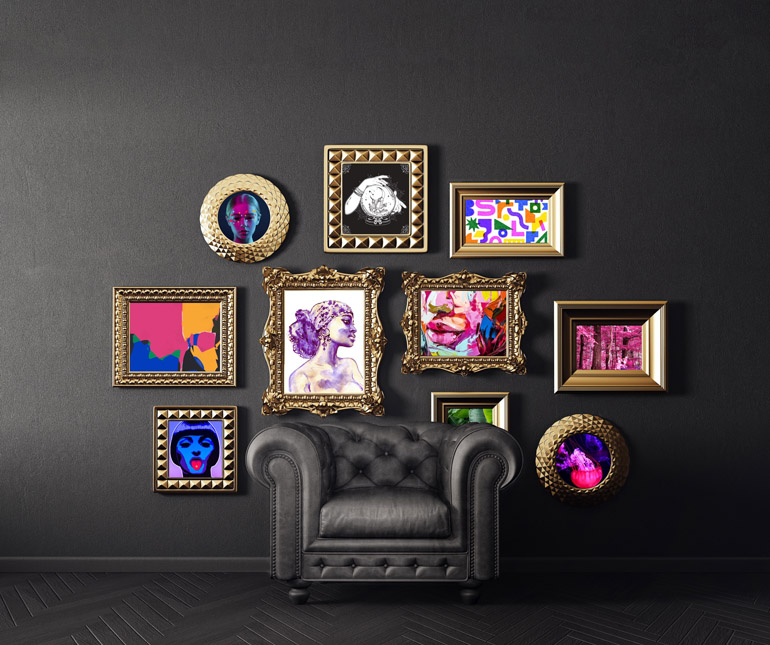 ---
ART STYLE & MEDIUM
FRAMING
Using frames of similar colors or styles, such as all black, all light wood, or all gold frames, is a great tool to unify the collection. A uniform mat size or mat color can also be used. You can still mix paintings and photography, black-and-white and color, and then use that same frame color for the grouping. If you don't wish to have all of your frames one color in the event you have existing pieces you want to mix with new, that is completely acceptable in the design world and brings you back to having a playful eclectic look. There is no wrong formula. Find your friendly neighborhood frame shop.
PICTURE FRAMING
To understand what goes into picture framing and its components, you can learn more here. Custom picture framing will help your art last for generations to come and protect your art from moisture, harmful UV rays and damage. Always store art pieces flat where nothing will be pushed up against them or on top of them and never role your art piece for extended period of time as that will cause wrinkles and creases.
ARRANGEMENT
Download these templates for easy arrangement ideas.
Place one large piece in the middle of several much smaller pieces, as an anchor. Or, choose pieces that are all similar in size.
---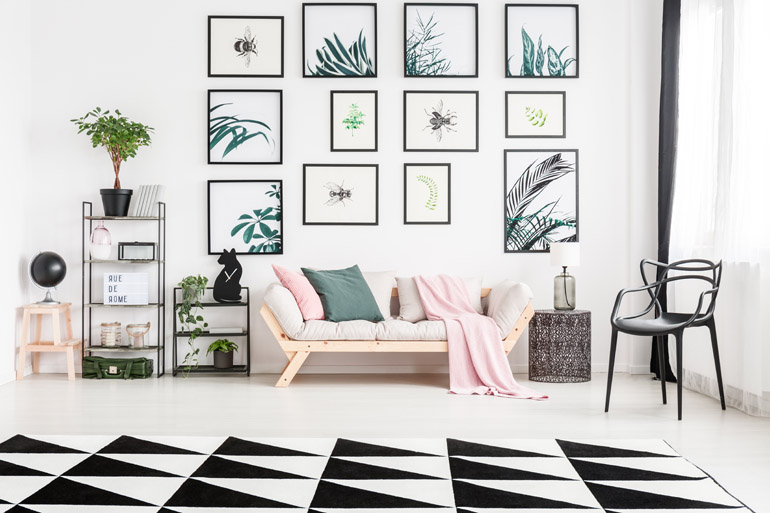 ---
THE MECHANICS
Let's remember two things. One, you may have to fill a few holes, but you won't ruin your walls.
Two, there is very little mystery to whether you've hung something securely or not. Jiggle it. Unless you're hanging a large piece of taxidermy, or your toddler can climb ladders, you're probably going to be okay. Here's some additional insight into the art of hanging a gallery wall:
Interior Design firm

Studio McGee

offers tips on spacing and height on the wall.

The DIY Playbook

offers helpful tips on hardware and hanging.

Hanging art on different wall surfaces? Here are notes about

4 Common Wall Hanging Myths

for homes with brick, tile and plaster walls.
Remember that, ultimately, the only rule that matters is that you like how it looks. To obtain more ideas and become familiar with the art of framing, explore Northwest Framing. A trained designer is waiting to provide you with a free design consultation on framing original art, photographs, and memorabilia of any kind to create your gallery wall.