Written by Elisabeth Dunham | Photos by Amy Wennerlind | N.style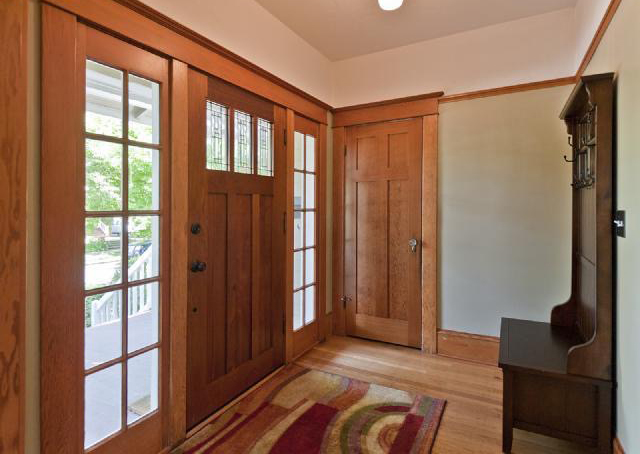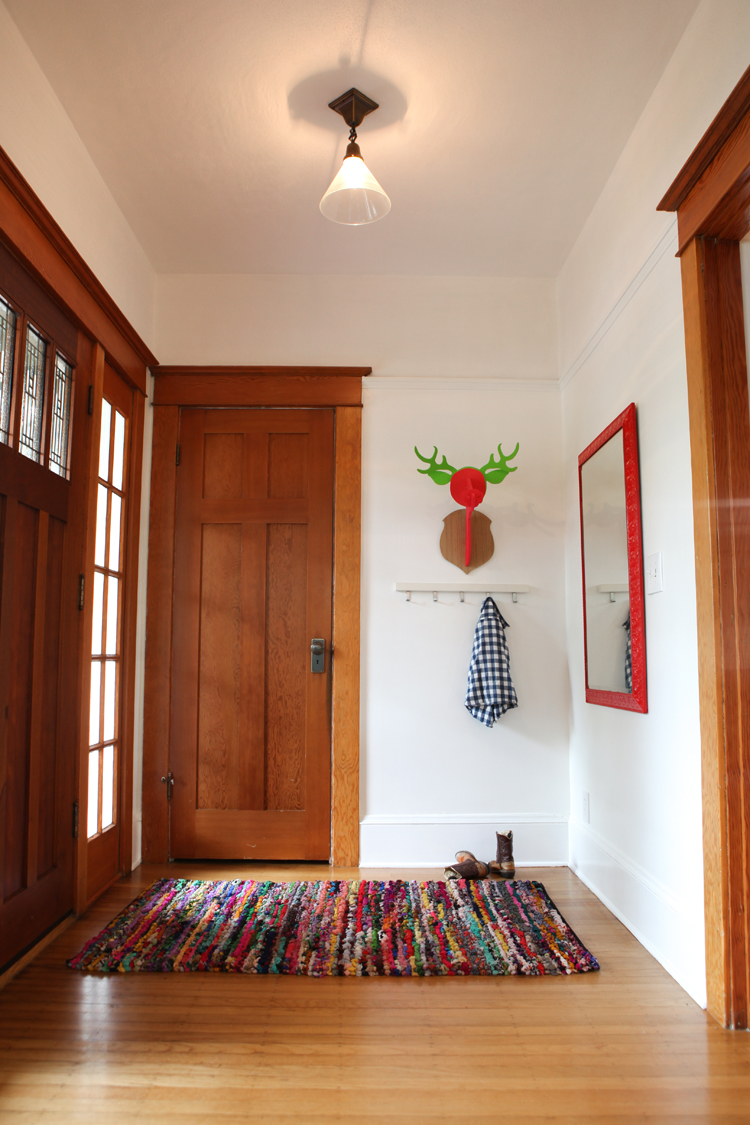 BEFORE AND AFTER: A reindeer bust (a past holiday decoration) now welcomes guests year-round in the foyer of Nicole Callaghan's home.
Nicole Callaghan has a knack for making the little moves that will have a big impact, whether it's moving furniture or artwork, adding or subtracting. Now she's bringing her gift for the well-executed quickie makeover to a growing number of residential clients in the Portland area through her company, N.style.
"I give a home a new personality by using what the homeowner already has and adding in accessories and other easy changes. Paint, art, lighting, rugs — putting it together somewhat instantaneously. It's beautiful, creative, immediate, and then I'm out."
And it's cost effective. Inviting a stylist into your home for a few hours is far less expensive than hiring a design team to help you overhaul your interior over weeks or months. Though a self-taught interior designer, Callaghan's work stands up against those who have spent years learning the craft in a more formal setting.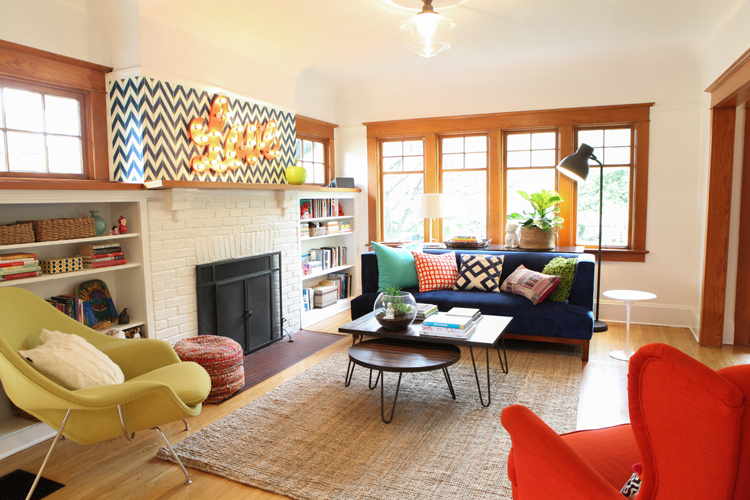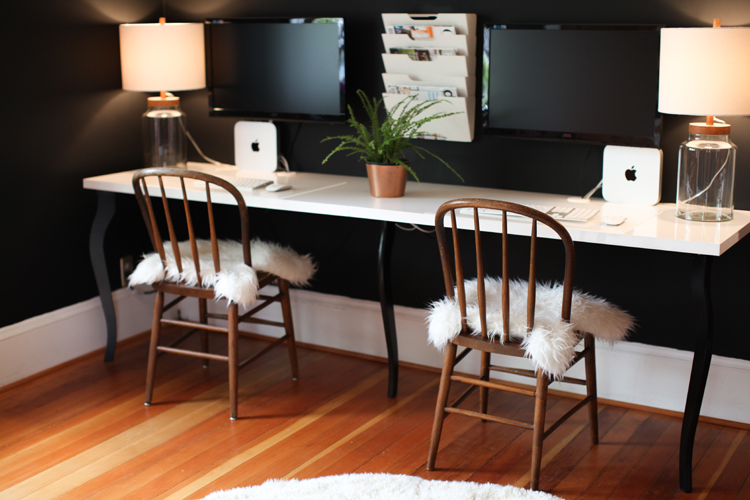 BEFORE PHOTOS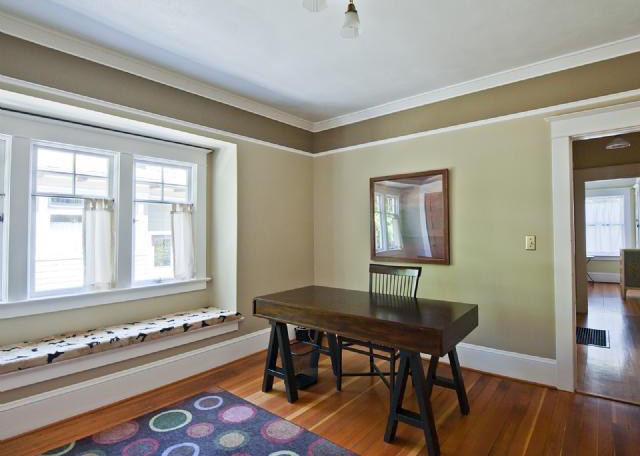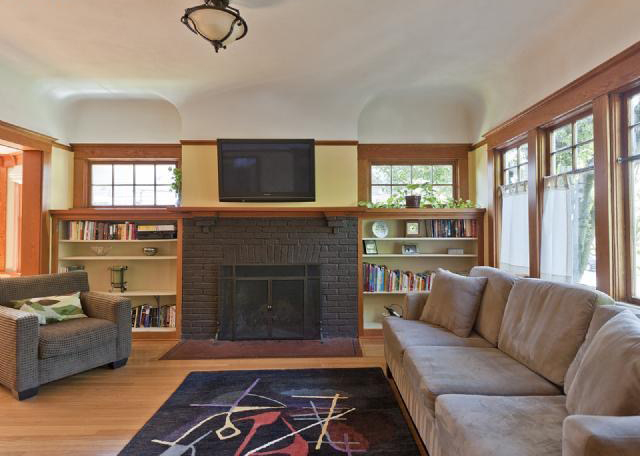 TOP: A marquee sign that reads "Love" hangs above the fireplace. Along with peel-and-stick wallpaper she found on Etsy, it came all the way from Lithuania. MIDDLE: Vintage dining chairs are now restyled into office chairs. They were handed down from Callaghan's grandmother and mother.
"I don't have china. It can get busted or kids drop it. So I busted out the china cabinet and made it into an art center in the wall.
Story continues after photos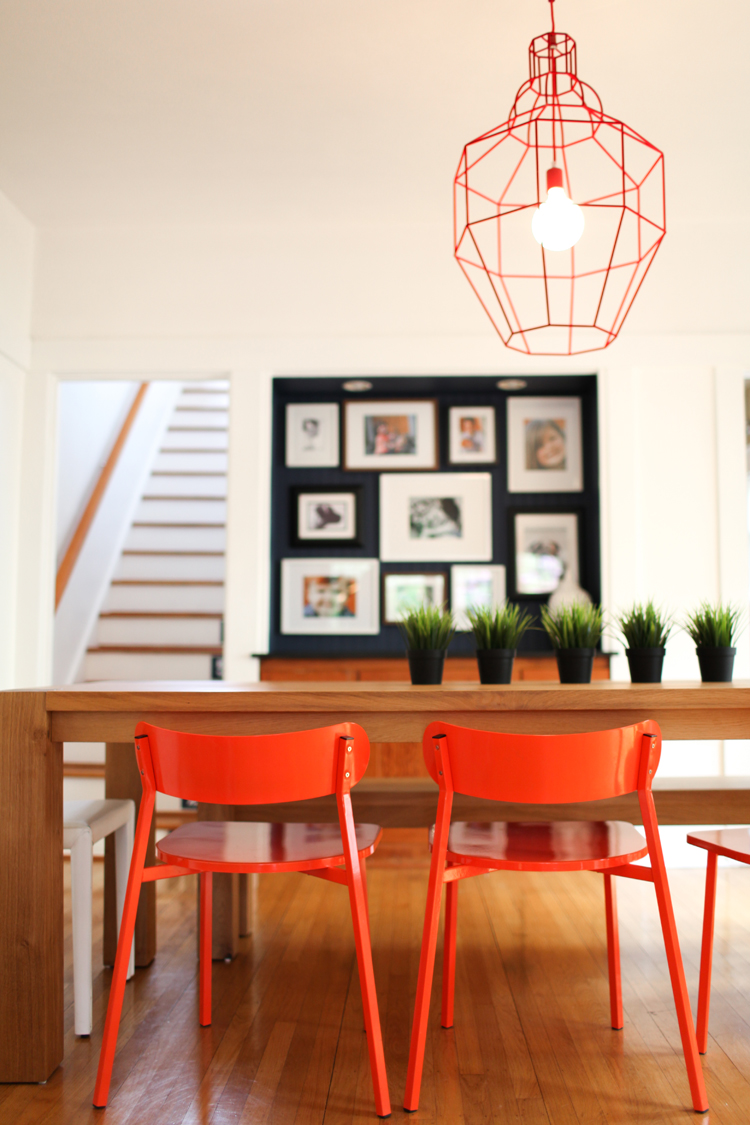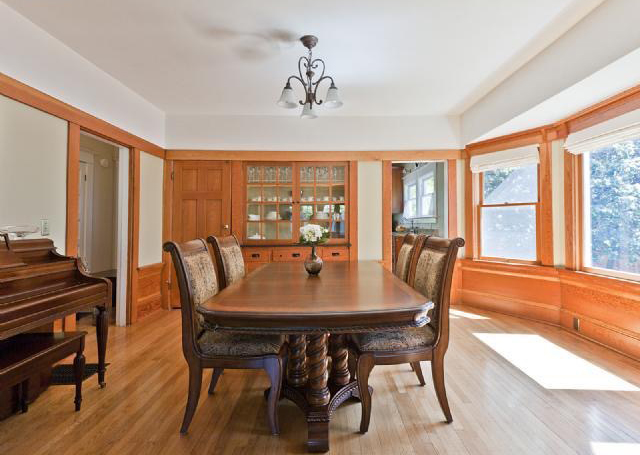 A red lantern lighting fixture by designer Paola Navone hangs above the families dining table. This space has to be multifunctional: family meals, homework station, art studio and the occasional extended family function.
Design just seems to be in her blood. Though she spent years in the corporate world before turning to her true passion, Callaghan possesses a natural eye for design. She can quickly bring out the best in a space using existing furnishings, artwork and well-loved objects — and maybe a quick splash of color in the form of a painted accent wall or a carefully chosen bargain accessory.
As a photo stylist for magazines, she's put this innate sense of decorative composition to work helping editors and photographers tweak an already lovely room into something that pops for the camera. Callaghan wears two hats in her job: stylist for photo shoots and interior designer for homeowners.
When it comes to the home, "I would be the person you call when you loved a space and your things, but it just didn't coalesce," Callaghan explains. "Or, it really didn't speak to who you are as a person or provide a consistent look."
She says that nine times out of ten she ends up buying a few items to pull together — and give an updated look — to existing pieces.
She's currently working with a client who wanted to keep a beloved sea-foam green sofa while updating the surrounding room's interior design.
"We didn't want to get stuck in the pastels of the '80s so we updated it by doing a monochrome look with some sea foam on the walls, natural fibers and textures as well as some orange and brushed-gold accents and geometric patterns to warm up the space. They didn't want a major change but we brought a contemporary look."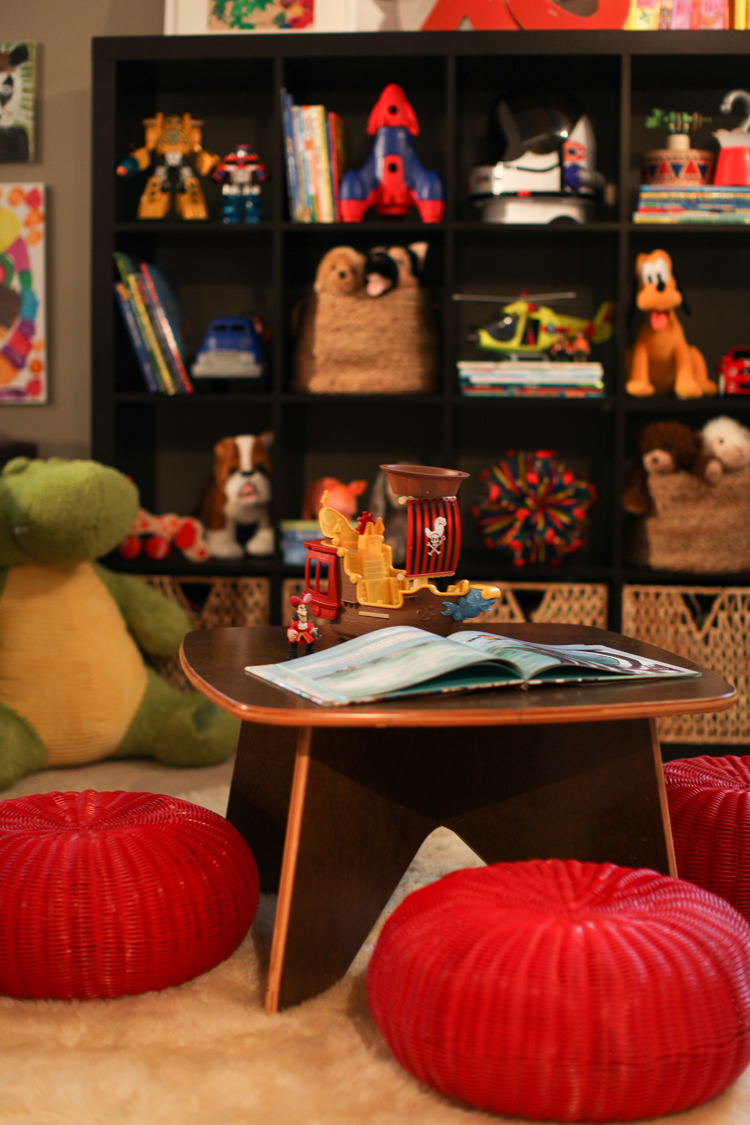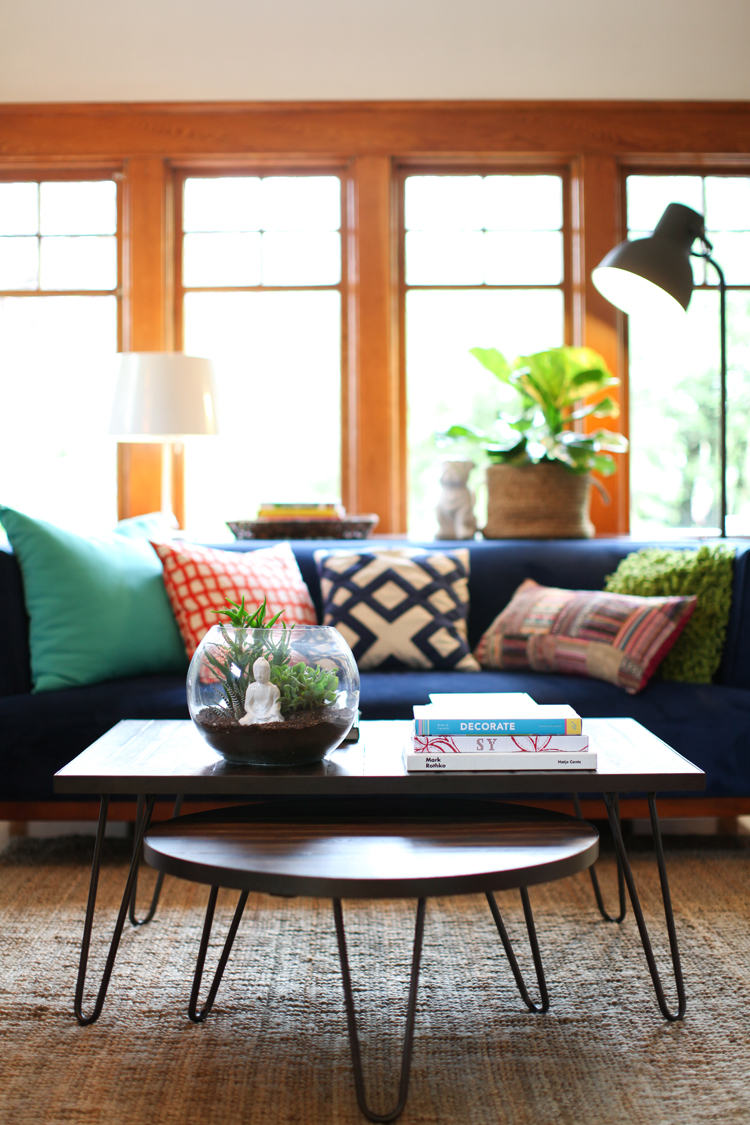 The children's basement playroom. The blue velvet couch inspired the home's main floor makeover.
Often, she says, her clients just want to dip their toe in rather than embark on a complete overhaul of their space.
"Sometimes it's just about getting a new pair of eyes on a room to put it together in a different order. I provide a fresh perspective."
"I give a home a new personality by using what the homeowner already has and perhaps adding in accessories and other easy changes — paint, art, lighting, rugs. And putting it together somewhat instantaneously. It's beautiful, creative, immediate, and then I'm out."
Callaghan's talent is also on display inside her own home, which she shares with her husband, Sean, and their two children, Ava, 7, and Gavin, 5.
She recently updated her family's 3,000-square-foot Craftsman-style house in the Hollywood area using a few cans of paint, existing furniture, bargain finds and funky art — much of it created by her own two young children.
The look is crisp and modern, yet colorful and warm: "Dwell" magazine meets an updated version of shabby chic.
"The white walls and color accents in the dining room and living room were inspired by this room I saw years ago in "Dwell" magazine. All white. Very modern. Bright blue velvet couch. I kind of used that as a jumping-off point but made it more playful and applicable to what my family and my old blind mastiff needed."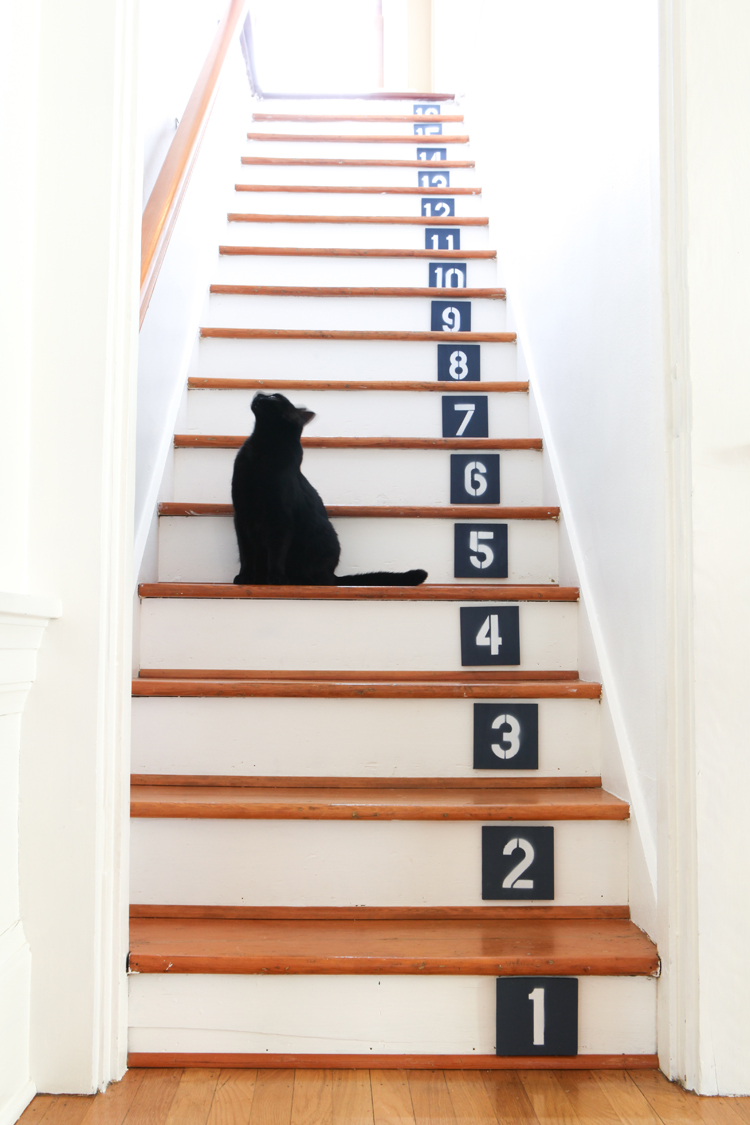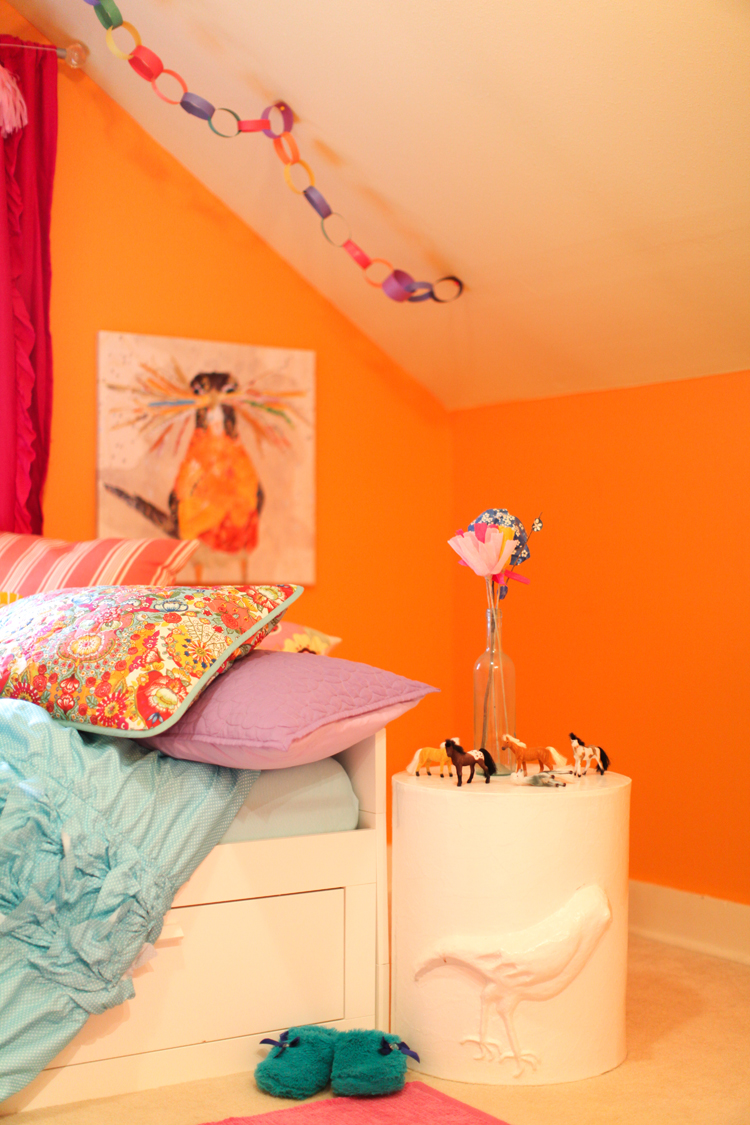 The family cat "Miu" sits on numbered stairs leading to the third floor. The colors of sherbet ice cream and animals were requested by Ava (Nicole's daughter) as inspiration when redoing her bedroom.
The first step was painting the old dark interior of the 1907 home a crisp white. She achieved a sense of playfulness by adding color and texture in the form of large-scale artwork and bold accent pieces. A bright orange armchair in the living room ties in with bright orange dining chairs and a similarly hued, powder-coated, birdcage-shaped chandelier hanging over the dining table. "That was a total score for under $200 from Crate & Barrel," says Callaghan, adding that it took her husband a few months to adjust to the funky design.
Earthy elements such as an acacia wood nesting coffee table from Cost Plus and a sisal rug from IKEA (both relatively inexpensive) bring a sense of grounding and nature to the living room. A big wall of family photos in the dining room adds further personality and warmth to the space in a format that looks upscale.
Bookcases in the living room hold children's collages and sculptures. Children's art was also put to use in a display case that Callaghan created out of an old china cabinet.
"I don't have china. It can get busted or kids drop it. So I busted out the china cabinet and made it into an art center in the wall.
"I felt like we needed a family-friendly house. I don't like anything too stiff and sterile. I like playfulness and color and texture. I like an eclectic, weird vibe. I love to decorate with my kids' artwork and their toys. I find that to be more of a challenge but also more rewarding."
Interior styling is a lifelong passion but a relatively new career path for Callaghan. She recently left a 20-year career in corporate America that included a decade in merchandis- ing at Nordstrom and several years in sales at Pfizer.
Even as a young child growing up near Grant Park in Northeast Portland, close to where she and her family now live, Callaghan loved paging through issues of "Architectural Digest" and giving her bedroom makeovers. Later, her mother would hire her to help decorate the entire home.
"My motto is 'feed your eyes.' And I think I have a particular niche, which is creativity and ['a look,'"].