Written by Pam Jordan | Photos by Jason E. Kaplan | Sales Agent: Gary Newton | PEERLESS Estate Sales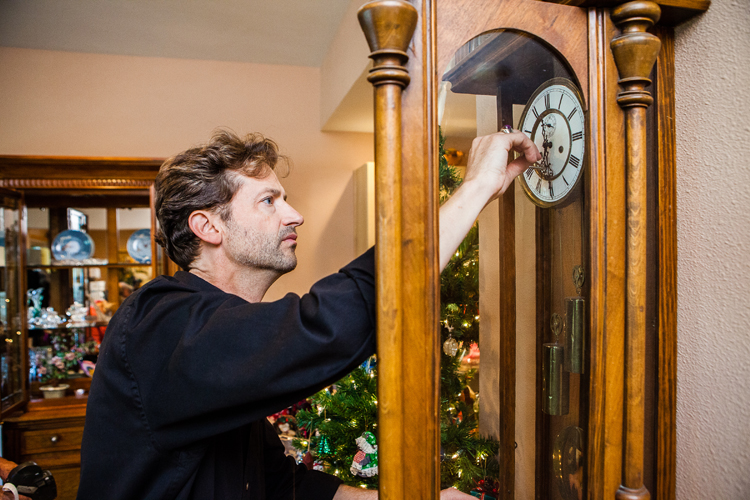 Newton sets a meticulously maintained antique wall clock; sold for $225.
Your home — a place where you raised your family, celebrated successes, mourned losses and lived your life for years. Now you're tempted by a more urban lifestyle. Maybe you're curious about Portland's Pearl district, or the South Waterfront, or one of the new apartments in the Lloyd district — somewhere you can hop on the MAX or one of Portland's streetcars to get around. Maybe you're tired of the challenges of caring for a home. But how do you downsize a home with a lifetime of furniture, clothes and collectibles without the headache purging can bring? Donating your items feels uncomfortable. A garage sale sounds overwhelming.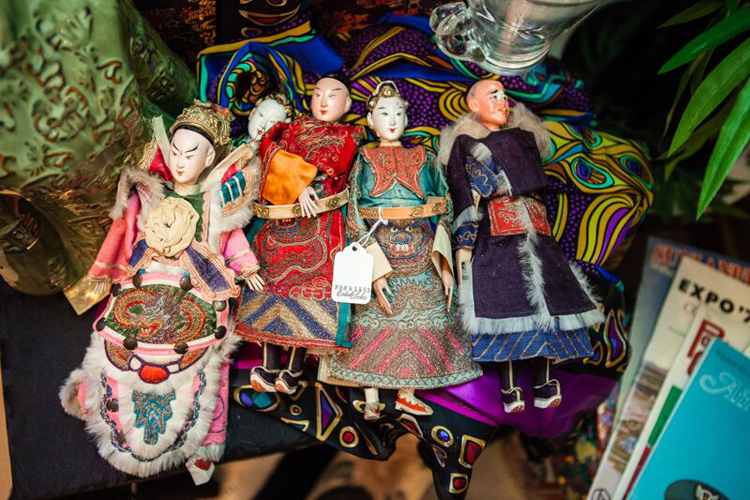 Vintage Chinese theater opera dolls; sold for $185.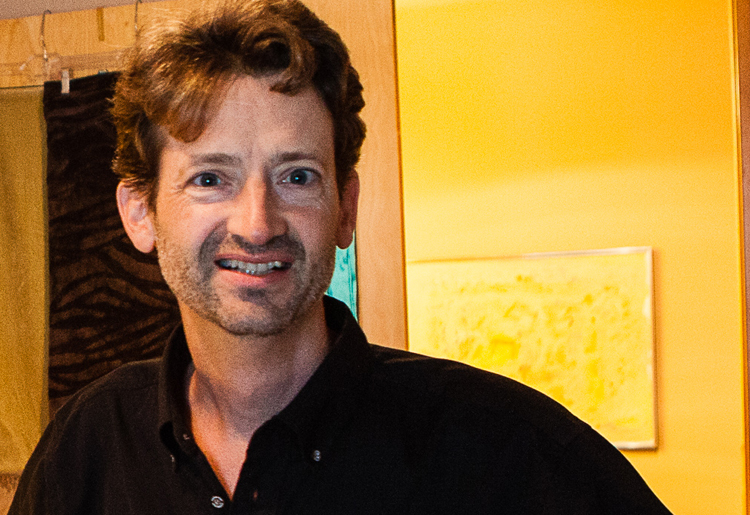 "Midcentury modern-style pieces are the hottest selling, highest priced and rarest to be found. Victorian is nearly out and accessories are most popular with older customers. Shabby chic is still very sellable with more inventory available but moderate prices. It's about decorating with one-of-a-kind pieces."
"We work strictly on commission," says Gary Newton with PEERLESS Estate Sales. "We do all the work, pay all the expenses and write the client a check. All they do is give us a key. We make it effortless."
Although estate sales is in the name of his company, Newton says liquidating the contents of homes of isn't something he does just for the families of people who have passed away.
"Moving sales are just as common as estate sales. The goal is an empty house, and the service to get you there is exactly the same," says Newton. "We're here to make it happen in the fastest, most efficient and economical way possible."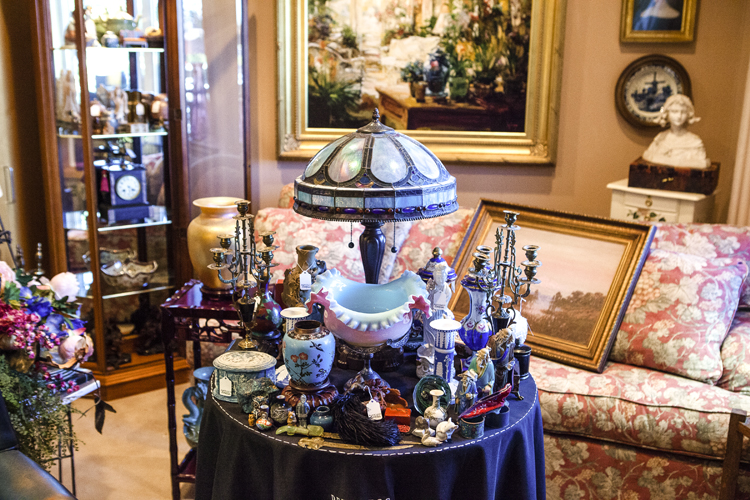 Reproduction stained-glass lamp sits comfortably among authentic European and Asian decorative items.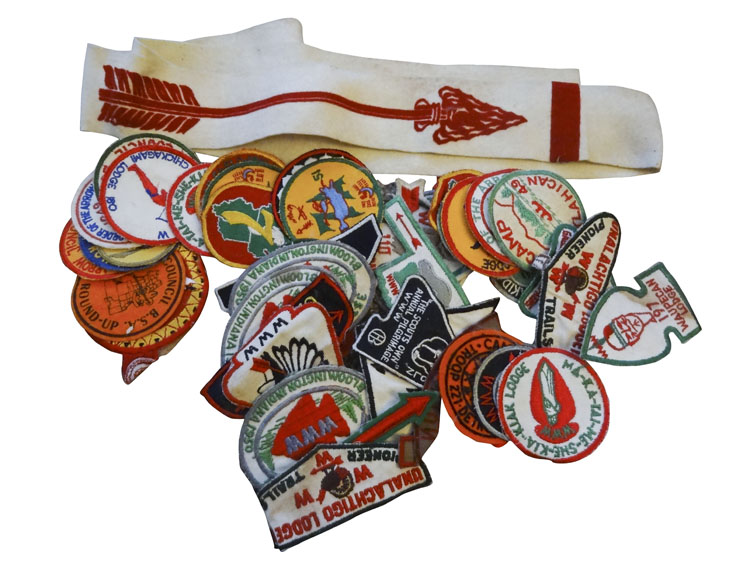 Can you pick the early Boy Scout Jamboree patch that made this lot sell for $1,578?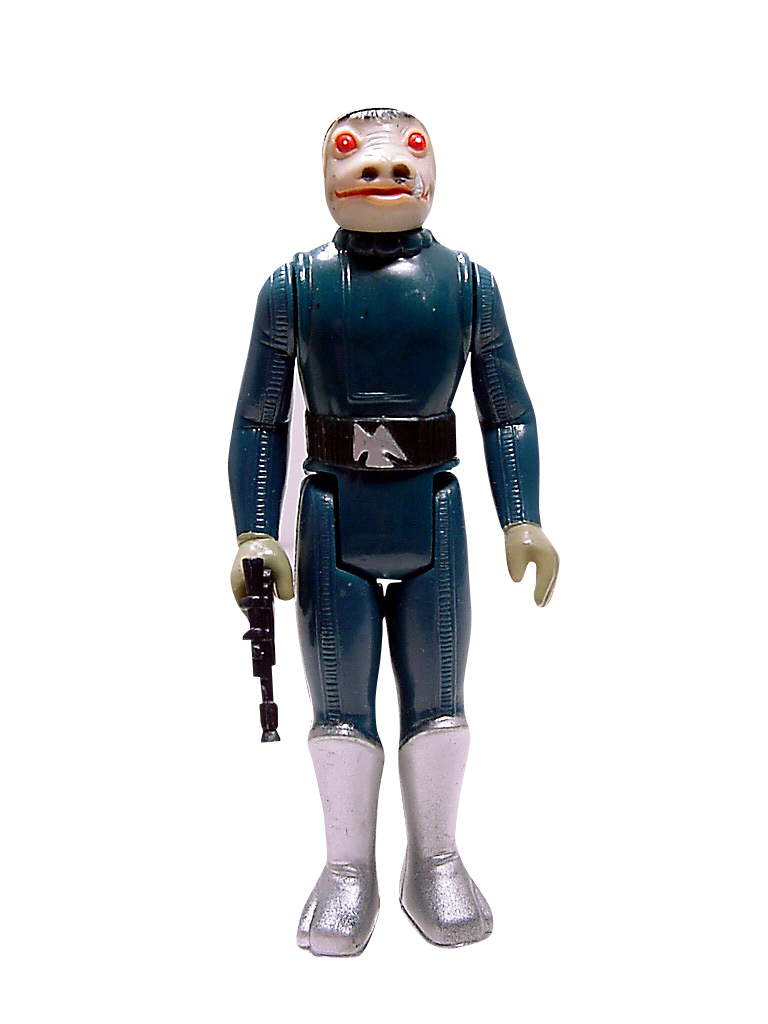 1978 Star Wars action figure. Blue Snaggletooth. Sold for $230.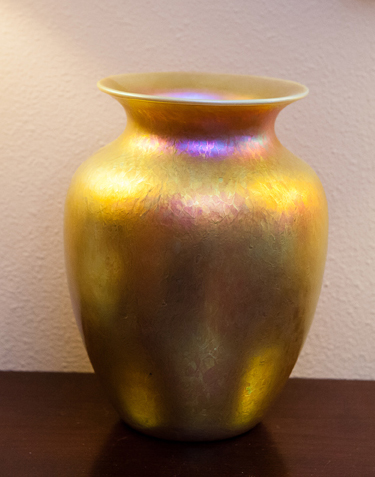 Contemporary gold Aurene art glass vase by Lundberg Studios. Fair Market Value (FMV) $295
Once the client agrees to work with PEERLESS, its appraisers, project managers, merchandisers, stagers and salespeople organize every item, insisting that clients hang onto everything, because with their expertise, they can turn items you might think are worthless into money.
"Almost everything that wasn't nailed down or wasn't a permanent part of the house was sold," says Judith Schull, a client of Peerless. Schull downsized from a 4,300-square-foot home in Damascus to move to a two-bedroom luxury condominium in Sherwood. After an initial walkthrough of her home with Newton, Schull felt comfortable enough to sign a contract, and Peerless went to work organizing, pricing and displaying everything in Schull's home in a way that made the most of the items. When it was all said and done, Schull walked away with more than $10,000.
"Had I tried to do it on my own, I might not have gotten more than $500. His team has so much knowledge, and it was such peace of mind, having him taking care of everything. It was wonderful, and we had great success with the sale!" says Schull.
"Everything" being the key word. PEERLESS insists that clients do not clean up or throw out anything before the sale. Once the sale is over, Newton's team cleans out the home, leaving it in turnkey condition for the next owner or a real estate agent to list.
"They took only five days to sort my goods, price them, have a sale the next two days and have the house cleaned out by Monday at 2:00 p.m.," says Linda Georges another PEERLESS client. She and her husband downsized from a four story home in SW Portland to a condo in the same part of town.
"Gary made it go seamlessly. I had actually contracted another agency to handle my estate sale. They pulled out with two weeks to go before the sale was to happen. Gary stepped in immediately, without questions."
What Georges appreciated the most was Newton's honesty, his team's ability to display her items in an appealing and professional manner, and his knowledge of the value of the items they were selling.
"He even took some of my materials and put them on eBay in order to sell them for a higher price than the actual estate sale could bring in for all of us," says Georges.
For Newton, the most important part of his business is building trust and establishing relationships with his clients that last after the sale.
"For many of our clients, we offer the solution to an overwhelming situation when they're faced with nothing but deadlines," says Newton.
"We ask for their confidence at the beginning of the process, because we know will have earned it at the end." When it's time to face both your collections and your accumulations, Newton has a piece of advice: "If you're torn about parting with something special but there's no room for it in your new home, take a photo of it," he says. "The object will be gone after your moving sale, but the memories — the relationships — will last forever."
 

(Above) Turn-of-the-century Victorian bride's bowl. FMV $495

(Below) Oil on canvas entitled "Mt. Hood From the Marshes," by Charles C. McKim, 1893-1939.
FMV $15,000