In the neighborhood where I grew up, all the houses were identical in layout. That made each the perfect blank canvas for the woman of the house to express herself. (The men were busy doing manly things.)  Each woman just happened to express her unique  individuality in a manner almost identical to her neighbor. They painted living room walls beige or sea foam green. They bought heavy pinch pleat drapes for the picture windows that faced the street. They favored Sears furniture for quality, price and its sensibly nondescript style.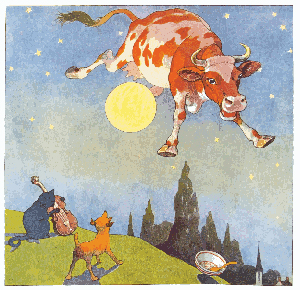 So it caused some buzz on the block when word got out about my mother's choice of kitchen wallpaper. Why? It featured little pink cows. Little pink cows jumping over little crescent moons. I believe it also had a fiddling cat and a dish eloping with an eating utensil. Regardless, this particular wallpaper was intended, obvious even to my 10-year-old self, for the walls of a baby's room.
I was mortified. I understood that there were rules to decorating, specific rules that my mother was carelessly disregarding. You didn't put beds in living rooms, or paint ceilings black, and you sure as heck didn't put nursery rhyme wallpaper in a kitchen for all my friends to point and laugh.
"I don't care," Mom said. "I like it."
Looking at wallpapers now, I feel a certain amount of trepidation. There are so many choices. To complicate matters, they also come in eco-friendly versions such as the Madison and Grow line that are free of vinyls and PVCs and printed on paper made from sustainable forests available through Ecohaus and Vanillawood in Portand. They would look great with sustainable wood cabinetry from Neil Kelly and good-for-you paints from Devine Color.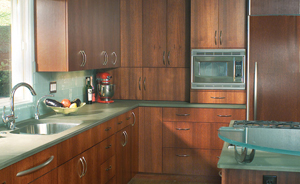 I'm a little embarrassed about how timid I am when it comes to making design decisions, especially since my mother was practically the Lady Gaga of suburbia. She did what she wanted and just didn't give a rat's tail what others thought. Of course, like Lady G, she is also the Mother of Reinvention and thinks nothing of redoing a room when the mood strikes. The cow-jumping-over-the-moon wallpaper lasted less than a year before she got busy with fresh wallpaper, paste and brush. The new stuff was sensible, universally accepted as appropriate to for a kitchen.
I think it had roosters. I forget.