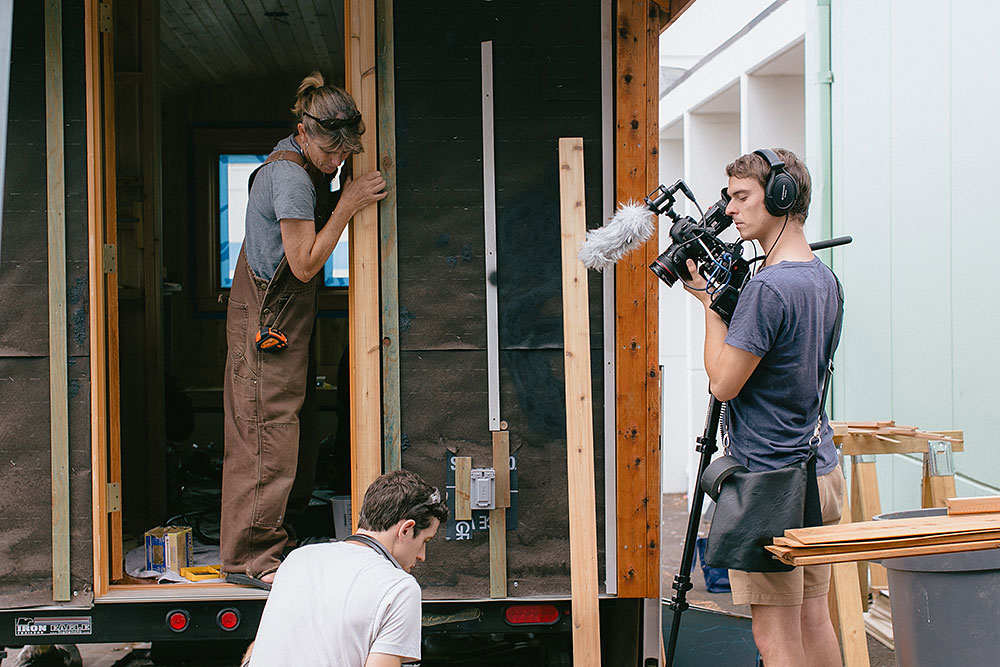 Jeremy Beasley filming Small Is Beautiful as Dee Williams swoops in to help Ben Campbell.  
 A review by Brennan Conaway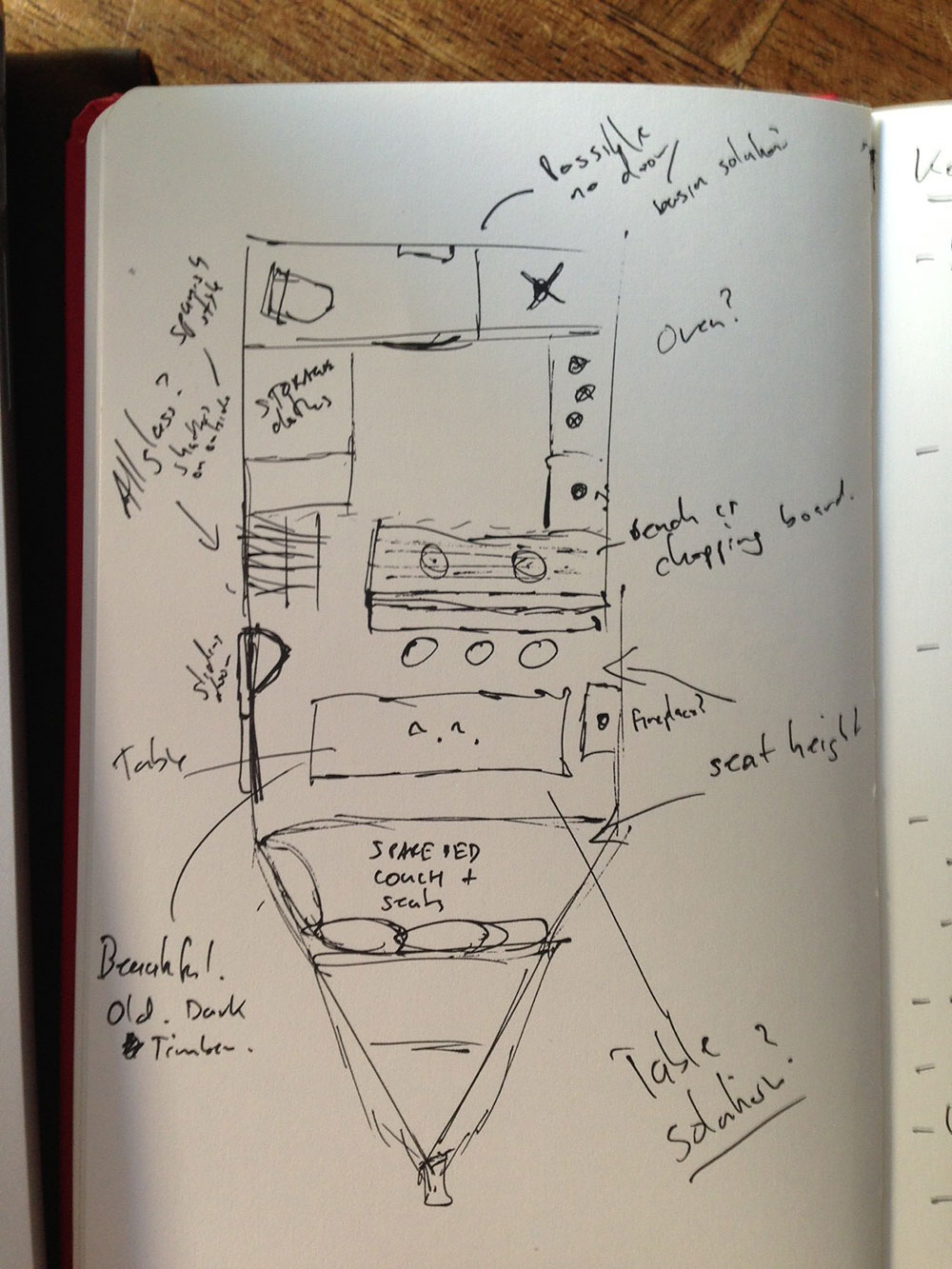 Original sketch of Jeremy Beasley's own tiny house design.
Portlanders love to re-think basic assumptions about house and home. We transform lawns into vegetable gardens, houses into urban farms, backyards into chicken runs, and change garages to ADUs. We are always re-imagining our city and how we live in it, always experimenting, so it's no surprise that the latest tiny house film is all about Portland.
The premier of "Small is Beautiful" at the Laurelhurst Theatre last week brought together the tiny-homesteaders for a night that felt like part class reunion and part grass-roots rally. Most of the people in Jeremy Beasley's film were in the audience that night, and the film was truly "preaching to the choir." Nobody needed convincing that the way to financial salvation and domestic bliss is found within a tiny house – "a little stick-built house on a utility trailer."
The movie follows the construction challenges and emotional hardships of four people (Ben, Karen, Nikki and Mitchell) as they build, or move, their tiny houses. Their stories are funny and endearing, often sad, but ultimately triumphant. These are not rough-neck builders. They're gentle souls who want to get splinters, get skills and build their own houses. Fear and doubt are constant companions on their jobsites. They all kinda lose it somewhere during the process, but in the end they succeed and tow their tiny houses down the road to a new home. 
"Small is Beautiful" is all about the personal empowerment of building your own house. This is an ancient feeling, but it's lost to most people today. Tiny homes are a return to the autonomy of people within a tribe, gathered in their camp or village, living in their self-made homes. It's a rejection of the home as a commodity and the neighborhood as something that you can buy into. That's a domestic revolt, and tiny houses create a revolutionary community.
Nikki and Mitchell's tiny house parked in parent's driveway in Reno, temporarily.
The newbie builders in "Small is Beautiful" get a lot of help from the community here in Portland. Nikki and Mitchell build their tiny house at Green Anchors, the funky outdoor project space below the St. John's Bridge, and when Karen needs to move her house in a hurry, the Portland community rescues her from the Oregon City bureaucrats, but it's Ben who really makes the most of this city's support structure for DIY projects. His jobsite is in the parking lot of ADX, the amazing makerspace in southeast. Dee Williams, the author of "The Big Tiny" and owner of PAD, swoops in to help Ben complete his tiny home. Derin Williams of Shelter Wise also helps with this heroic task. And when Ben isn't working on his tiny house, he's working at Caravan, the tiny house hotel! Only in Portland.
I love the revolutionary potential of these small structures and their ability to unburden people from debt and mortgages. A very small space encourages the inhabitants to consume less and live more. That's great, but this film ends too soon. We see the tiny-homesteaders doing just that – homesteading a backyard with a pod of their homes, establishing the golden rule ("Don't be a dick") and laying down sewer lines and electrical connections. I hope this is the first in a series, and that Beasley will make something like "Small is (Still) Beautiful," where we can see how the backyard encampment is faring.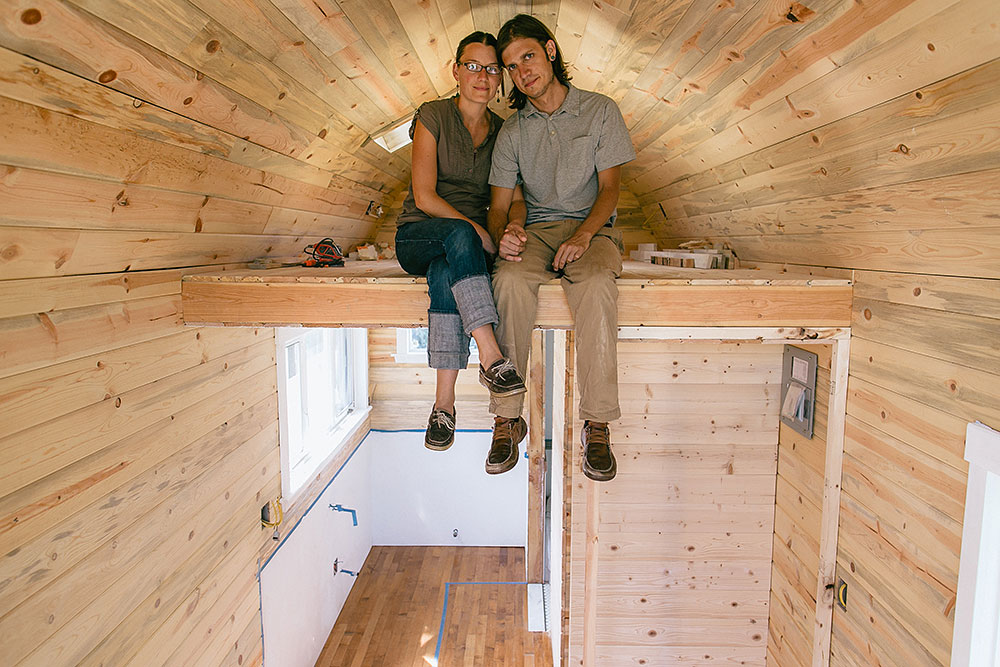 Nikki and Mitchell inside their tiny home, a work in progress.
Towards the end of "Small is Beautiful," Ben says "I wouldn't say 'Building a tiny house is awesome! Go do it.' I would say, 'Building a tiny house will drive you to the brink of insanity. Go do it!' "
As I passed ADX today on the way home, I saw another trailer frame parked in the same spot where Ben built his tiny home. Somebody took his advice, and the revolution continues…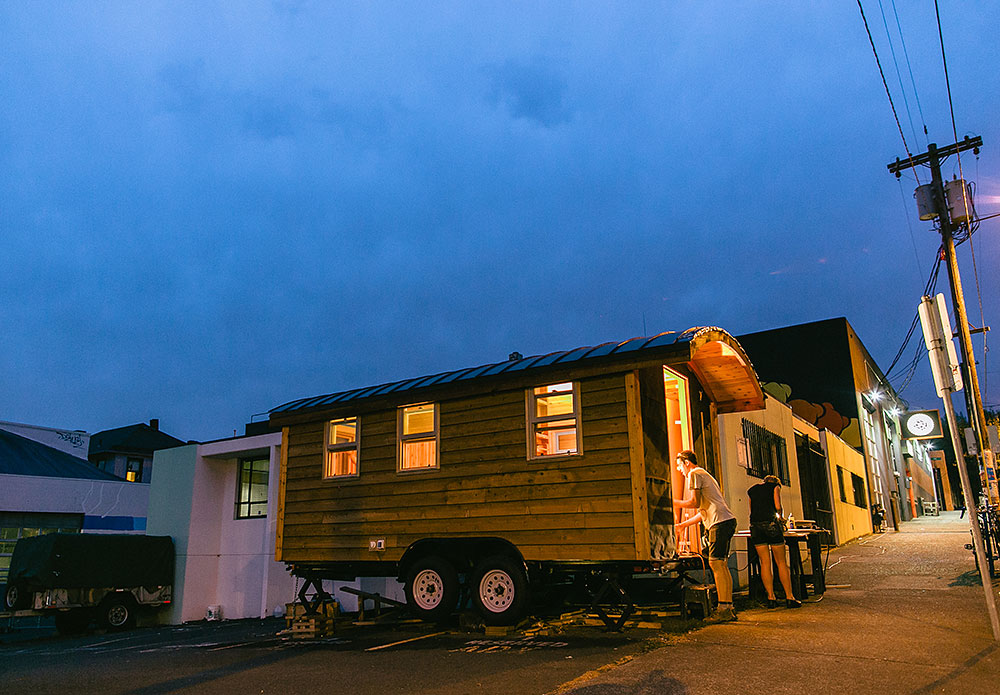 Ben Campbell works on his tiny home in the parking lot of ADX.
Brennan Conaway is the owner of Micro-Structures, which designs and builds ADUs, backyard offices and other small structures. His website is www.micro-structures.com. He lives with his wife and daughter in a 940-square-foot house in southeast Portland.