My stairs are pretty cool. People like the risers, as they are colorful, broken tile mosaics. Take a look: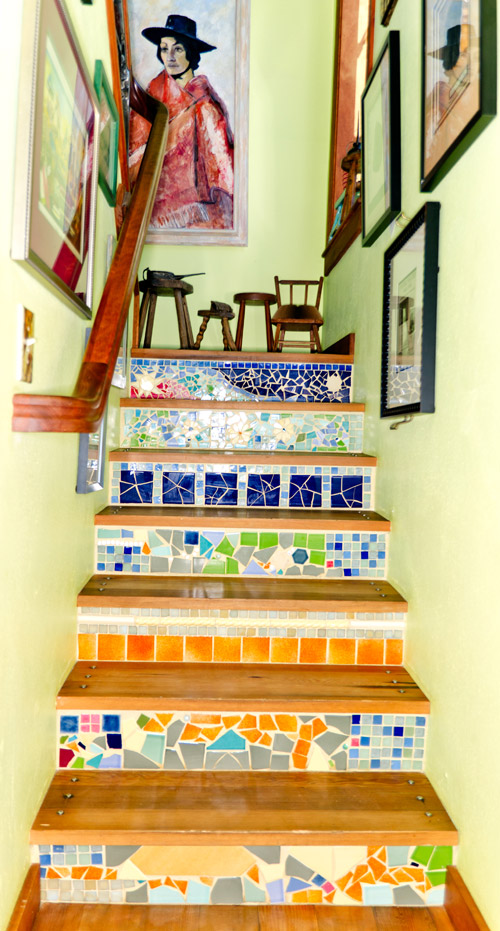 And some detail….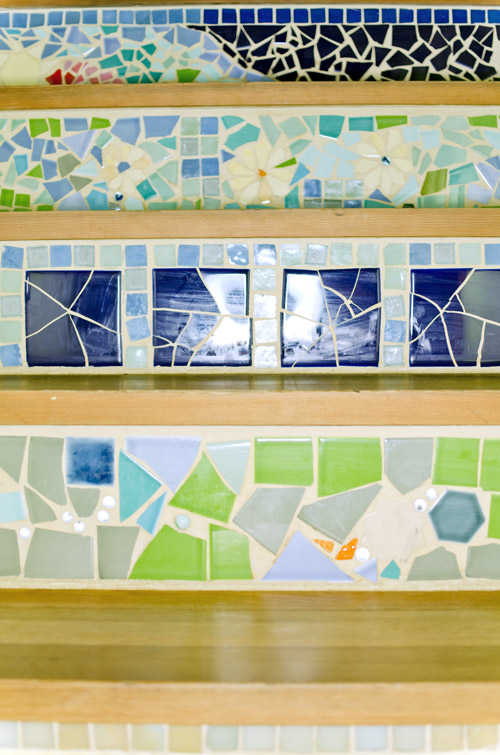 I did not create these mosaics myself. I can't even cut paper. I can, however, come up with lots of ideas. Here are a few variations on this effect for those of you who would like to jazz up an area of your home: 
Why limit yourself to tile? I've always liked the idea of using doll parts in the risers, or any kind of ephemera. My choice would be nuts and bolts and washers. How about old costume jewelry, old tin soldiers, fishing lures? You're not walking on these; they don't have to be flat or practical. 
Paint the risers. You can paint them one color, or many. You can paint them the colors of your favorite team. You could have each of your children, or all your friends, paint a riser. Re-paint when you tire of the colors or designs. 
Skip the mosaics and buy a couple of exotic or hand painted tiles to mix in with plain tiles. (See Ann Sacks tile or Pratt & Larson.) Specialty pieces can be expensive, but it doesn't have to break the budget if you mix them in with plain tile. You could have some plain risers, and some offset with a spectacular and budget breaking piece. 
Move away from the stairs. Do you have a walkway outside that could use some jazzing up? Tile it using scrap or new tile or a combo. Don't tile the whole walkway, but insert a design (straight line! wavy line!) in the middle of the concrete or on the sides. 
Border your patio or a flowerbed with tile. 
Add some flair to your sidewalk area. I know a guy who tiled a patch between his sidewalk and the street. It had previously been a grass that would not grow (and weeds that did). He created a unique design that included his house number. 
Border the plaster around an interior window with tile for texture and depth. I have a bathroom window like that. Check it out.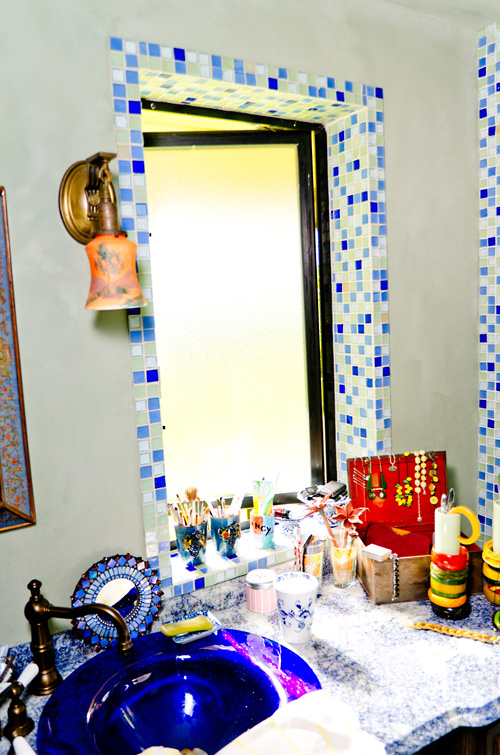 Such a cool look for a small window. (Of course, it's my house. I pretty much have to think it's cool.)
OK, get to work. Don't forget the scrap and seconds piles at Pratt and Larson, the Rebuilding Center, or Habitat for Humanity ReStore. Start thinking of more options and places in your home for colors, textures, shapes. Go wild customizing your place with your own personal flair.
Portlander Nancy Ranchel is a self-described accountant, design fan, serial re-modeler, compulsive re-user, and blog writer.