BY THOMAS R. PAYNE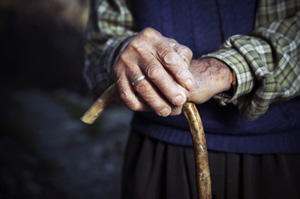 Eventually it happens to us all if we are lucky. We get old and hopefully wise. But with the wisdom comes worsening vision, hearing and less mobility. I had the opportunity to change the interior features of a one-level home for an elderly gentleman to make it safer, more comfortable and even more welcoming to guests. Fortunately for me he was my father and a good client.
Dad was moving from a house on a hill in Lake Oswego to a one-level smaller home in Southwest Portland to be closer to my mom in a local nursing home. As he was in his mid-80s and starting to lose his stability and vision, he agreed to let us make a few changes to the home he was buying to make it safer for him. We found a home nearby to several siblings and set to work fixing it up. 
I had three main goals: 1) to remodel it to prevent falls 2) to make it easy to clean, and 3) to have it be welcoming to visitors.
The first step was to remove all the carpets and refinish the hardwood floors. This provided an easy-to-clean surface, no places to trip while walking and a consistent image for him to see when walking, so he could see anything out of place on the floor. 
It was hard for him to give up the beautiful oriental rugs they had in the old house, but the local kids reminded him that he would see them often at our houses!
Bathrooms are a major source of falls in the elderly. The "tub fall" has sent too many people to the ER. We removed the old tub/shower unit and replaced it with only a shower that had a low curb. Perhaps the most important feature of the shower was several grab bars outside and inside. We also installed a new low-flow, high-performance tall toilet. These new toilets suck down water like the intake on a jet engine swallows air and the height made it easier to get up and down. There was a grab bar nearby as well. 
The lighting in many rooms was not sufficient as it was the typical single ceiling-mounted one-bulb fixture. All of those were changed out to track lighting with dimmers so we could light what needed to be seen, either art or a place to read. Automatic night lights in the hallway, living room, bedroom and baths provided an energy-efficient solution to night lighting. 
There were occasional power outages in his neighborhood, so we used a couple of APC battery backups, the kind for computers, to allow a light near his bed and one in the living room, which he left on at night. They will work for several hours in a power failure because a light bulb consumes much less power than a computer.
Dad wore an alarm system on his wrist that could be activated to summon help if needed. The alarm company was well informed about his condition and had a long list of people to call if any alarm was tripped. We also left a key safe at the front door that could be used to get in without breaking down the door by one of the responders. 
Gas logs were installed in the fireplace to provide some "cheer," as he would say, without hauling wood. He used it quite often as it was a comfort while reading books. 
Not that all the improvements were just for safety and comfort. There was one that we thought was the most useful for Dad. He had moved in when large flat-screen TV's were getting popular, but were still expensive and rare. We felt Dad "deserved" to have a really big one to be able to watch Perry Mason at lunch and perhaps a few football games, including his favorite, Notre Dame. We felt it our duty as good children to go there and keep him company for the football season, and of course a little bit of baseball, good movies, etc. It was perhaps the best thing we did; Dad had the company of his children and grandchildren and lived a long time there to enjoy it. 
When the time came to sell after dad died, we had a few showings, one of which was a woman with her elderly mom. The story was that the mom went through the house and into the master bathroom, turned around and said to the agent: "We'll take it!"
Thomas R. Payne is a certified master builder with Craftsman Homes Group, who serves on the board of directors for both the Oregon Home Builders Association and Home Builders Association Metro Portland.