By Ryan Bowen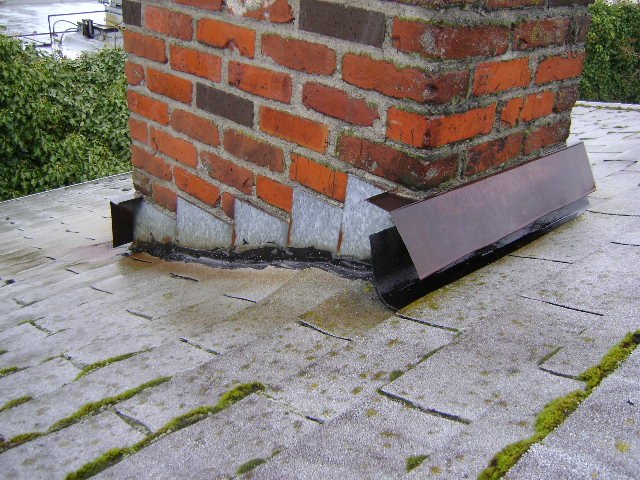 Above: This roof passed a real estate contractor's inspection.
Below: Water doesn't run uphill…no one noticed this until the roof began to leak.
The most frequently asked question by homeowners and building professionals is whether to repair or replace an existing roof.  
A roof is one of the biggest investments a home or building owner can make. By repairing first, a home or building owner can budget and save for the large expenditure of replacement down the road. However, there is also great comfort in replacing the roof, both from the increased aesthetic appeal as well as the comfort in knowing that your home and possessions are safe from water intrusion and the like. 
If you are considering a repair or replacement, as a roofing professional I recommend the following list of considerations and questions to ask your roofing contractor prior to deciding which decision is best for you.
How long do you plan to keep the home?
How long can you expect the current roof and flashings to last?
If you are selling the home in one to three years from now will the roof pass an inspection at that time?
If it will not pass an inspection at that time will it pass with more repairs or will it require replacement?
If repairs are performed, could any of part of them be deducted from the replacement cost because it does not have to be done again? The answer to this is usually no because no roofing material or primary flashing should be re-used as a part of the new roofing assembly. Usually only new siding, new skylights, power fans, solar fans, or chimney counter flashing can be re-used.
How does the roof look from the ground? Is it unattractive and likely to affect the curb appeal when it is being sold or rented out? Is it in good enough condition to be cleaned for substantially better appeal without harming the roof? Pressure washing harms asphalt shingles and any type of wood roofs and should not be done.
Has the roofing estimator inspected the entire roof to address potential leaks or just the current leak area?
If you are keeping the home what is the likelihood of additional leaks manifesting? If there are more what would it cost to fix any interior damage weighed against the cost of doing preventative repairs now?
If the repair is performed will it be visible and will it match or be a potential eyesore? This matters more if selling the home (most visible repairs do not match due to weathering and algae growth on the existing roof covering, although some weather-in after a few months). 
Will potential leaking be on your mind if you do not replace the roof? Has this leak been hard to find? Would you have more peace of mind with replacing the roof and its age and condition supports this decision?
Finally, seek referrals. Friends, family and roofing supply stores are great places to seek advice and recommendations. Quality service and materials, expert advice and guidance, fair pricing, excellent workmanship, attention to safety and first class customer service, these are things you should expect from your roofing contractor.
Ryan Bowen is president of Raindrop Roofing NW.