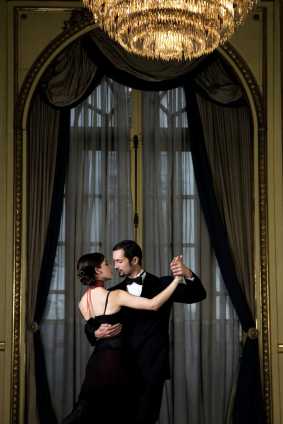 Several years ago at a friend's house, I met a young woman married to a man old enough to be her father. She was beautiful. He was rich. She loved to dance. He claimed two left feet.  She said she longed to go out dancing but her husband preferred to stay home. Now, I don't like to think of myself as judgmental but I may as well have donned black robes and slammed a gavel as she leaned in to confide how they resolved their differences.
 "We remodeled," she said.
Huh?
She explained that when she and her husband looked more closely at exactly what it was they both liked and/or disliked about dancing, it came down to this: She liked the intimacy of being held, turned and dipped to music. He disliked the feeling of being on public display.
So in one rarely used room in their most likely large and luxurious house, they installed a dance floor. Every week, she said, they had a standing date in their own private ballroom.
My heart turned an absolute puddle of  sweet gooey stuff.  The story has stuck with me over the years.  It reminds me that houses, whether humble abodes or fancy-pants McMansion, are nothing but rooms with roofs. People make homes.
[email protected] would love to hear your homemaker stories.