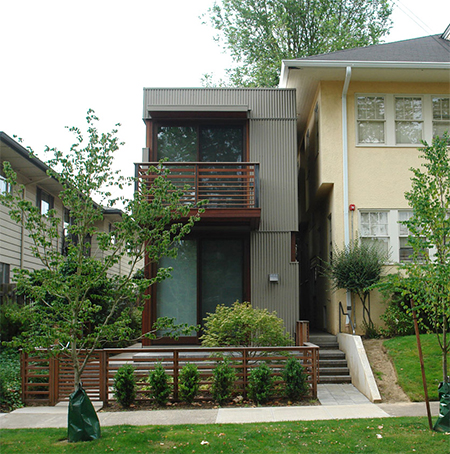 A friend of mine lives a beautiful life. She's full of love, generous in spirit, and constantly bubbling with creativity. She fell in love — again — and now follows the currents of her heart between North America, Europe and Africa. She has a residence on each of those three continents but at times feels she has no home.
Another woman I know moved to Portland from Iran. She was horrified when her husband wanted to buy a mid-century ranch house. The place had good bones. The location was great. The size suited their young family. I couldn't understand her reluctance to move into what she referred to as "the used" house.  The reason, she shyly confessed, was that she believed spirits of the previous owners lingered in the corners.
I lived in one house during my first 18 years of life and spent most of them dreaming of living elsewhere. It was a fine house but I'd seen my third-grade teacher's slides of  magnificent palaces in France, humble abodes in Peru, and the final homes of pharaohs in Egypt, and I knew I wanted to wander those faraway places with the vague idea that it would make me a different person. And I was all for being a different person.
Now that I write about homes I'm more aware than ever how the walls in which we surround ourselves express who we are. You sense the joy of a woman in her sunflower yellow kitchen; the adventurous force of another in her sitting room covered with tribal tapestries; the quiet compassion of a man in the loving restoration of his Dutch Colonial. We are what we eat and where we live.
Isn't that why it's a thrill to walk through the homes of certain long-gone famous people? You try to get a feel for a young William Shakespeare in the Tudor in Stratford. Or conjure up Marie Antoinette in the Palace of Versaille.  Or sense Elvis in Graceland. If the King lived in a doublewide would tourists still flock to see it? Heck, yeah!
People put so much of themselves into their surroundings, I understand why my friend who divides her time between three houses might feel spread thin. And I no longer think it far fetched to believe, as my Persian friend did, that beyond the paint and carpets, people leave behind some small part of themselves in their homes.
Then there are houses you want to see for the structures' sake to see the architects' — and clients' — visions realized in 3-D.
The Design Matters home tour is a chance for home lovers to access seven such residences in Portland. There's the futuristic  "Home of Tomorrow" built in 1958 when tomorrow was more than a day a way; a fab prefab home, and a cute, skinny, urban infill house (above) that I've taken so many pictures of while walking my dog that I may have invented a new crime: house stalking.
The self-guided tour takes place Oct. 13. Tickets, $40, are on sale now. For more information, pictures and tickets go to the Portland Architecture and Design Festival site. FYI: Tours do sell out.
Vivian McInerny is the managing editor of Oregon Home.