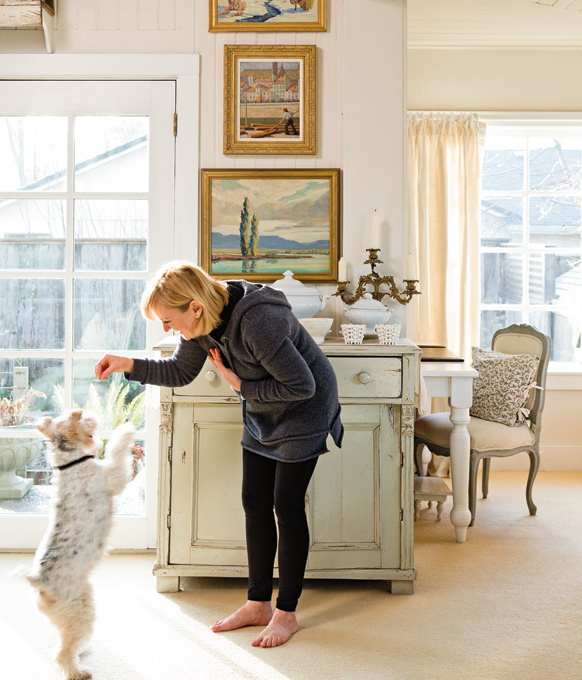 We've got rocketship tendencies, always poised for the next new launch. Did you see that house being built? The home store that just opened? That crazy chair by that artist?
With focus on the future, we sometimes forget to appreciate where we've been. This seems an auspicious time to look back at some of our favorite homes, design and decor featured on the pages of Oregon Home 2012 issues.
Most Ooo-Inspiring New Home
The high desert home of Deanne and Keith Kenneally near Bend includes a glass-enclosed dining room that floats above a  long, narrow water feature. The stunning modern structure by designer Eric Meglasson and architect Peter Jahnke of Pique Collaborative  also has whimsical touches to suit this active family such as a bocce court and a rock-climbing wall that leads to a teenage girl's bedroom. Fortunately, it's not the only way for her to head for bed.
Most Extraordinary Attention to Detail
Builder John McCulloch fell in love with a 100-year-old Dutch Colonial in Portland. He added an entire wing for a new kitchen that opens onto a library with bookshelves that stretch up two stories.  The herringbone pattern wood floor, the black-and-white stone countertops, the recessed lighting and crown molding are true to the original era yet the rooms feel fresh  and function for modern life. 
Righteous Reinterpretation of a Classic
Architect Michael McCulloch (no relation to John)  and family live in a home designed by architect Pietro Belluschi. They didn't want to mess with it too much but over the years, but it needed help.  (That must feel a bit like handing a writer  a tattered manuscript of Sometimes a Great Notion by Ken Kesey to read and fix.) The updates they've made in the kitchen don't simply replicate the original but stay true to the spirit.
Proof Money Isn't Everything
Too often the DIY projects featured in home magazines look a little too cutsey-crafty for our taste.  Christopher Giovarelli of Portland showed us just how sophisticated they can be. And he did it all on a tight budget. He made interesting side tables by attaching inexpensive legs to a vintage Army trunk, an old stereo, and a door. With paint and patience, he created what looks from a distance like a hand-set tile backsplash in the kitchen, and up close is an interesting graphic element.  He lettered the bathroom walls  with a Spanish poem. He made an interesting light fixture from a grouping of bare lightbulbs, and papered one wall with book pages.
Outstanding Demonstration of the New Old
The Gearhart cottage of Jay and Diane Speakman circa late 1800s is filled with treasures — antique plates and platter, framed oil paintings, tiny wood boxes, ornate silverware, leatherbound books — yet, doesn't feel cluttered. It feels loved and lived-in. Diane brings the eye of an artist and years of experience in retail display  to every room.  She reminds us not to store away the things we love but bring them out.
A Religious Experience
After 20-some years living in Morocco, Jules Olson knew that living in a cookie-cutter home wasn't going to work for her. She bought a small church in Portland and has gradually turned it into her private haven filled with exotic antiques.  The choir loft is a sitting room. The old bell tower holds an ancient tub. Dromedary doors — large enough for a camel to pass through – separate living areas. It's an imaginative space for the one-of-a-kind home-owner. 
Most Beautiful Blend
Bryan Deaner  "wanted a clean container but something with a soul. I travel; I collect things from around the world. But I didn't want it to be like a museum." The resulting steel and concrete design by William Kaven Architecture, filled with the home-owner's fascinating treasures, strikes a most beautiful balance.  
Vivian McInerny is managing editor of Oregon Home. // Photo above by Lincoln Barbour