Are you crafty? Not sly or sneaky, but good with your hands? The type who's got multiple hole punchers and scissors and an inventory of spray paint? Well, more power to you. I'm jealous, see, because my hands do not work that way. That doesn't stop me from poring over the how-to articles in Martha Stewart and Apartment Therapy and imagining having a skill. Recently I came across AJ's Trash to Treasure blog, which contains non-stop how-to instructions and pictures. Pictures are vital to this kind of enterprise.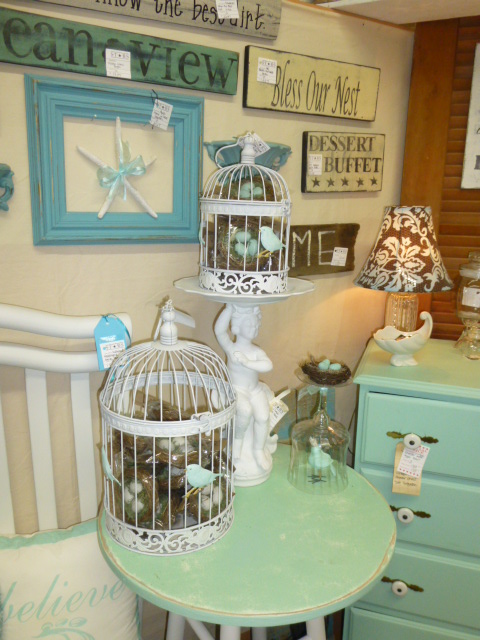 Don't get me wrong, I will NEVER do any of these projects. After spending my 20s and 30s working on DIY projects and trying to convince myself I just hadn't discovered my "true skill" yet, my 40s are much calmer. I have acknowledged my complete and utter lack of skill in the DIY area, and I'm thankful to blogs like this. Why? Because I can shop early. Perhaps you've noticed that I tend to preach that whole shop-early-and-get-it-out-of-the-way thing. I also preach the buy-from-artists-not-the-mall thing. Well, I ain't trash talkin', baby. It's May, but Christmas is just around the corner – hand to heart and swear to God.
Scroll down the Trash to Treasure blog. Do you see the old plant stand painted blue? Wouldn't this be great for a child's bedroom? A baby gift? Keep scrolling. Do you see anything for your mom or your best friend? These are items rescued from the scrap heap and re-made into wonderful finds. No going to the mall, no packaging, total re-purposing. Start shopping now and you'll be laughing on December 1 at the craziness at the mall. You'll be having a toddy while friends wait in line at American Eagle to purchase a mass-produced gift. The prices aren't listed on AJ's blog, so perhaps email for the price details before you head out so you can save on gas. Or grab some friends and go to Stars Antique Mall in Westmoreland or Curiosities in Beaverton (I've never been – let me know your thoughts) for an afternoon of shopping. AJ has booths at both places per her blog. (Some things to watch for: bare metal lamp shades and chenille bedspreads. Both have endless possibilities in my mind.)
If you are going to Westmoreland to hit Stars Antique Mall, also check out the consignment shop across the street – Silver Lining. It has been there for over ten years, I believe, and is worth a visit. How about lunch? Personally, one of my fav places in town is Jade Teahouse in Sellwood, and that's super close. Beaverton real estate is not my bailiwick, and I don't know a good place open for lunch. There must be something awesome, so let us know! I need to check out Curiosities, and lunch is part of any great day.
Portlander Nancy Ranchel is a self-described accountant, design fan, serial re-modeler, compulsive re-user and blog writer.