A soft brush sweeps over a hand carved wood frame as delicate sheets of gold hug every curve. Gold gilding frames is an art form dating back thousands of years to ancient Egypt and the respected process hasn't altered much since. It's an exquisite and vibrant fine art trade for makers like Rhonda Feinman and her team, who create these stunning pieces in New York City.
"This craft is about creating enduring beauty," Rhonda said. "Every day I get to see the excitement this brings to my customers. It's my life."
Rhonda has been a partner of Northwest Framing for 20 years offering a wide variety of gold frames from the intensely ornate to simple and sleek. Rhonda Feinman Custom Frames are featured in renowned museums, art galleries, institutions and private collections and are sold worldwide.
---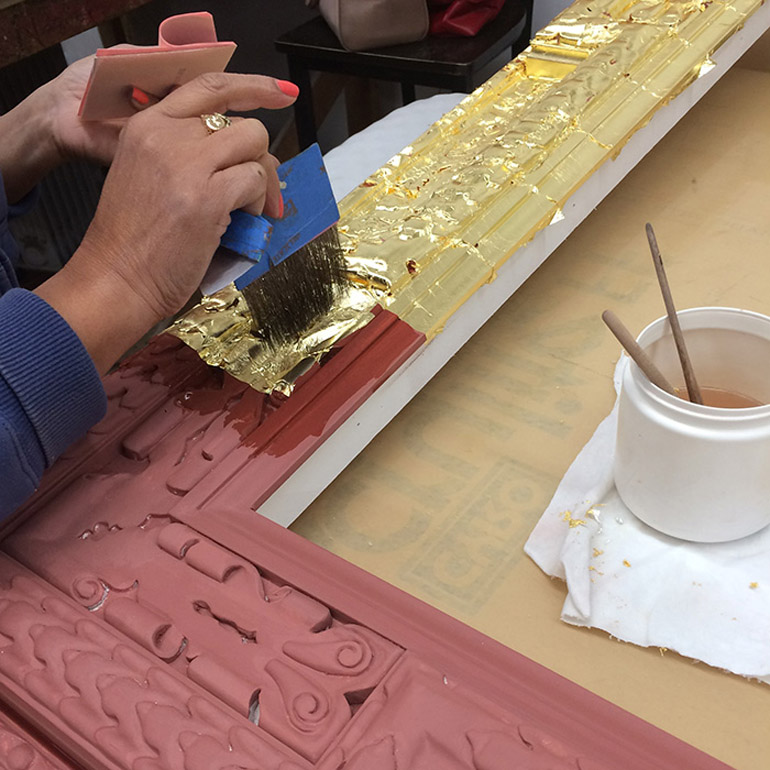 ---
"My customer had several framed three-dimensional art pieces of feathered birds on flowering branches. One had a broken frame which the customer wanted us to replace, to match her set. We didn't carry the moulding so we reached out to Rhonda's team who partnered with us to reproduce the broken frame with the exact profile and finish. I was blown away by the result," Cheryl Swent, store manager, Museum Quality Framing Capitol Hill said. "It was identical in every way to the original frame and my customer was ecstatic! Rhonda is a fantastic resource."
Gilding these gold treasures involve hand carving wood, casting, and applying the decorative composition ornament, then gilding only with genuine karat gold leaf to produce sensitive and faithful reproductions of fine antique frames.
"I enjoy working with Spanish carved frames the most. They are bold, creative, and there is nothing subtle about them," Rhonda said.
Curators at a Texas museum hired Rhonda to create an 18th century styled frame for a very large Spanish Colonial Virgin of Bethlehem painting. Rhonda's stellar reputation gave the museum curators enough comfort to agree to a pencil sketch Rhonda created of her vision of the frame, even though it was somewhat different from what the museum had thought of originally.
---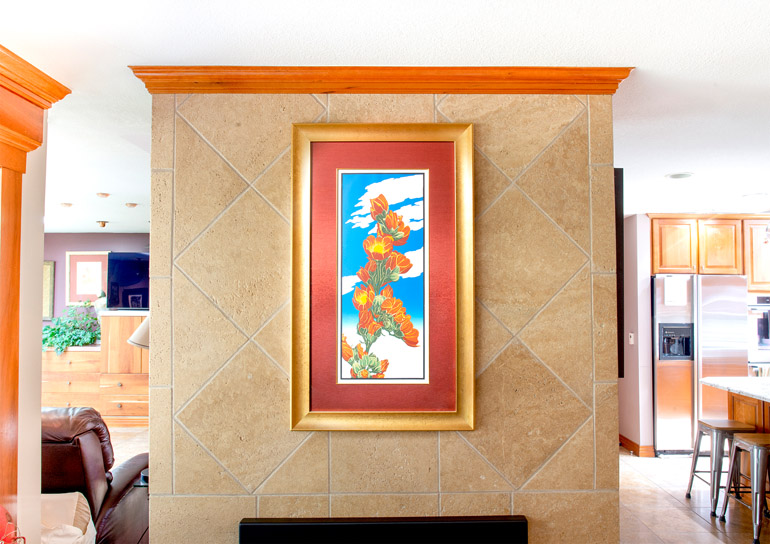 ---
"I'm really proud of that frame. It was perfect for the piece. It's very unusual for a museum to say yes based on a pencil sketch. The frame took about 10 weeks and required 75 hours of carving as the frame was quite large. They loved it," Rhonda shared.
"You are working with real gold and it's so thin and ethereal. When you lay it down it shines like pure light, solid gold," Rhonda said. "There is a tremendous amount of prep work. The wood must be very smooth. It is sanded and sealed, and then a special clay with glue it, is placed over the wood and then the gold can be applied. The last step is burnishing where the piece is rubbed with an agate stone to make it shiny. It's completed by deciding on the patina, the final finish."
"Our master craftspeople repair and restore antique frames, from small nicks and chips, to recreating lost ornaments, and from light cleaning to complete refinishing," Rhonda said. "Frames can be resized or replicated with accommodations to the artwork and new conservation and preservation standards, so we take great care in our work."
---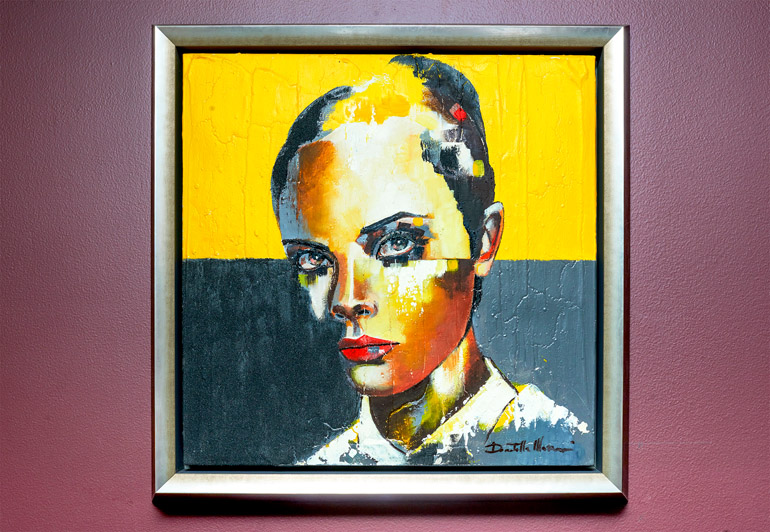 ---
Rhonda started this craft by accident. She attended the Parsons School of Design with a corporate design/advertising focus and took a job selling custom tradeshow exhibit installations. She was offered a job in sales by a picture frame manufacturer and for 16 years she worked with customers, did marketing and product development, eventually moving from sales into a buying position as well.
Years later Rhonda met the CEO of Larson Juhl, who was supportive and wanted to work with her. Rhonda bought a small manufacturer who reproduced handmade gold leaf frames, which lead to Rhonda Feinman Custom Frames, Inc. in New York City.
All frames are handmade at her facility with utmost respect for the legacy of centuries of craftsmanship in frame making. For more information on Rhonda's frames for your art piece, contact your local Northwest Framing shop.
Find out more about NW Framing's custom framing, visit here. Visit one of our shops in your neighborhood to bring your art to life.
---