The first Repair Café event is under our collective belts. And it was a blast! Huge sigh of relief. Huge. Right on, Portland!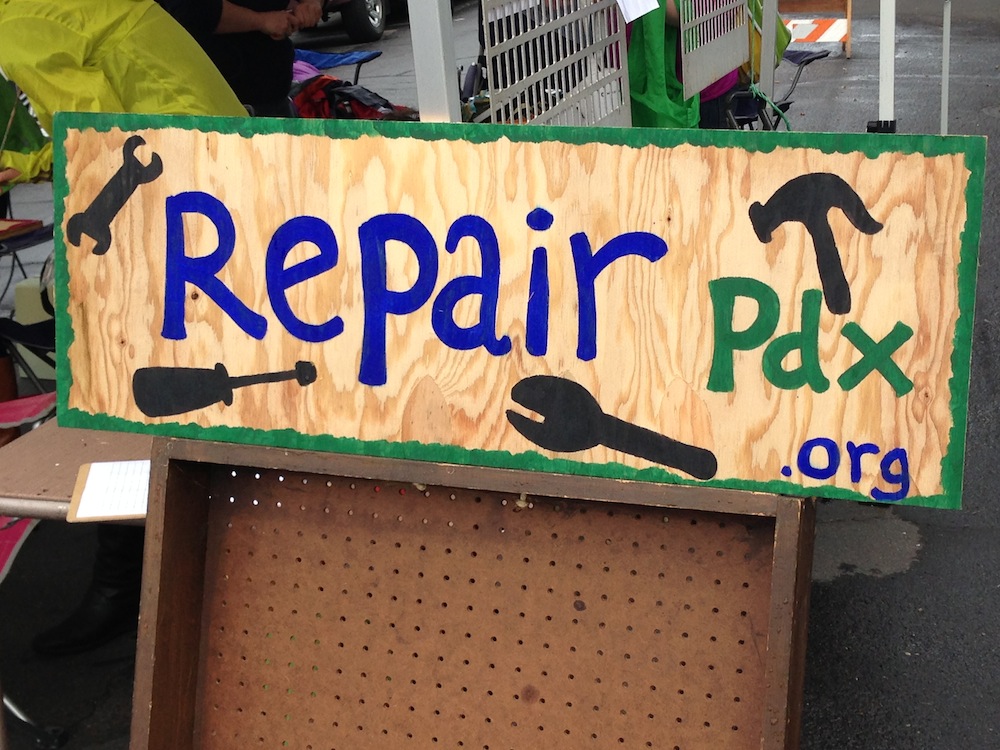 There was a little hiccup in the beginning as the repair tables and equipment were blocking NE 17th Ave, per the fire marshal. Damn rules and regulations! Safety first? Who cares about that stuff? (Well, people do.) The group did a quick bit of juggling and planted the two tents in front of the Umoja Center. Things were up and running by 6:30.
What with the tents, tables and chairs, signs and equipment and tools brought by the repair volunteers, the group definitely displayed a presence. I'm not sure the Last Thursday habituées were prepared to see a sewing machine – complete with a seamstress – plus disassembled computers at the (depending on when you dropped by) hippie/ster festival (or, perhaps, debauched event) that is Alberta Street once a month in the summer.
The sewing machines and computers did offer certain appeal. Pretty soon, people were stopping by to ask What's going on? The answer?
"It's a Repair Event – Renee and Terra are sewing, Bryce is working on electronics, and JD is showing people how to polish and care for their shoes. We're keeping things out of the landfill, baby! Do you have anything that needs fixin'?"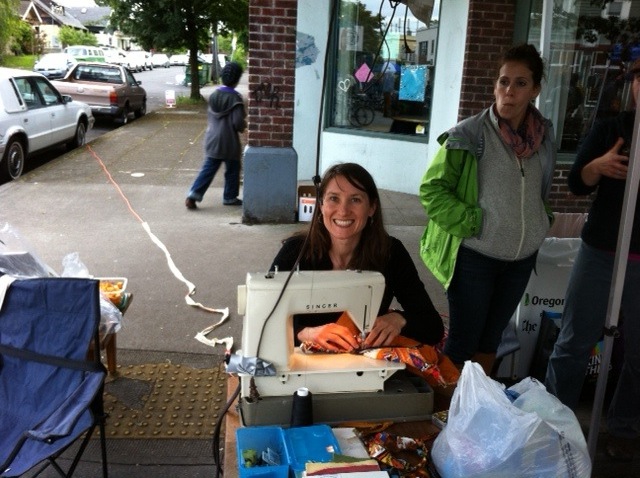 One gentleman dropped off his jacket for Renee to repair and picked it up on his way back down the street, but this time around it was mostly the volunteers who got their stuff fixed. And that's cool – volunteers are repair-worthy! (FYI – that's a good reason to volunteer! Handle the mailing list, baby, and get your computer fixed. Perfect trade.) People saw the group, added their names to the mailing list, AND they found a lot of prospective volunteers in the crowd. Not a bad night's work!
The next event is at Ford Food and Drink on Thursday, June 20th. Check it out on the RepairPDX site or their Facebook page, both of which are now live. Look around – you know you've got something that needs repair. Go have a coffee and get 'er done.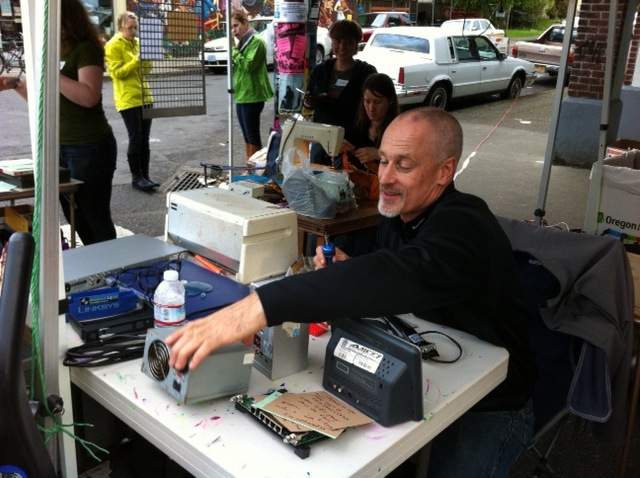 And, a big shout-out / thank you to Grand Central Bakery in Beaumont for the much appreciated and much needed food during the inaugural event!
Portlander Nancy Ranchel is a self-described accountant, design fan, serial re-modeler, compulsive re-user and blog writer.