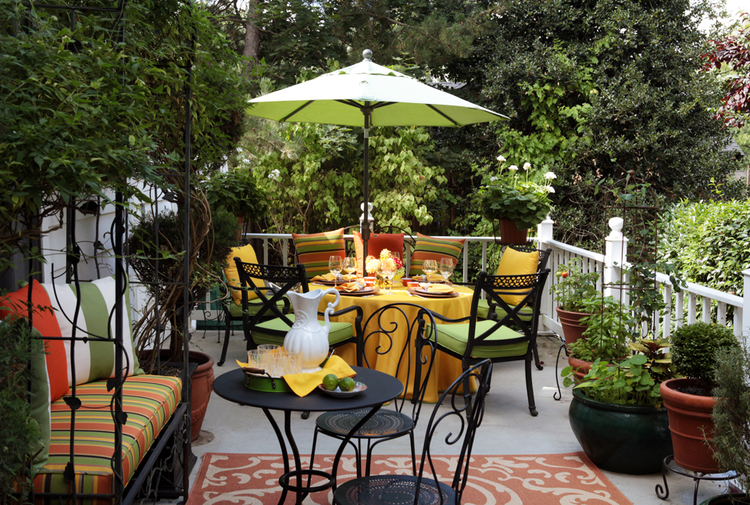 Now that Spring is finally here and warm weather will be upon us soon, let's talk outdoor living spaces. I asked my longtime friend and photo client, interior designer Kathia Emery, Emery & Associates, if she would write a guest post for The White Pear on what she considers the essentials for outdoor living spaces. I would now like to share her post with the OHM readers. Kathia not only knows her stuff, but she is a joy to work with; she makes you feel special. I love her rich, romantic, traditional style, and her use of color to enliven the senses and give a modern twist to furnishings. Check out her deck of sunny citrus brights—so fun and inviting!
"Essentials for Outdoor Living Spaces" by Kathia Emery, Emery & Associates, Portland, Oregon
Where to start? First take an inventory of your existing furnishings, and then fill in the holes. Here are some basic essentials for outdoor living spaces, but it really depends on your lifestyle:
• Seating Furniture: This could range from a pair of chairs with a garden stool between them, to sofas and coffee tables if you have a very large deck. Traditional wicker or teak, with indoor/outdoor fabrics for cushions are classic and timeless. Or you could opt for metal furniture, designed to withstand the elements, which come in contemporary and traditional designs. There are so many wonderful indoor/outdoor fabrics now that you can leave your cushions, pillows and tablecloths outdoors from May to October with no worries, even in our rainy northwest climate. Keep in mind—a table skirted with weather-resistant designer fabric gives the perfect continuity between indoors and outdoors.
• Dining Furniture: I like to mix things up so everything doesn't match. My upper deck, as shown in the photo, has two iron benches (one from Europa Antiques); an iron bistro table with two chairs from World Market, that has repainted a variety of colors over the years; a round, 48" vintage table that is always skirted to tie in colors; and four metal dining chairs from Home Depot. For this season, I chose fun, bright citrus colors of lime, tangerine and lemon.
• Accessories: An umbrella (mine is from Kitchen Kaboodle), an indoor/outdoor rug, hurricane lanterns or tiki lamps, and ceramic or weather-resistant planting containers for florals and herbs. A serving cart or sideboard is useful as well. I bought mine from Overstock.com. Just add music, and you're ready for a party! ~ Kathia Emery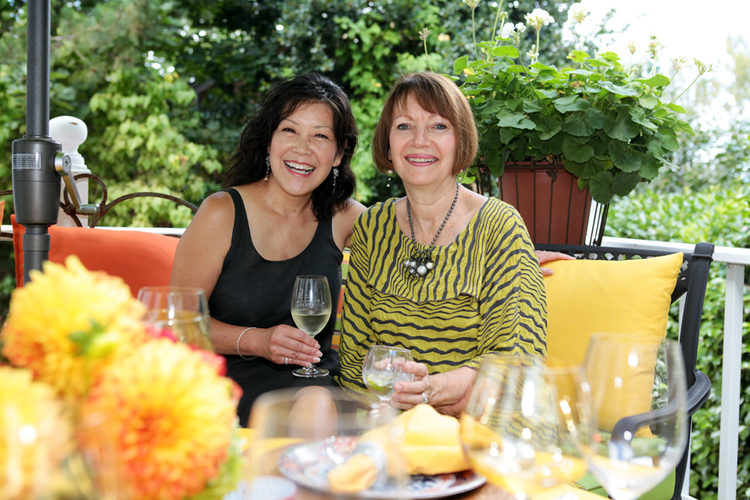 If you have any questions for Kathia or myself, please don't hesitate to drop a comment in the comment box below. Enjoy, and always love hearing from you. Till next time…
Love, Holly ~ Your Queen Bee at The White Pear