Visit Casa Drago Interiors
A play space for kiddos should be kid approved (duh!) AND a place the whole family wants to hang in! These are our 5 ingredients for creating a well-styled play space:
1: Double Duty Furniture
I prefer to pick furniture that can go the distance and have future uses! The IKEA storage cube below is a good example; it's a great height for kids to put away their own toys now but later can be stood vertically and used as elsewhere shelving. IKEA, Serena & Lily and The Land of Nod are all stores with excellent multi-use selections.
2: A Rad Rug
Durable, indoor/outdoor rugs are perfect for play spaces. We recommend a polypropylene material like the Dash & Albert striped version shown below.Dash & Albert has a great assortment of colors and patterns and best of all, polypropylene is washable and spill/mildew resistant!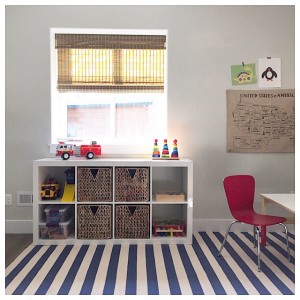 3: Grow-With-Them Art
Have fun with art! A colorful pattern (IKEA, below) or a simple print of your child's favorite animal (try The Animal Print Shop) can liven up a space and later be transferred to a bedroom or a wall gallery. The Land of Nod has unique wall art and Minted has affordable, timeless options. Urban Wallsmakes fun, removable wall decals that are perfect for renters!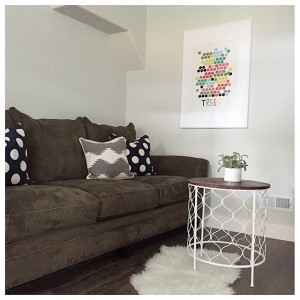 4: Room to Read
We transformed an under stairs storage closet into the coziest reading nook by adding a denim pouf, colorful decals and two floating shelves. Don't have a closet you can part with? A corner works! The idea is for a nook to be comfortable and inviting while encouraging hours of reading & storytelling.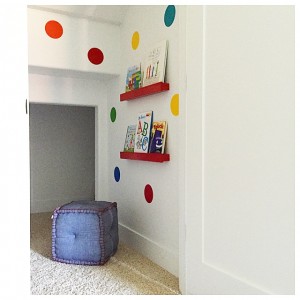 5: Sufficient Space
Don't fill your space with too many treasures or your kids won't have room to stretch, play and imagine! I always try to keep an area (preferably near toy storage) free of tables, chairs or large objects. A designated area saves room for impromptu performances or, at our house, dance parties.
Belong in your space!
Lindsay from Casa Drago Interiors