When I started planning for a trip to Cuba, I was less curious about what to do and see than with what the country's trash situation would be. How much did people there reduce / re-use / recycle?
Having never before visited a country subject to an embargo, I had anticipated that reducing would be a natural response to a lack of imports, and therefore, reuse would be very high. I didn't know about recycling habits so I searched online for info about it but didn't find much insight. So when we landed in Cuba, I was ready to soak up everything I saw. And the first thing I saw and smelled and soaked up was a lot of smog. All those old cars Cuba is famous for have been running on ancient parts and petrol for over half a century. Several of us were soon coughing from the exhaust around us. This was a daily problem. The cars look great, but they smell like poison. And, as an aside, almost all of these vehicles have non-working doors and sputtery engines – some of our party had to get out and push vehicles at various points in the trip. This is normal. Also normal is the amount of trash on the streets and in the water. Trash is not confined to dumpsters on the street; it can be found everywhere.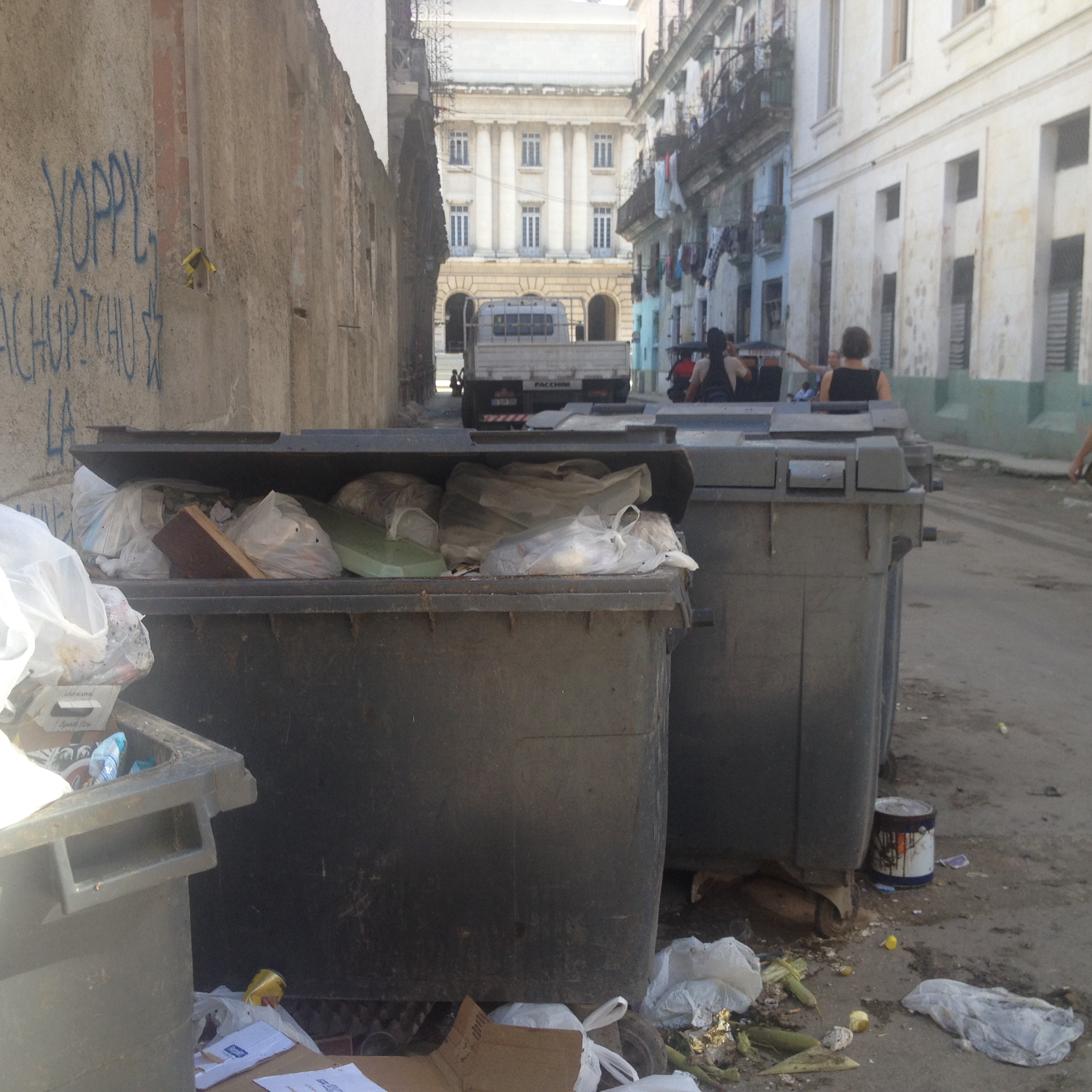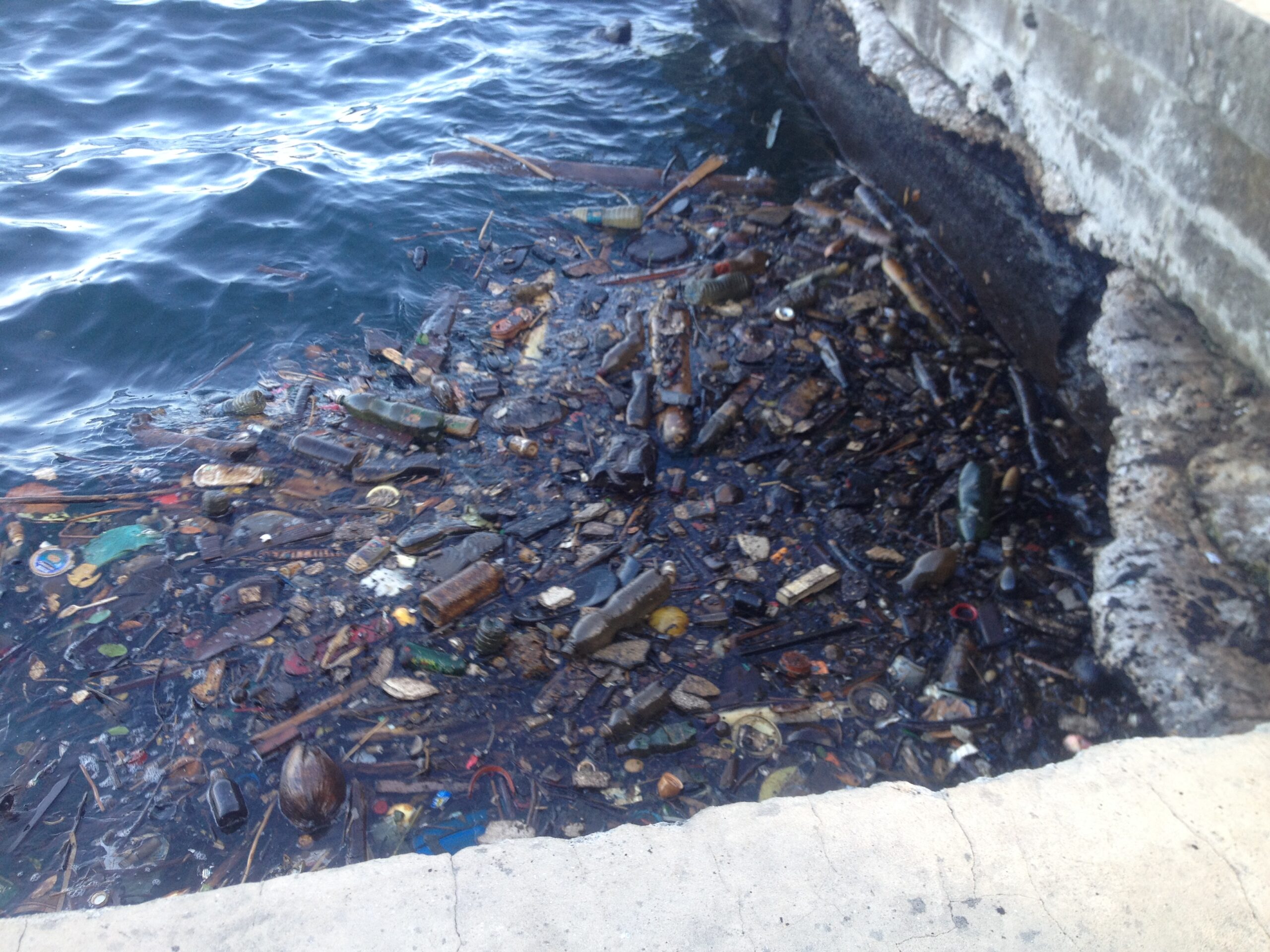 My group of friends and I stayed in a casa particular, the term for rooms in a private house. We rented ours via Airbnb, which worked pretty darn well. Our casa was in Old Havana, which is very run down, very poor, and incredibly dirty. We were three stories up, and the living room had a standing-room-only balcony looking over the street. Right below our balcony was our street's dumpsters. While this was not pretty, it was very informative. I could easily see that the dumpsters were full of all types of debris: wood, concrete, plastic bottles, and an infinite number of small plastic carry bags of trash (think: grocery bags). These were mixed-use dumpsters with no separation of recyclable materials. Later in the week, I heard the garbage trucks and ran out to take a look at the pickup process. One truck gathered all the trash, and the collectors kept a small bucket on the back where they sorted out aluminum cans. There weren't many cans in that bucket – maybe 10. The cans didn't have a deposit, but they must be usable for the metal in some way. This process made it appear that recycling was a non-issue. This was, unfortunately, born out by my conversations with our landlady and various bartenders, hairdressers, street workers, waiters, tourist guides – pretty much everyone with whom I came in contact in Cuba. Here's how it breaks down.
I'm laughing now at the thought of asking people who have very little how they reduce. Reducing is not a reaction or a choice in Havana, it's a daily reality. When you walk down the street in Cuba, people ask tourists for soap, because it's not readily available in stores. When you go in stores in Havana, there are small rooms with a scant products behind glass cases. Maybe there are a few bottles of shampoo. If you have the money to buy this shampoo, you are fortunate. People generally don't have the money to buy hair products or go to salons (per discussion with a hotel hairdresser who was kind enough to answer Qs – her clients were tourists at a high-end hotel, and those tourists also brought her supplies from the States and Europe). There are home salons in Old Havana run out of ground floor apartment rooms, with customers lined up in folding chairs and one hairdresser working on several people at a time. She is not using professional equipment. This is life in Havana – lack of resources, choices, and money. It's not about reducing, but about lacking goods. And if something is given, like a bar of soap, no one will care if it's wrapped in plastic or contains micro-beads. They are glad to have soap to use or sell to someone else.
The water in Havana is not drinkable, so people buy water in plastic bottles (much of it bottled elsewhere on the island). As for tap water, not only is it risky to consume, but its availability is sporadic. The water in our flat went out every day. There are therefore plastic water bottles everywhere, as well as plastic bags. I saw very little paper, including books or magazines. No newspapers. I heard several times from locals that if people have anything – household products, appliances, clothes – it came from relatives in Miami. As we arrived at Christmas-time, we saw proof of this first hand. As we checked in at the airport in Tampa, we were stationed behind a large family checking approximately 10 bags – not suitcases, but huge cargo bags wrapped in plastic to keep them safe. Each had the name of a family member on it. The contents of these bags are inspected in Cuba, duty is paid, and the goods travel onto the island for distribution to relatives. We saw a son in the apartment below us arrive on Christmas day with a small washing machine; I spoke to a 15 year-old in the Havana airport who was bringing a flat screen TV and Victoria's Secret underwear to her cousin. The people in Cuba are dying for stuff; reducing is not on their minds at all.
I saw minimal re-use given the volume of trash. Here's what I noticed:
Some small water bottles were collected and re-used as baby bottles.
There were vendors pulling carts of large water bottles re-filled with water and lemons to sell on the street.
The slats of our beds were covered with cardboard (not box springs) and then covered with foam mattresses.
One small pull cart of old pavers was being carted down the street to be re-used. (I confirmed with the guys pulling the cart.)
There were several metal shops fixing furniture and using old metal to create new furniture.
There were artists working with scrap / trash / salvage as their media.
There was one coffee shop / bar, Mamaine, totally rebuilt with salvage – wood tables and benches, metal tables and benches, industrial spring stools, salvaged bracket light fixtures – basically all salvage from stem to stern. The owner of the bar, artist Paul Sosa, was quite proud of the fact that this was the only business using this level of salvage in design. His goal was to encourage other people to do the same.
There were rainwater collection barrels perched everywhere – rooftops, mostly. This was an awesome sight, and probably a huge help with the household chores given how much the water would go out.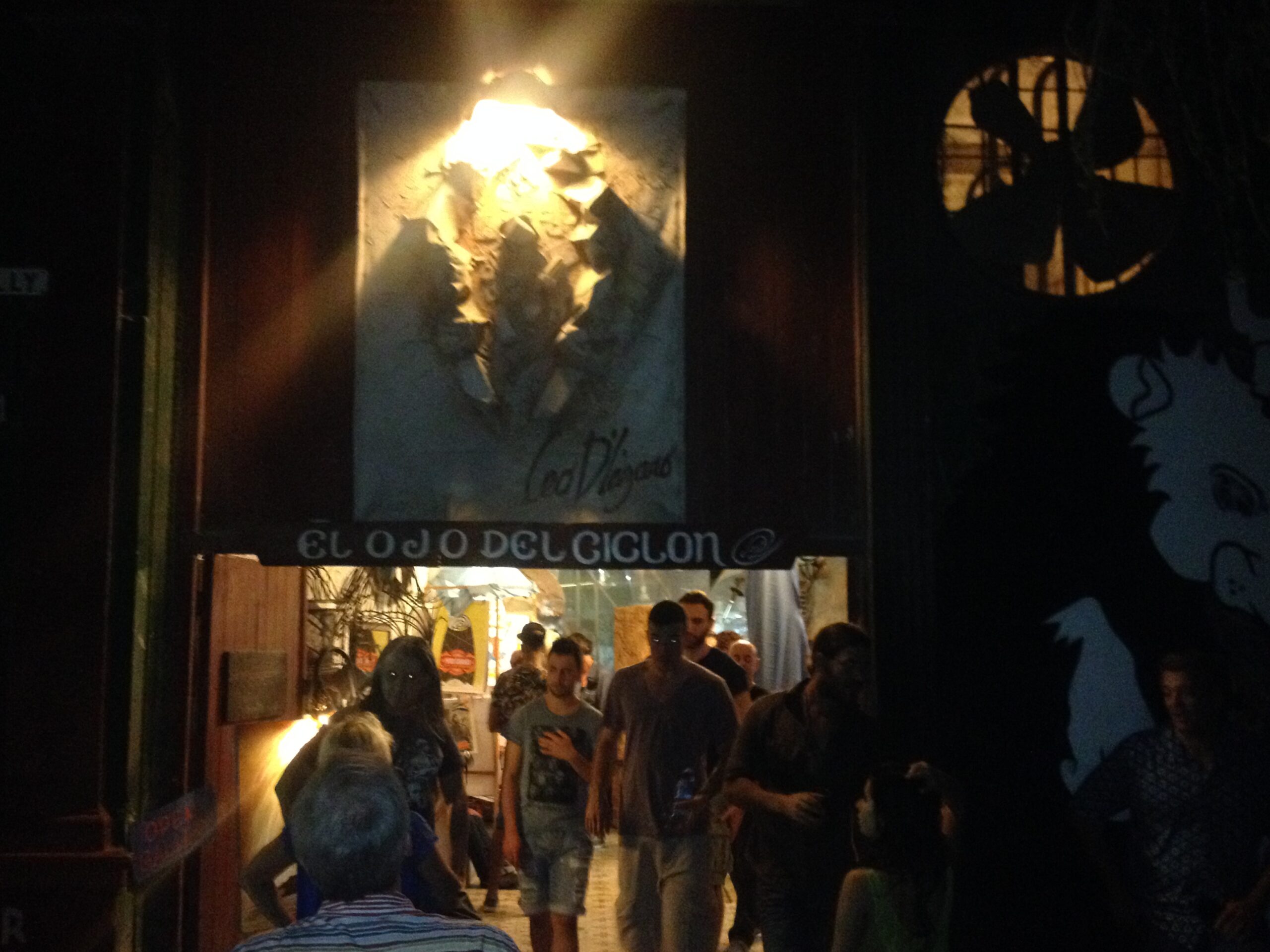 There was essentially no recycling. I asked many people and business owners about it, and they all said no, that's not something we do. There were many reasons given. First, there is no infrastructure for recycling. The roads are narrow and falling apart. There aren't recycling trucks. There is certainly no recycling station for processing. Basically, this all stems from a lack of money.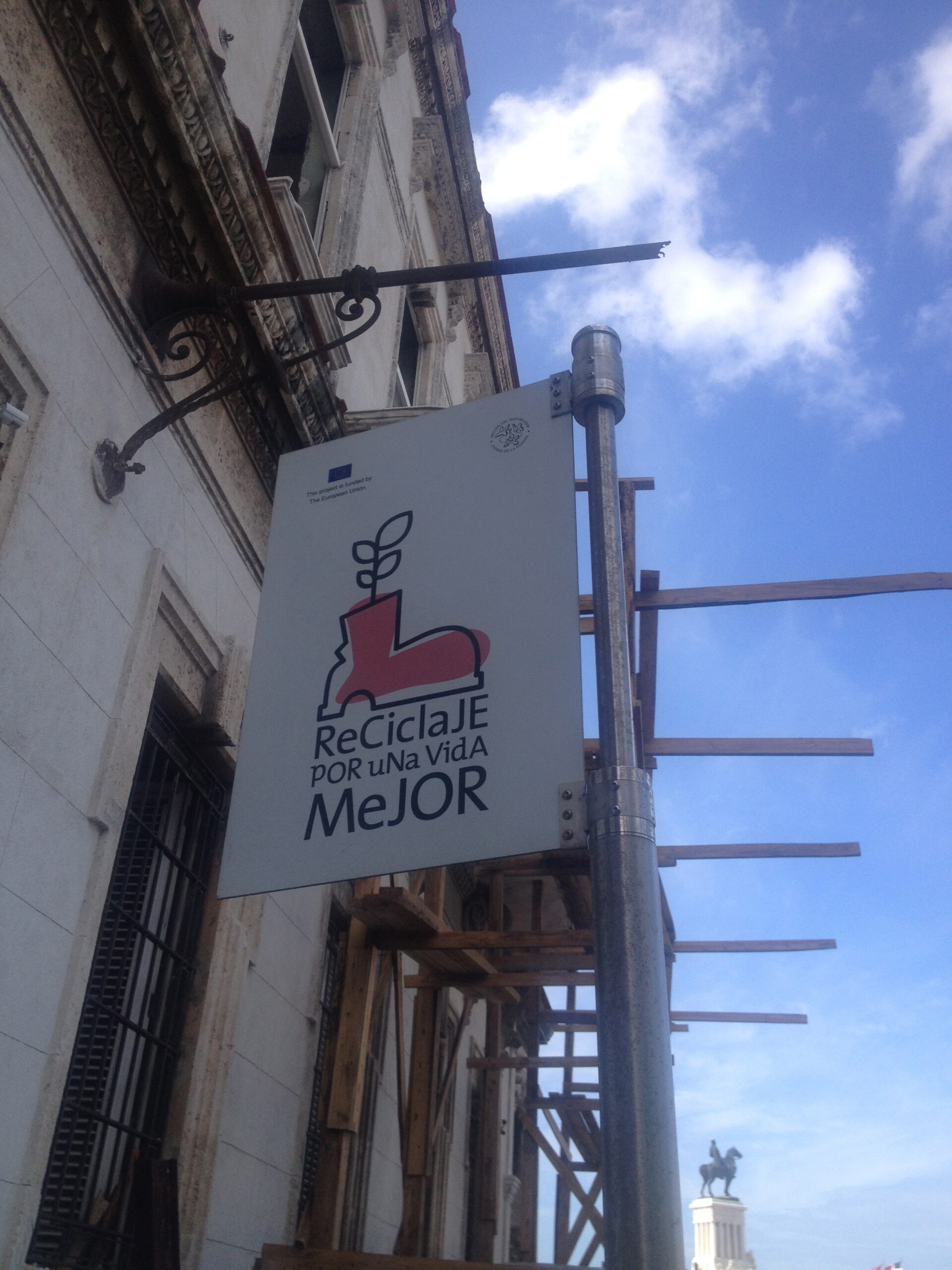 Also painfully obvious across town is the infrastructure problem. Recycling requires another set of trucks, which means the roads would have to accommodate another set of trucks on them. The roads are not big enough to handle the existing garbage trucks, blocking traffic throughout the day and night. The roads are crumbling and would only get worse with another set of trucks running over them. A recycling facility would need to be built, and it would require equipment, water, electricity. At a minimum, water is a problem. Finally, where would the recycling be sent? To China on cargo ships, like the U.S. does? That will happen only if there is a market for the raw materials (plastics, glass, paper), and that market is currently down. Is there enough non-plastic recycling to justify private enterprise building a recycling center in Cuba? I don't know. Also, there has to be enough salable recycling generated in Cuba to make it viable for a cargo ship to stop at the island and collect it. While it's possible environmental concerns might make the government mandate recycling, a viable business opportunity for recycling often moves things along faster.
Twice I saw recycle bins on the streets – small ones, about the size of a regular trash bins. As an accountant I know that my wanderings do not represent a valid statistical sample; therefore, there may be far more recycle bins in Cuba than the two I saw. Nevertheless, when I poked my head in those two (you're not surprised I did this, are you?), they were practically empty. Perhaps they had just been emptied? Perhaps not. The organization behind the recycle bins is Revime, and I found their info / sign at the Ceramic Museum.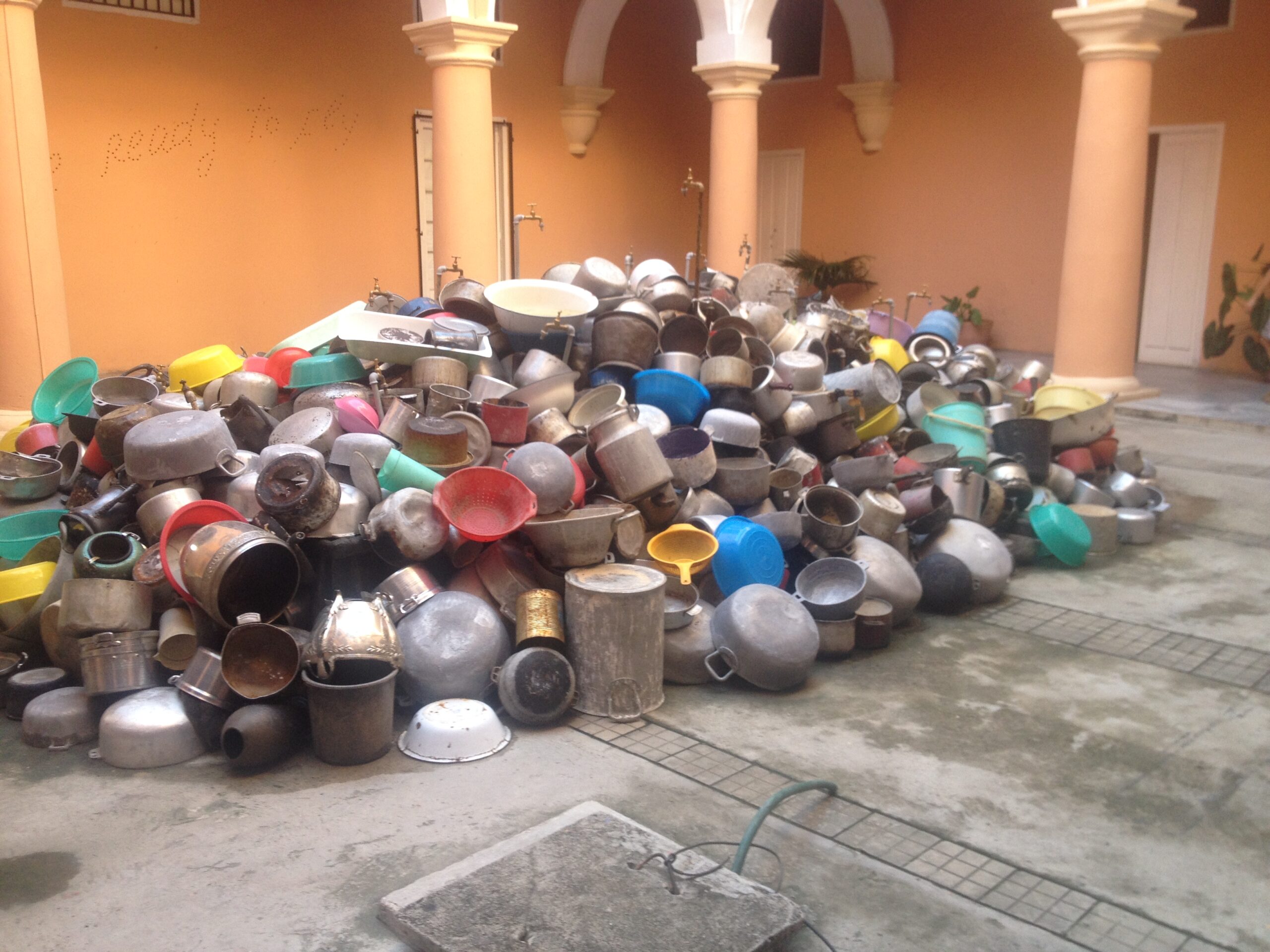 Revime's website gives me a "This website is temporarily suspended." alert when trying to access it. The Revime Facebook page is available, and it gives this news as of May 2015:
"During last mission in Cuba, CBSA1 experts could see the great results realized after one year of separate waste collection in La Habana. Cubans are collecting 13 ton/months for an interesting 3% of separate waste. Aluminium is collected in great quantity.
The Cuban partner Oficina del Historiador expressed strong interest in continuing the process of collaboration undertaken and to expand the collection with organic waste through the implementation of a composting plant. In this framework, meetings were held with the deputy director of the Oficina del Historiador, the UNDP deputy Ambassador in Cuba and the Italian Ambassador in Cuba. They all expressed interest and availability for the project.
Finally, the encouraging results achieved in the separate collection brought the Oficina del Historiador to start the process for the establishment of a cooperative dealing with the collection by managing the entire cycle, from the collection to the final sale of the collected material. The name chosen for the cooperative is Revime. This would be the first case of public-private partnership in the field of waste recycling in Cuba.
Many local authorities are contacting the Oficina del Historiador to know about REVIME project by asking to replicate it in their territories."
May 2015 is quite recent; it seems likely that this project would be in its beginning phases. I hope it comes to fruition. Cuba is a lovely country, but it is crumbling. The airport is small and old, the roads rutted and cracked, the buildings are falling apart. The volume of trash is amazing, and there's way too much of it in the water and on the streets. There are environmental bright spots, such as community gardens, but they're overwhelmed by the trash. I have heard many people say that it's good to see Cuba now, before it is spoiled by tourism. In my opinion, however, the country's beauty has already been spoiled by lack of care. Perhaps one of the benefits of tourism will be elevated interest in the country's natural beauty and taking care of that beauty.