Photo Credit:Vintage Industrial Furniture
A friend is re-doing her kitchen, which has turned into a first floor remodel. You know how that goes, right? You're remodeling the kitchen, and you decide to include the laundry room while you're at it. Then it makes sense to update the flooring of the family room while everything's ripped up. And while the family room floor is ripped up, it's a good time to add the wet bar you've always wanted. And away you go!
Pretty soon, you've moved a load bearing wall, put all your furniture up for auction (the new look mandates new furniture), have set up a makeshift kitchen in the garage, and doubled your budget. It happens. And it happened to my friend, Lori.
Lori's old dining table is history – too small, not the right style. She found a cool table online at a company by the name of Vintage Industrial, located in Phoenix. They specialize in a steam-punk/industrial style with fabricated metal bases (their own patterns) and wood tops, and do custom work. You pick your type of metal, your finish, the wood you want for your tabletop, and, if you're interested, you can use some salvaged materials. Lori was pretty sure she wanted one of Vintage's tables, but felt a trip to Phoenix to view them in person would be a smart move. This is my kind of field trip, and a few of us booked a room in the sun and took off for southern climes.
What should you expect if you are going on a similar field trip? If you are considering a custom purchase possibly incorporating salvage? If you are in a store showroom and you spy something made from salvage, you inspect it, look at the legs, determine if you like the look of the salvage, the color, and the style. You can see what you're getting. But if you're planning to order something custom, there's more to consider. Should you use a salvaged base? What kind of finish do you like? Is salvaged wood too variegated for you, or do you appreciate its oddness? All important questions.
Here's how it went down in Phoenix with my friends.
Straight from the airport we went to Vintage Industrial. Craftsman shops are often in industrial parts of town. Artisans need space for inventory, equipment (likely machinery), and a location that allows noise. There will be a showroom, but it might be in the warehouse. If so, you will be required to wear safety glasses and possibly a hard hat. Actually, we were also supposed to wear closed-toe shoes, but our guide let that slide. Frank (the guide) first showed us completed tables. These, however, were not necessarily for sale – mostly they were tables that represented experiments or prototypes for other projects. They were excellent for examining different types of wood, metal patterns, and finishes.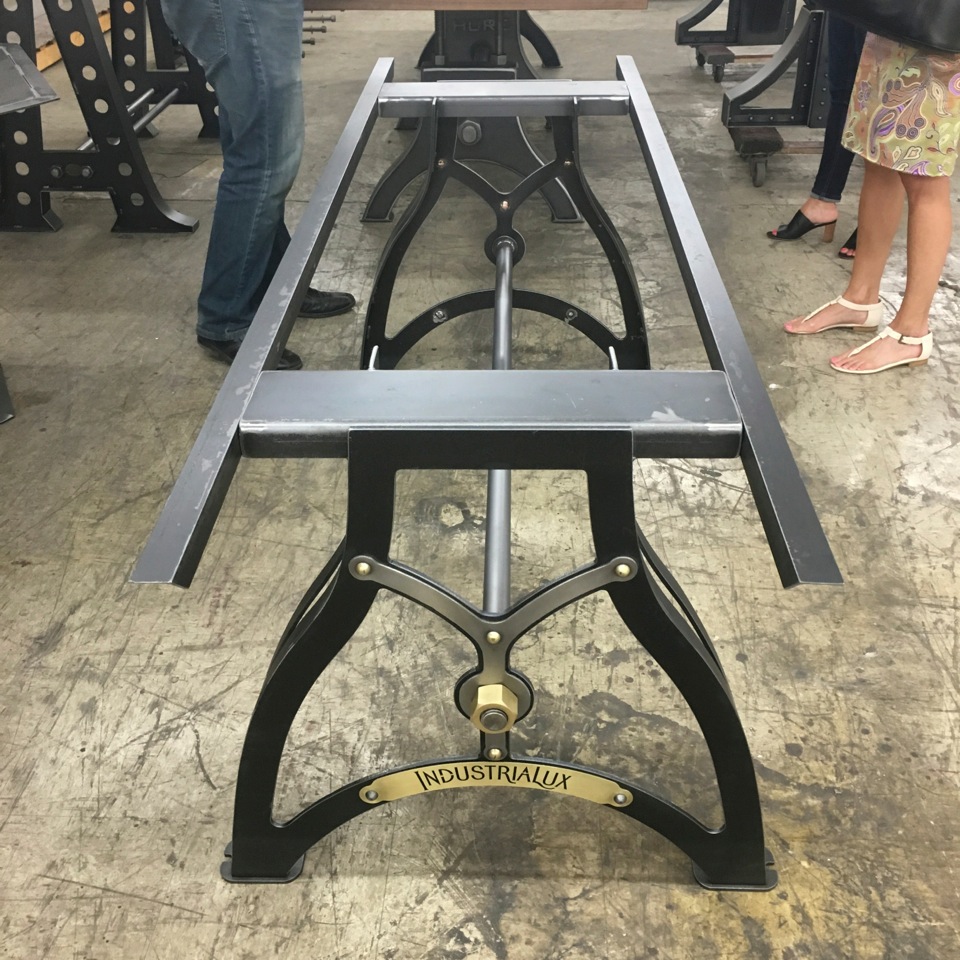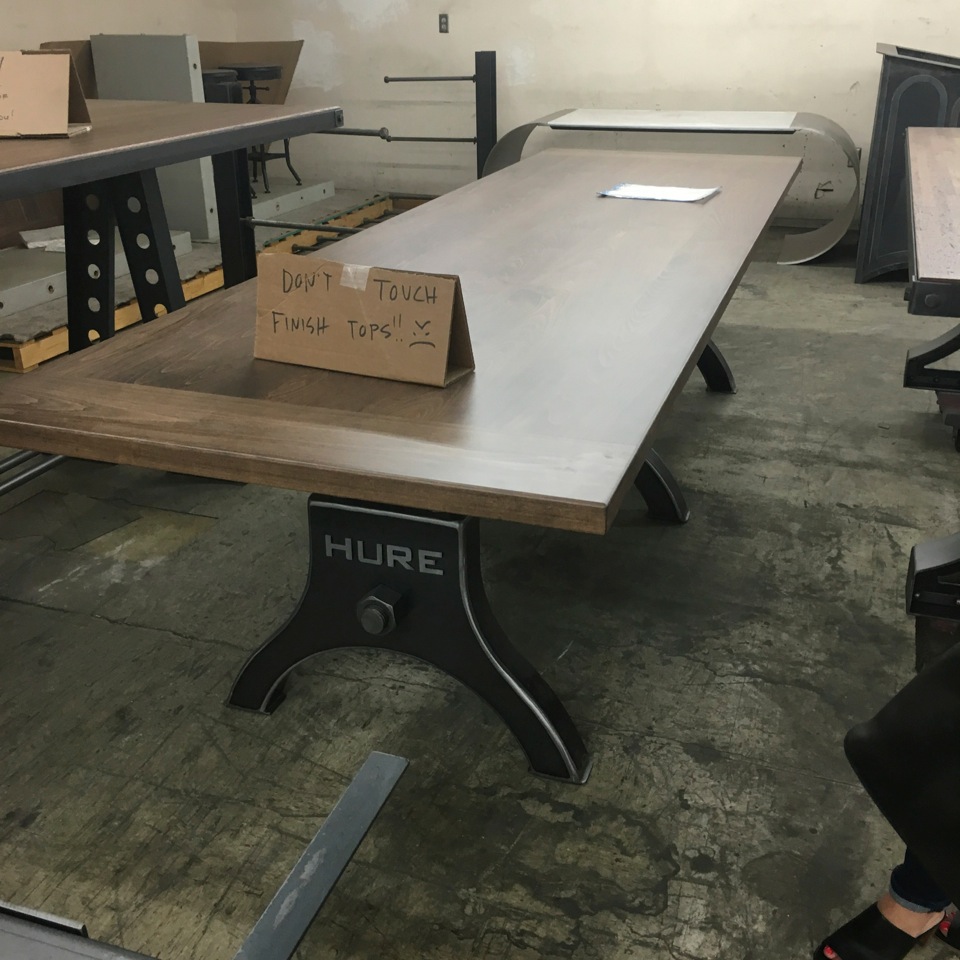 Pics 1 and 2 above show two fabricated metal bases (no salvage) with a new wood top. Within these two pictures, several questions can be generated:
– What table shape do you want?
– What kind of base?
– What wood for the top and with what finish?
– What finish for the metal?
– Plain metal wrapping on the edge, or with nuts/rivets (Pics 3 and 4 below)?
– Will all the metal finish on the table be the same, or different colors?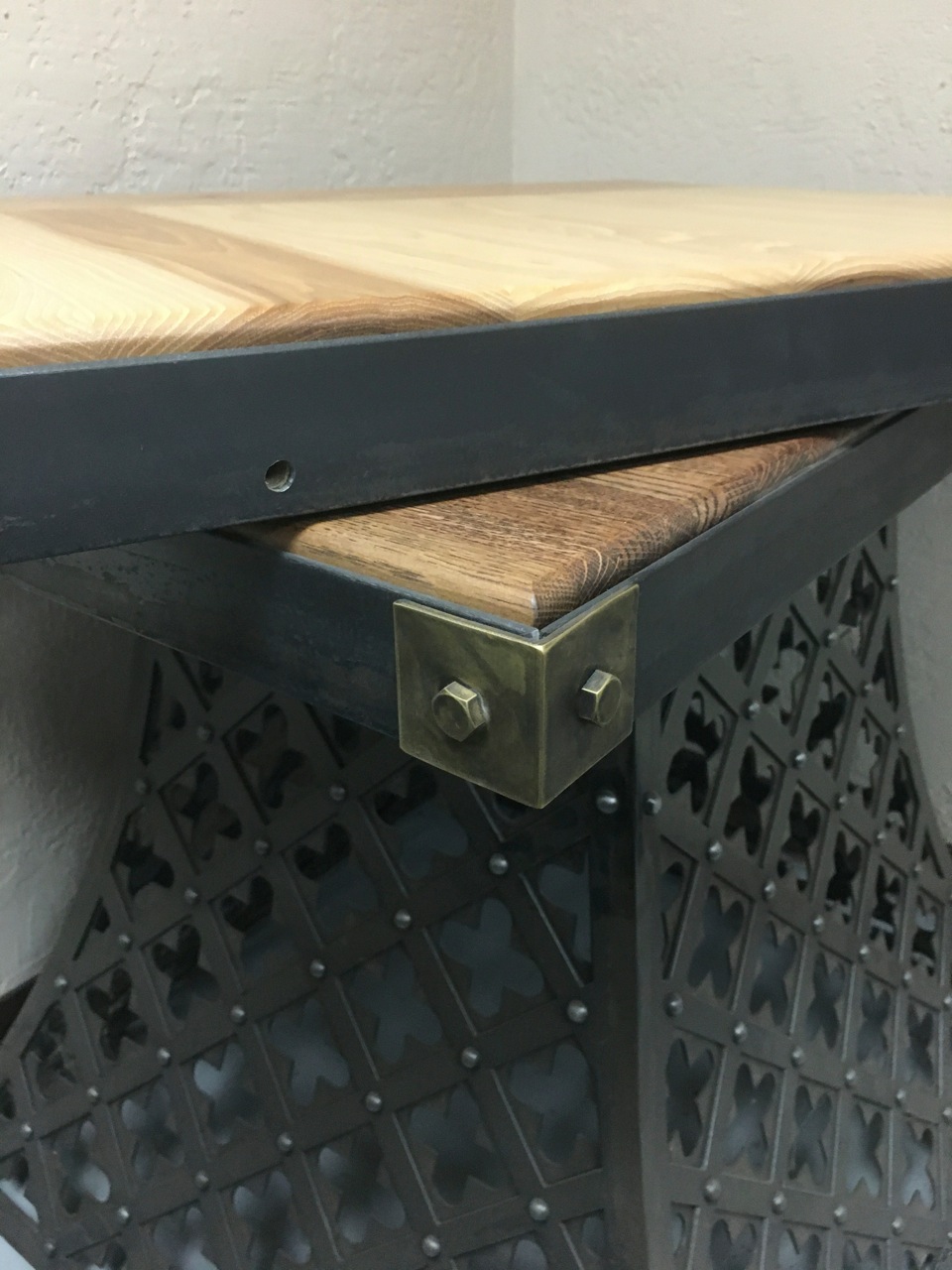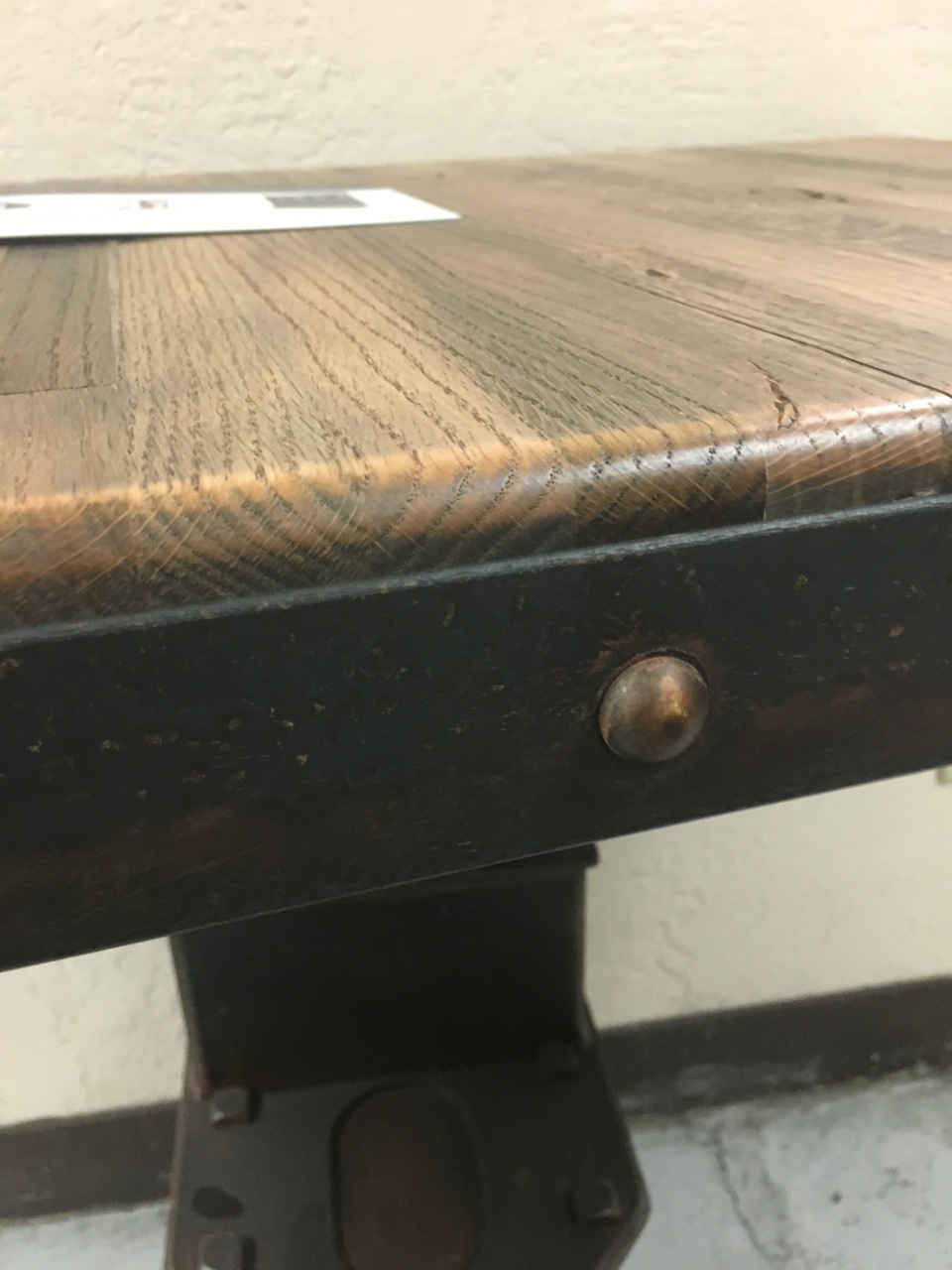 Lori had a favorite tabletop and base picked out from viewing the website. Before the shop visit her biggest question was about getting rivets on the wrapping versus sticking with a smooth finish. However, once you get into a showroom, things change. Showrooms are exciting, and seeing so many cool options is seductive! Lori started to question her initial decision about table top material and base style and finish.
Adding salvage to the mix adds another level of complexity. Let's start with the base. First, a salvaged base would likely not be a sleek look such as the bases in Pics 1 and 2. Are you okay with randomness in your furniture? That's a big hurdle. Next, what kind of salvaged base would you like – a machine part, perhaps, or old metal sawhorses? If so, can you find these on your own and get them to Vintage Industrial, or would you ask them to locate an industrial base for you? Both have their pros and cons – the base you pick yourself will surely be one you like, but it may not be a sturdy or structurally sound base from a contractor's standpoint. On the other hand, anything the contractor finds will have to get your approval, and you might not have the same taste. It's a process.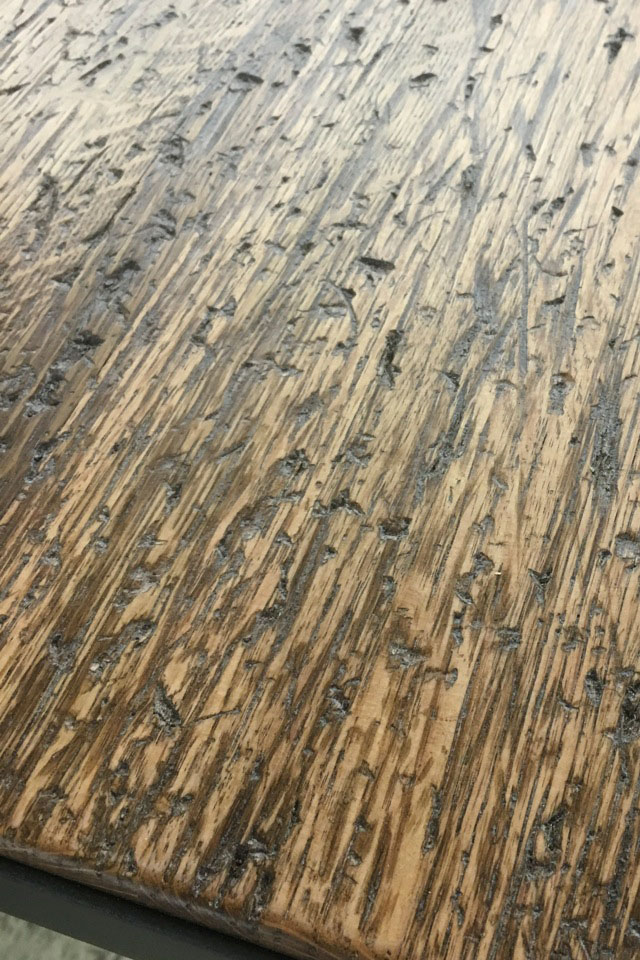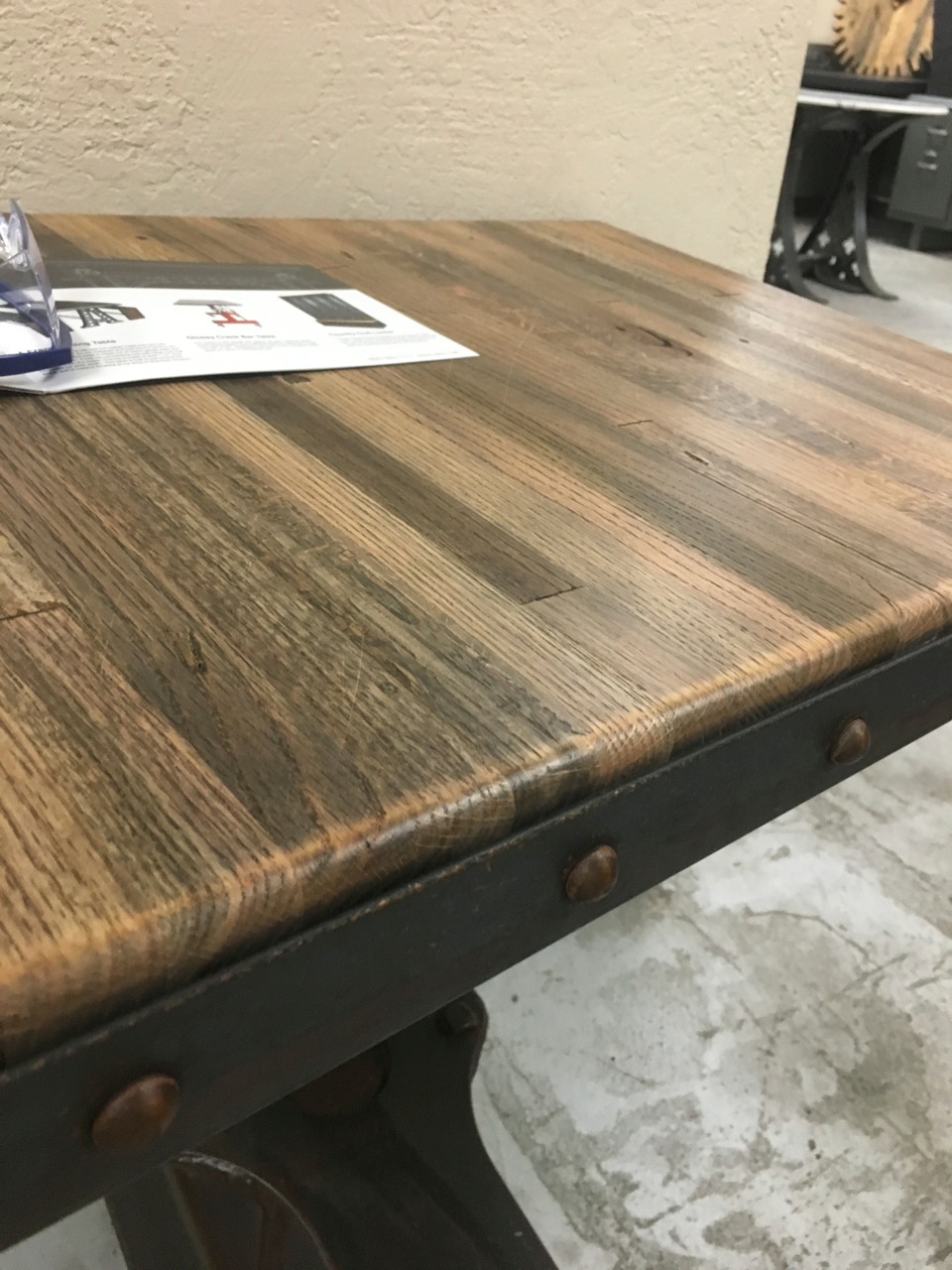 Lori never had interest in a salvaged base, but the table top was a different story. Check out Pics 5 and 6. Pic 5 is very pockmarked, and is not popular with people who think it would be too rough to use as a writing surface or even for wine glasses. What do you think? Would that be a problem for you? Personally, I have no problem with the rough surface, but I don't think it's pretty. I'm much more a fan of the wood in Pic 6, which is from the floors of old boxcars.
Because these floors get beat up, their color is uneven, one of my favorite features. If you like a smooth look, however, this may not be for you, though the wood can be stained darker for a more uniform appearance. Lori was taken with the boxcar wood, and started to seriously consider it for her table.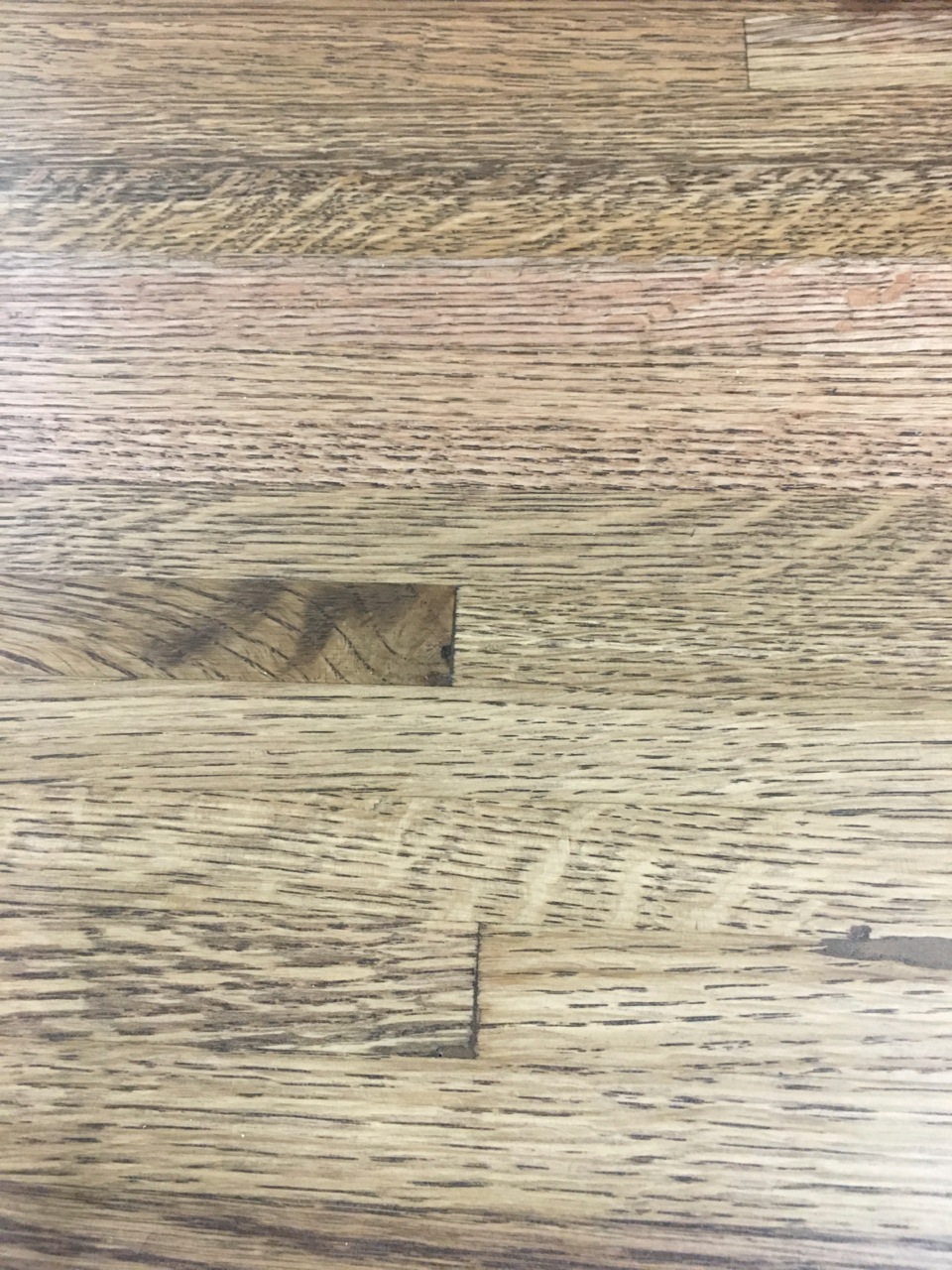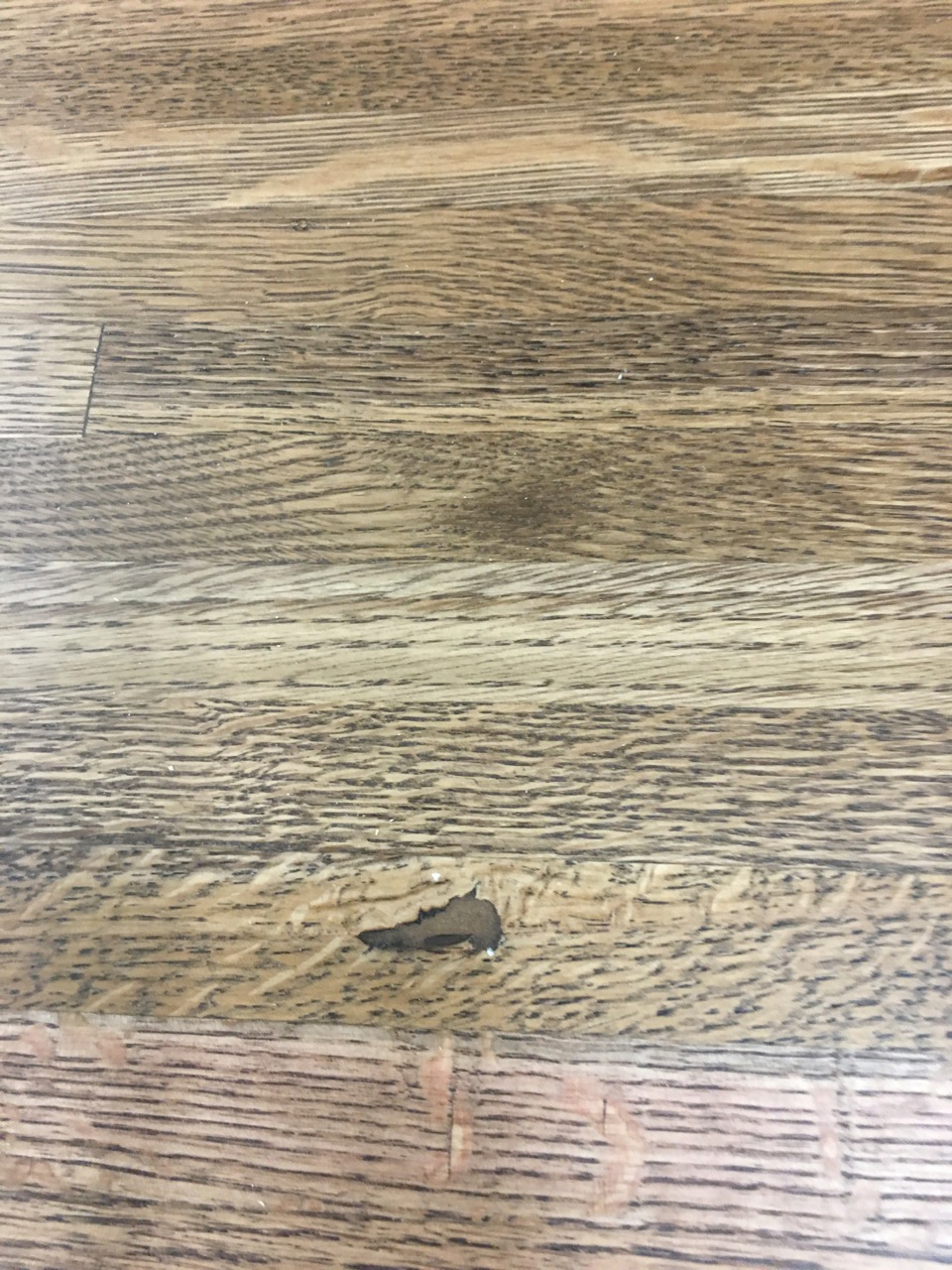 In Pics 7 and 8 you will see another facet of working of salvage. In Pic 7, the boxcar wood pieces look uniform in size (if not in color). At the middle bottom of Pic 8, however, there is a dark patch that looks like a blemish. It is, in fact, a patch, or fill. Salvaged wood frequently contains nicks or cracks and needs to be repaired for a smooth surface. I'm a fan of the obvious repair – the patch that sticks out, like this dark one. (Frankly, when I need to patch my floors, I plan to do it with metal like this, for a very striking look.)
If you don't like the obvious repair, be sure to let the contractor or artisan know that you want your salvage blended with no apparent patches. This is Lori's preference, and by going to the shop to see the tables she became aware of this issue and was able to make her preference known.
What's the take-away here? In general, if you're using salvage directly in design, you will have to deal with imperfections. This can be a bit daunting, but there are ways to work with salvage and your tolerance for design chaos. If you're considering salvage, you're halfway there. You don't have to go crazy with a full submersion into rust and imperfections, just try a dip into the salvage waters. Lori's dip will be via the boxcar wood with no obvious patches. Could you do the same? I bet you could.