The Noguchi table, the Eames lounger, the Barcelona chair, The Saarinen table… you most likely know all of these pieces, if not by name, surely by sight. Mid-century-modern has had a good run, for sure, but the fad, like all other fads, is starting to fade.
My company, Spade and Archer stopped buying mid century modern almost two years ago. The moment a design style becomes pedestrian, as in everybody is doing it, that's when it is time to move on to the next thing. The first time you heard (or used) the term "MCM" because "Mid-Century-Modern" was just too long to say was the moment "MCM" became pedestrian and was on the decline.
This churning of styles is what keeps our industry moving. If we all decided today that Mid-Century-Modern was the be-all-to-end-all, I and every other designer in the world, would be out of a job.
Can we just take a second to address the elephant in the room? The term "modern" is often used synonymously with the term "contemporary". Modernism is NOT contemporary. Modernism is a design movement that occurred roughly between 1948 and 1968. Everything after 1968 is considered post-modernism. If you want items that are very "today" do not call them "modern", call them "contemporary". End of rant… back to the postmodern-modernism trend that is now becoming passé.
So the 4 billion dollar question is, what's next? Will we slip back into arts and crafts? GOOD LAWD, I hope not. If you are still buying arts and crafts, I'm sorry I just made you cry. If we follow suit with every other trend for the last 40 years, we will see what was ugly become pretty. My biggest buying push has been toward 1970's post modern Brutalism, Chinoiserie and Mediterranean. Lets take a look at each style as demonstrated by the ubiquitous low-boy dresser.
Brutalism was a short lived style popular in the late 1960s and early 1970s, when the design of low-cost government buildings was comprised of mainly raw, unrefined materials. The trend spread to furniture and was a hot flash in the interior design pan. Because the fad was so short, not many pieces were made, thus making the few that do still exist rare, and valuable.
---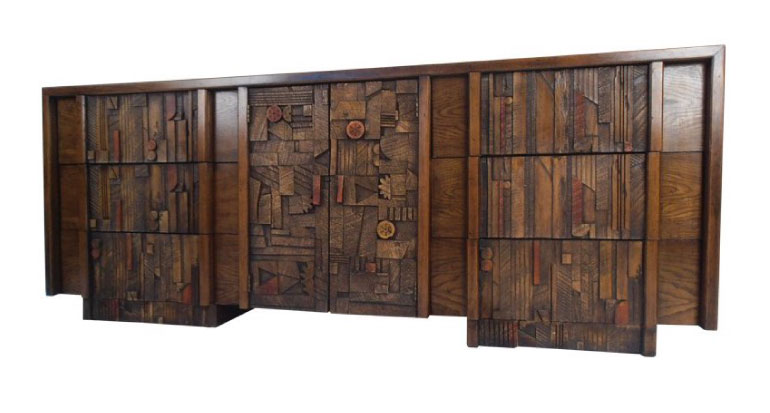 ---
Just about everybody has been in contact with at least one postmodern Mediterranean lowboy dresser or nightstand. The style was introduced in the 1970's as an over-decorated backlash to the clean and simple lines of the mid-century modernism that had ruled the design landscape for nearly 30 years.
---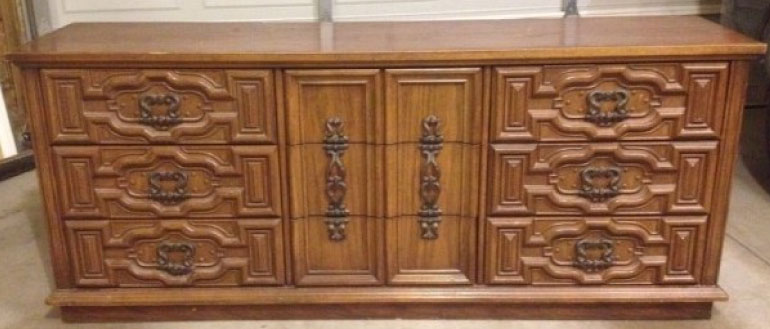 ---
The latest trend for these over-the-top fantastically ugly pieces, and I say ugly in the most loving way, is to paint them in a single bold color and add aggressively gold hardware.
---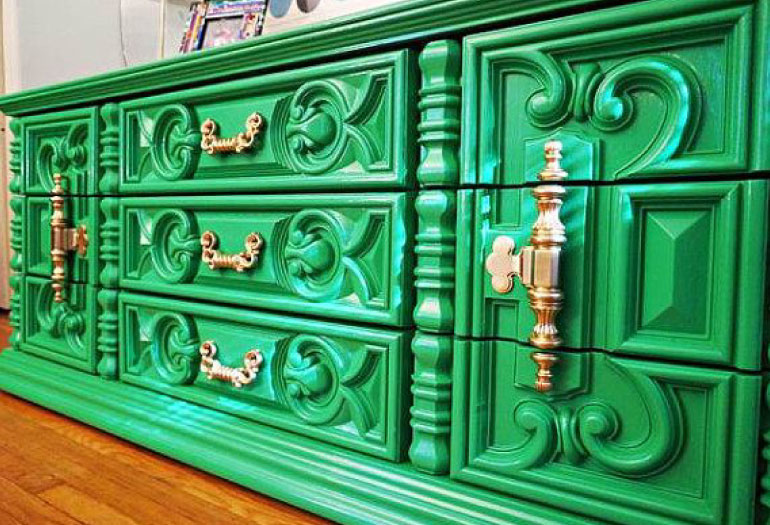 ---
Chinoiserie was a design concept that started in the 18th century. It is the imitation or evocation of Chinese motifs and techniques in Western furniture making. Essentially, it is western furniture attempting in a very distinct way to be Chinese, and while failing bitterly at doing so, it created an entirely new motif. A motif that I, for one, am in love with.
---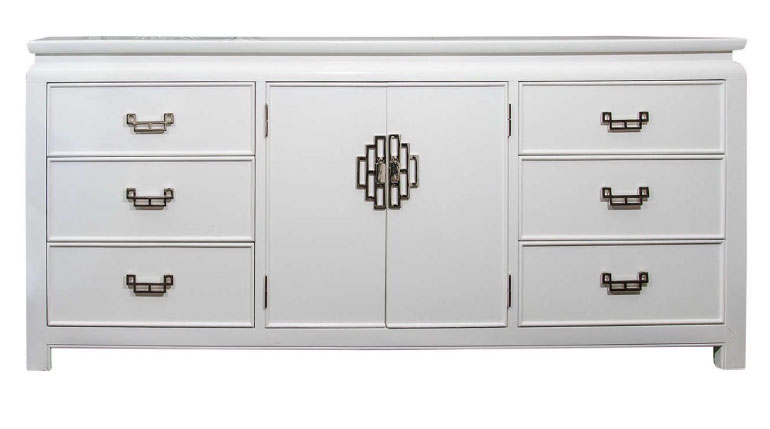 ---
Many of you will read this article and see these pictures and think to yourself, he is out of his mind, and that's cool. But five years from now, you will look back and say to yourself, how the heck did he know that?!? Trust me, sho'nuff, you will come around.
---
Justin M. Riordan, LEED AP is the founder of Spade and Archer Design Agency. As the creative energy behind Spade and Archer, Riordan fuses his formal training as an architect with his natural design savvy to create beautiful and authentic spaces for clients.
 

Prior to opening Spade and Archer in 2009, Riordan practiced interior architecture and interior construction for twelve years, bringing an esteemed skill set and diverse background to home staging. With more than a decade of hands-on project management and design experience, Riordan delivers an unmatched level of precision, expertise and service to his clients. Since founding Spade and Archer, he has personally prepared over 2,100 homes for market.