A sense of place tends to pervade homes in Oregon. When a client of interior designer Alison Kelly of Eugene's Delano Designs wanted to live in a Pacific Northwest home that looked more like the region it resides in, the project took on a whole new focus, one informed by Oregon lifestyles and environmentally friendly ethos.
"It's not just the Northwest style but also the materials," says Kelly. "Our theme is sustainable, beautiful materials that are also healthy."
---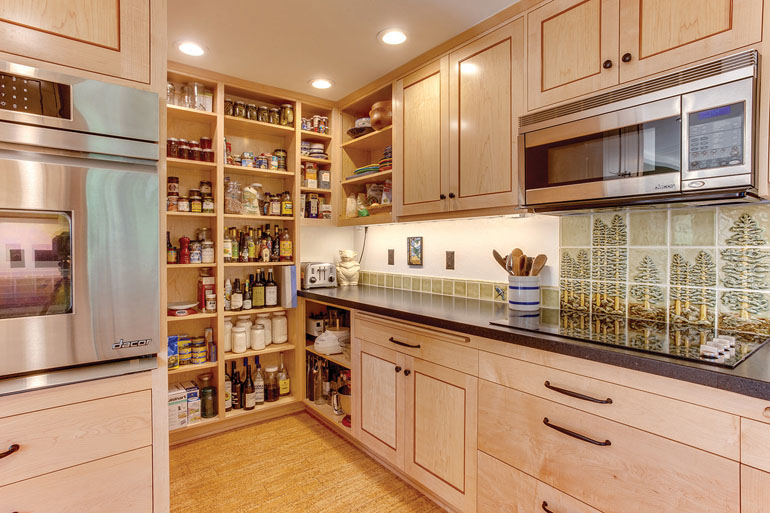 ---
Healthy is high on the priority list for Kelly, who experienced a health scare from off-gassing of carpets during her own home remodel 25 years ago. In response, she developed her design career to create comfortable, livable spaces using less toxic finishes and furnishings.
"I had to learn a lot about the kinds of furnishings that I could live with, and that got me interested in raising people's awareness and providing them with less toxic options," says Kelly. "There are many ways people can integrate healthy choices into their homes, and people don't always realize how much their surroundings impact them." Many home products that use plywood and other manufactured wood products contain formaldehyde, while paints, sealants, insulation and flooring products off-gas other harmful chemicals. By substituting less toxic options, the health of a home can be greatly improved.
---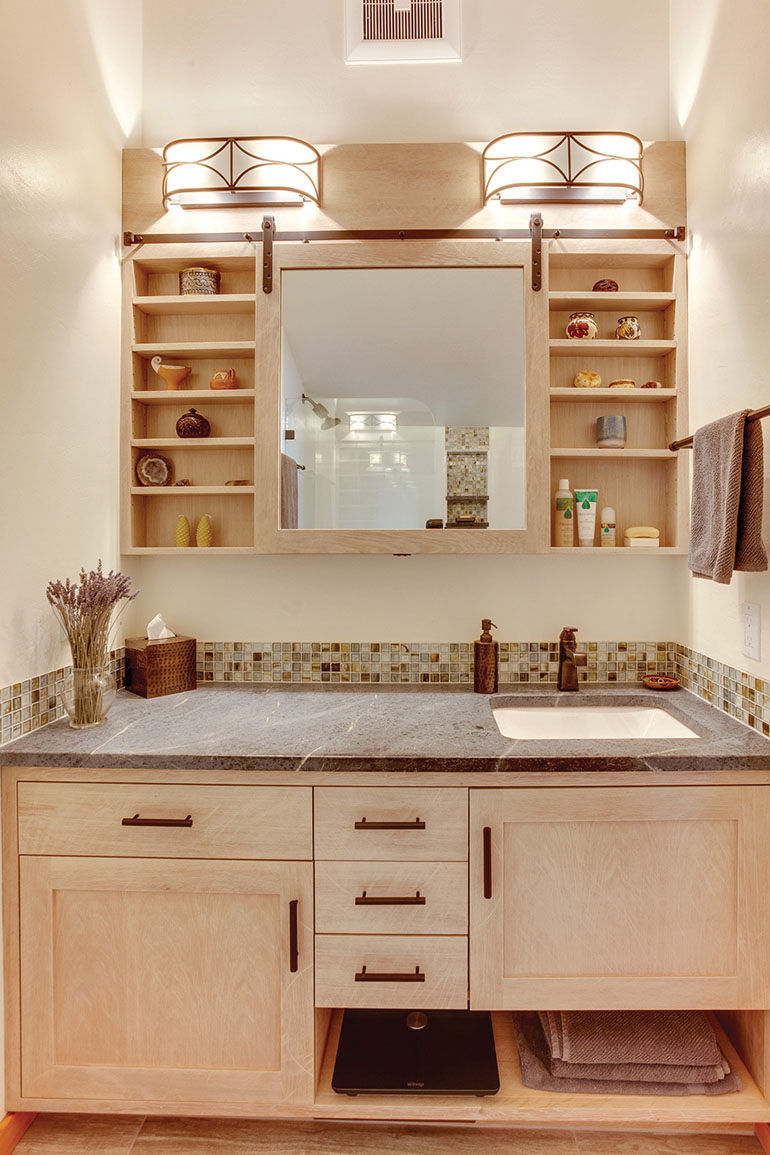 ---
Healthy and sustainable options were kept in mind throughout the renovation of this 1970s Eugene South Hills home. With the exception of cork flooring added to the kitchen area, the kitchen and baths had not been upgraded since the home's purchase. While the kitchen was large, it wasn't functional. The master bath was small and the half-bath scarcely had room for the person using it.
The client dreamed of soapstone countertops in the kitchen, but when that proved out of budget, Kelly sourced antiqued Cambrian black granite, sealed with a nontoxic sealer, which provided a more natural matte finish than traditional granite counters. A local cabinetmaker used red oak in the master bathroom, and formaldehyde-free plywood along with maple for the kitchen's cabinets and open shelving in the pantry.
Behind the stovetop, a backsplash of handmade ceramic tile from Portland's Pratt & Larson forms a mural of fir trees.
"It's the focal point of the kitchen," Kelly said.
---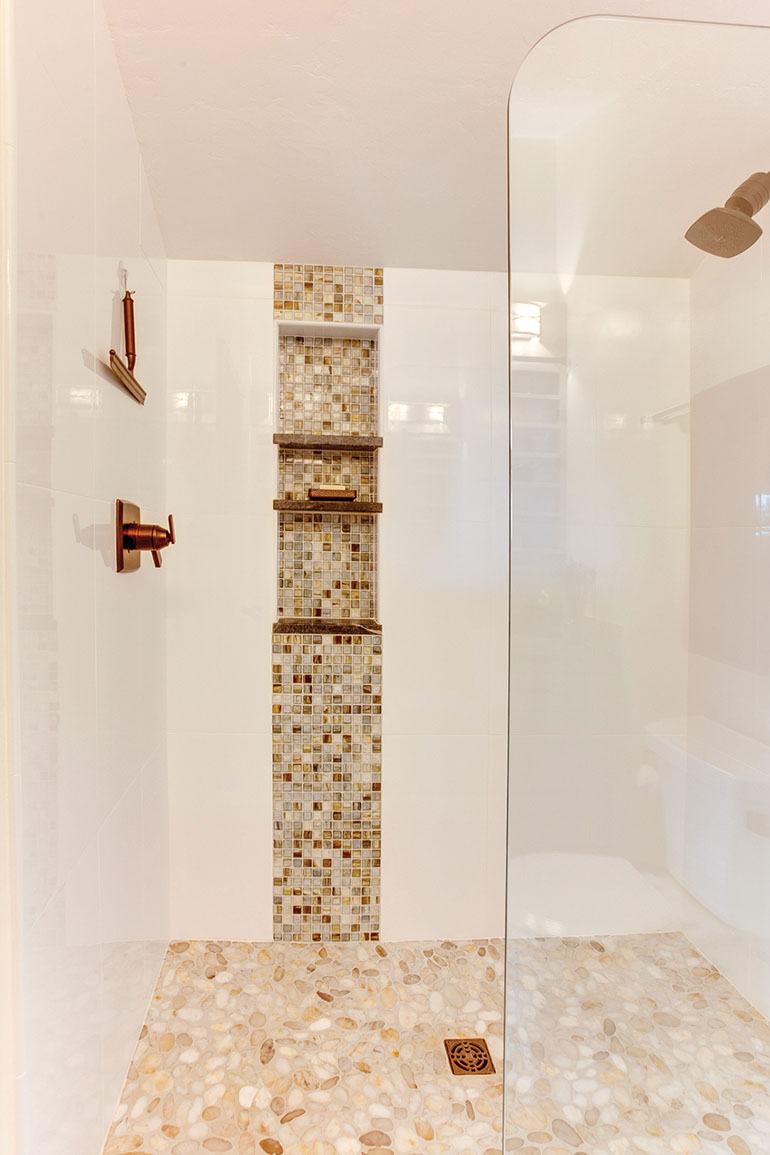 ---
To minimize intrusion on the master bath space, Kelly replaced a door with a sliding barn door. She reproduced that design element for the medicine cabinet, which slides on barn door hardware to reveal shelves. She removed the outdated bath/shower combo and replaced it with a shower featuring a pebbled tile floor. Recycled-content glass tiles accent the shower and provide a backsplash for the vanity. For the flooring, radiant heating was placed under porcelain tiles made to look like wood. And the client got the desired soapstone for the vanity counter. Kelly was able to find a remnant, which kept the price down considerably.
"Part of the goal was to include things that felt handcrafted and natural," says Kelly.
---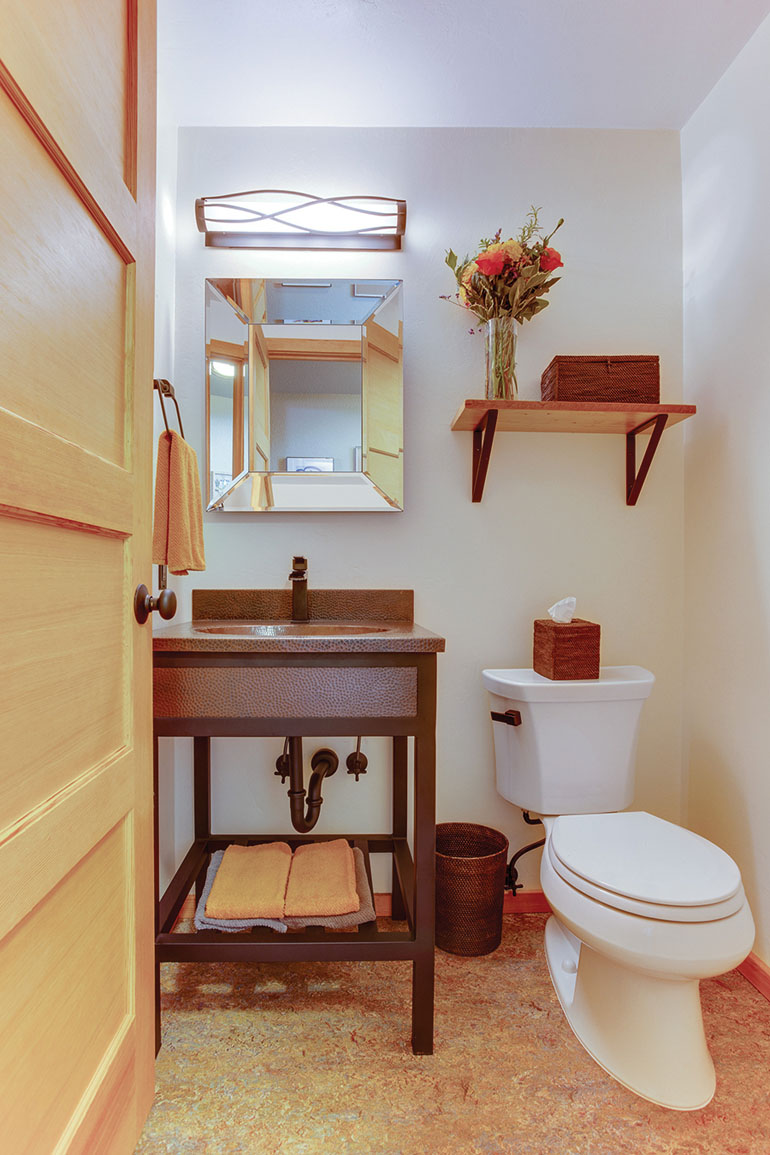 ---
For the tiny half bath, the bulky closed vanity was removed, and a handmade copper sink on an iron stand added personality, along with a colorful marmoleum (natural linoleum) floor. Lighting in the kitchen and bathrooms matches the living room sconces, to help maintain a cohesive look throughout the house.
Kelly's definition of design success is not to impose her own desires but rather to give the client a comfortable space imbued with their own personality. "It's a feeling my clients can enjoy long after my job is done, when they walk in the door of their home and say, 'I love this place, it's me,'" Kelly says. "When your space feels good to you and it works for how you live, it impacts how you feel every day."
---
>>For more information, visit: delanodesignshome.com