At Old Portland Hardware, craftsmanship and durability are two things that never go out of style.
---
Bret Hodgert, owner of Old Portland Hardware, believes that an antique's greatest value is not its monetary worth. He's not motivated by price but by item quality, authenticity and usefulness—the way older hardware makes you feel.
"These things aren't from an era of disposability like today," Hodgert says. "They are from a time when people took great care of their belongings—repairing them and handing them down generation to generation. Their value is in the feeling they evoke, the stories they tell and the function they serve."
In our busy, modern lives, we often long for connection to an older, slower, "more-quality-less-quantity" style of living. Portland is a haven for this growing nostalgia for analog experiences—think sipping a perfectly crafted Old Fashioned while setting the needle down on your favorite jazz LP. The city's stock of prewar housing and commercial buildings is the perfect backdrop for creating an immersive experience from another era. But how to get the vibe just right? Hardware makes a big difference.
Walking into Old Portland Hardware is like walking into the best of the past. Nestled in Portland's Sellwood neighborhood, the store is a 10,000-square-foot curated collection of immaculate antique hardware, fixtures and curiosities. There is everything from early 20th-century medical and science equipment to pinball mechanics, antique commercial lighting and apothecary bottles. But this isn't an antique mall. Serious renovators rely on Old Portland Hardware for period-appropriate door, window and lighting fixtures.
---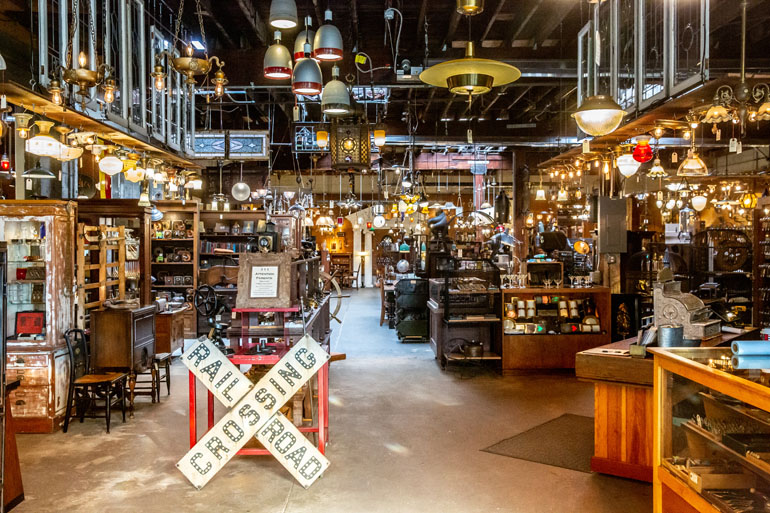 Inside Old Portland Hardware
---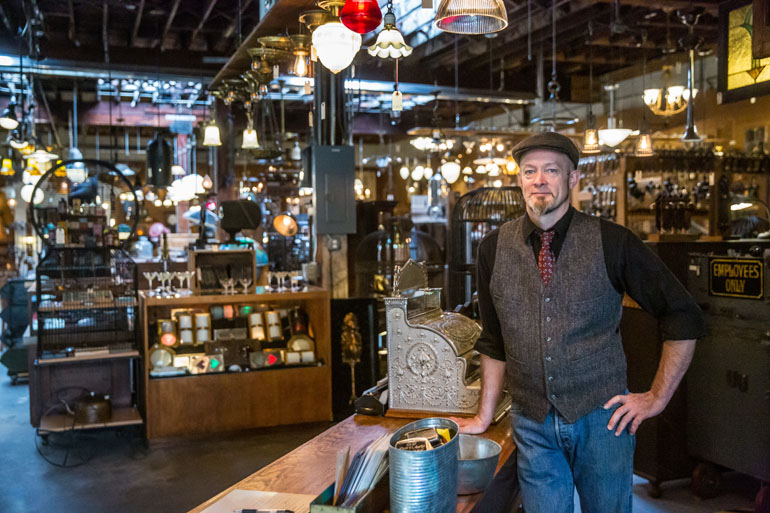 Bret Hodgert
---

Hodgert's reverence for the things of yesteryear is palpable in the showrooms. Everything is inspected, repaired and organized meticulously in the store. All the lighting is rewired and ready to be installed into a modern grid. All the hardware is cleaned, oiled and immaculately organized. If something is beautifully made or visually exciting but its purpose has become obsolete, Hodgert reimagines it into something new that still retains the spirit of the prewar era.
Everyone from the hippest Portland bar owners to savvy remodelers to private homeowners seek out Old Portland Hardware to add depth and atmosphere to their interiors. Lately, Hodgert has been outfitting private basements or bonus rooms as jazz-era-style speakeasies, including one for himself.
"I always wanted that old-school library space you can disappear into at the end of the day—to give you comfort and help you feel relaxed," said Hodgert. "We went all-in on one room to make it a transformative experience. I can put on an old jazz record, sip on a whiskey and truly unwind."
Hodgert emphasizes that these rooms are meant to be living, breathing spaces to interact with antiques in an authentic way that feels hip and relevant. They shouldn't feel like you're hanging out in your great-grandmother's stuffy and dusty sitting room.
He recently helped creative homeowners with a similar space. He calls the immersive experience of creating an interactive space rooted in a different era "hyper-saturated." The same principle applies to how these elements work in business interiors.
---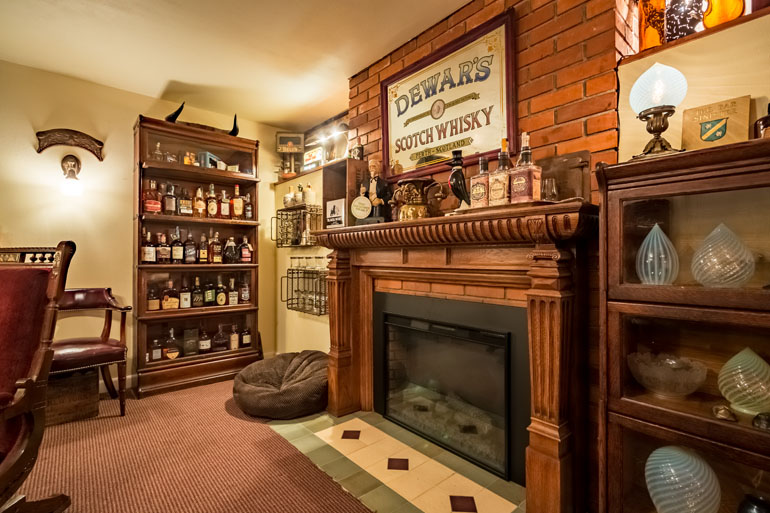 Old Portland Hardware outfitted this room as a jazz-era-style speakeasy.
---
"Portland and Oregon businesses want to create an atmosphere and depth to their interiors by capitalizing on that classic Portland vibe," Hodgert says. "I believe the warmth and history that these elements provide can become an essential contribution to a hospitality business's success."
Antiques and retrofits can be key to creating those welcoming places where people want to hang out, he says. He finds his treasures through a time-honed practice of visiting occupants in their old homes and finds pleasure in the hunt.
"In general, I don't go to estate sales," said Hodgert. "But every once in a while, I am invited to personal homes where I get to explore people's attics and basements. Usually, they don't result in too much, but there is the occasional treasure trove."
Hodgert recalls a time shortly after moving to their current location in Sellwood when an older couple came into the showroom. After looking around for a bit, they asked Hodgert if he would be interested in seeing some of their collections for a potential sale.
"It was incredible," says Hodgert. "Every room in their house was packed with immaculate collections upon collections. I felt like I had happened upon King Tut's tomb."
Running Old Portland Hardware is a childhood dream come true for Hodgert. "When I was a kid, I wanted to be that guy in National Geographic who was digging up artifacts in fantastical places," Hodgert says. "Later, after many twists and turns, I realized I am actually doing that. I think I have one of the coolest jobs in the world."
---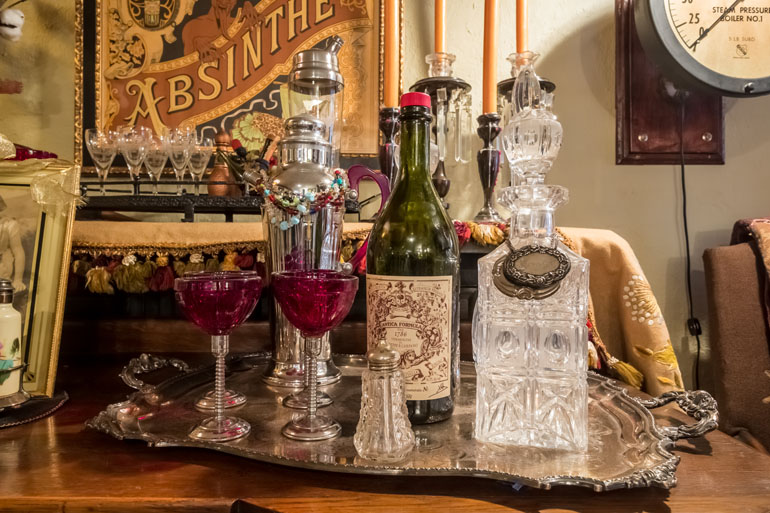 A client's home decorated with antiques.
---
For more info, visit: OldPortlandHardware.com | Instagram: @oldportland