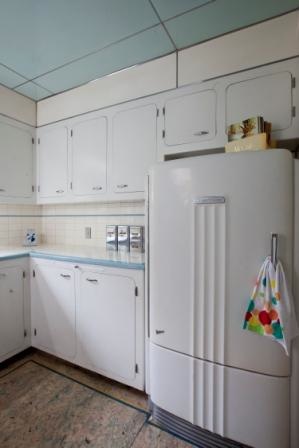 A 1930s kitchen is the newest on the AHC 2011 tour.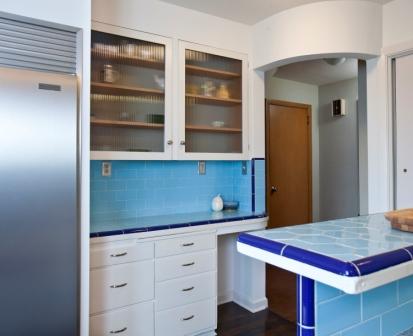 Photography by Elliott Anderson
Most of us have seen, what I like to call, Joan Rivers houses. They are homes of a certain age with really bad face lifts. The remodeling meant to make them look fresh and new, instead simply looks scary-weird. 
The Architectural Heritage Center knows all about updating a house while honoring its history. The center hosts its 13th annual Kitchen Revival Tour this Saturday with a self-guided tour of nine Portland houses. 
"It's educating and inspiring people to think differently," says Barbara Pierce marketing manager of the Architectural Heritage Center about the tour.   "It's showcasing how people can senstivitly preserve, remodel or restore."
The nine kitchens featured have been updated in ways appropriate to the period of the houses. Appropriate doesn't necessarily mean authentic to the period. For example, she says, in the 1910s, kitchens were utilitarian and rarely featured fancy trim or ornamental molding but adding period trim during a remodel can looks right. Other homeowners have successfully repositioned fridges to inconspicuous places in their circa 1920s kitchens, or hidden them behind cabinentry, something few would have considered doing in that era.
"Refrigerators were still new then," Pierce says. "And people were proud of those purchases."
The Architectural Heritage Center understands that home owners don't want to live in museum pieces. Successful restortoration or remodeling of a house, says  Pierce, maintains the aesthetic of a period while meeting the demands of modern life.
I'm thinking ditto on human faces.
Anybody have some fancy molding I could use?
The 2011 Kitchen Revival Tour
10 AM-4 PM, Saturday, April 16
Tickets $25, $20 for AHC members
Proceeds benefit AHC eductional programs and advocacy
(Start at the AHC at 701 SE Grand Avenue, Portland, OR 97214 for maps and information for self-guided tour)