Winter is nature's way of saying, "Build a mudroom."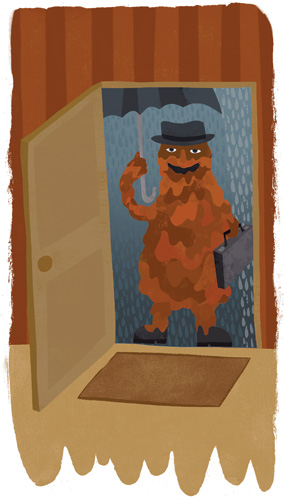 Illustration by Santiago Uceda
Front entryways are usually designed to make an impression. There's nothing wrong with a little razzle-dazzle to welcome guests, but for everyday access, most homeowners lean toward the practical, and there is nothing so sensible as a good mudroom.
Those little spaces are the places for dropping boots and hanging damp coats before traipsing through the rest of the house. They offer a weather buffer between the indoors and the not-always-so-great outdoors. They give the family dog room to let the fur fly, so to speak.
Traditionally, the mudroom was to a house what "and" is to a sentence, useful for connecting things but not particularly memorable. Instead, think of it as multipurpose entry-way that may include laundry, utilities or even a home office. Kirk Linder, project manager with remodel/contract company Mac-Bo in Portland, offered these design tips to consider when creating a mudroom:
Conceal the washer/dryer behind cabinets with clever hinged doors that swing open and can also slide back, like pocket doors, beside the machines to maximize workspace.
If concealing appliances, consider removable toe kicks attached with magnetic closures that easily pop off to access machines for repairs.
Put a countertop or shelf near the door, because the first thing most people want to do upon entering is set down keys, packages, bags, etc.
Make certain the threshold sits high enough to allow room beneath for doormats.
Know your surfaces. Detergent and bleach might damage granite. Don't be afraid to mix countertop materials; use less porous quartz or manmade surfaces for durability where needed. Look for different but harmonious colors to designate different areas of use. When done right, the mix makes a strong design element and might save you money if you can shop remnants.
---
 Mudroom gear