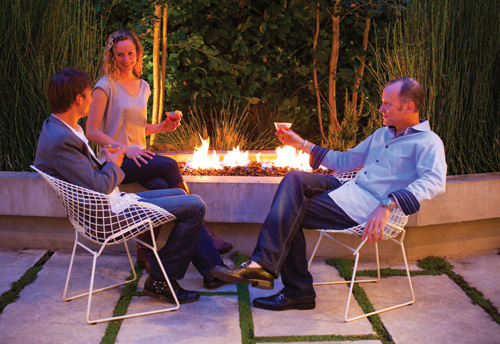 Photo by Ty Milford
My relatives in Florida think I'm nuts, and they're right. I am crazy for winter in Oregon. I love stoking the fireplace while sipping something warm and reading under the comforter. A snowfall always is most welcome. Yes, I spend more time indoors when it is cold, but my Florida family does the same during their brutal summers.
But at times I do get a touch of cabin fever, so I am grateful for any and all advice on how to make my home more inviting during the dark, chilly months. I admit it: Dire personal need was at the root of many of the stories we developed for this issue.
First, there are dozens of tips in managing editor Vivian McInerny's "Baby, It's Cold Outside" story, where Oregon design experts provide many doable ways to cozy up your home. It can be as simple as a few pillows or a different blanket for your bed. I personally like the idea of painting one wall a warm accent color.
Senior writer Margaret Foley searched high and low for the latest in fireplaces. I love my wood-burning fireplace, but some of the sleek contemporary styles amaze me with their sculptural beauty.
As always, garden editor Lucy Hardiman provides great insight into how to keep our gardens looking good no matter the weather. She details what kinds of plants are just right for containers and can withstand the short days and nippy temperatures. There's no need to let your exterior go completely blah during winter. (Ahem.)
Last, but certainly not least in my household, are entertaining editor Lucy Burningham's ideas for making your own signature cocktail. And in true Lucy style, she makes it fun and easy.
I hope this issue helps you make your home and your holidays creative and cozy. All of us at Oregon Home wish you a great New Year.
Robin Doussard