Above: Comfort food such as sausage, a radish and cucumber salad, sauerkraut and baked apples prepared by Portland restaurant Ned Ludd warms up chilly days and provides a reason for friends to gather around the table // Photo by Leah Nash
The grill may have been retired for the season and the last tomato harvested from the vine, but there's no need to get morose. As the nights become long and blustery, real comfort foods come to the rescue, making the indoors warm and welcoming once again.
While every culture serves some variation of hearty cuisine, the Germans do it right. Starting with Oktoberfest in early fall — a raucous beginning to the season — Germans roll out sausages piled on plates, dumplings cooked in pork fat, braised vegetables and potatoes done 20 ways.
And then there's the beer. "In Central Europe, beer has always been considered food," says brewer Van Havig, formerly of Rock Bottom Brewery in Portland. "Ergo the beer is made to complement the food and vice versa."
---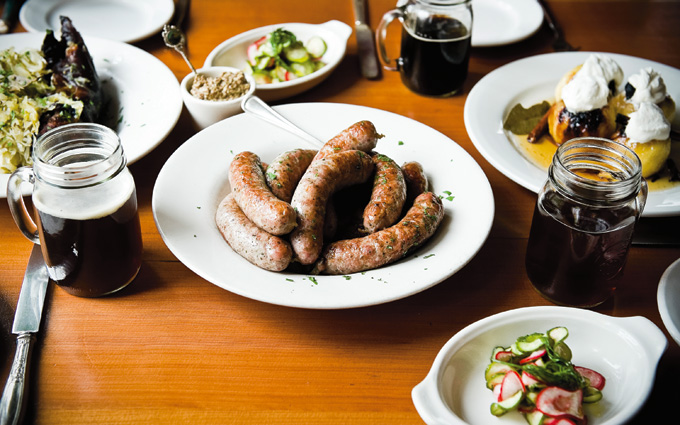 Comfort food such as sausage, a radish and cucumber salad, sauerkraut and baked apples prepared by Portland restaurant Ned Ludd.
Photo by Leah Nash
German culinary traditions represent a mishmash of influences, from Hungary to France, the same combinations that inspire much of the fare at Ned Ludd restaurant, including the weekly 5-gallon batch of sauerkraut and the whole butchered hog. Chef Jason French says he loves German food for its simplicity, which is derived from the basic ingredients available in much of the countryside: freshwater fish, pork and a limited range of vegetables.
It's the kind of food that can do without fussy presentations, complicated spice mixtures or exotic cooking techniques, he says. "The food of the central European corridor is like your grandmother's cooking," French explains. "When you try to take soul food like this and clean it up, it loses some of its oomph. It's meant to be a little down and dirty."
That quality makes German-inspired meals ideal for easy entertaining or soul-satisfying family suppers. For example, rotisserie chicken is a classic Oktoberfest dish, says Matt Bennett, chef at Sybaris restaurant in Albany. "Buy one at the store, make a few basic sides, and serve it all with a smile, knowing you're being really authentic," he says. Or swap the chicken for a plate of sausages.
For a great side dish, Bennett recommends a "real German potato salad" (as opposed to the Midwest variation, which includes sugar). His recipe requires making a dressing out of one part stock (from whatever meat you're making for the main course), one part vinegar and two parts oil. Boil potatoes, coat with some of the dressing and toss with a generous amount of cracked black pepper. Or turn potatoes into a basic but hearty soup, from nothing more than potatoes, cream, onions and bacon fat.
---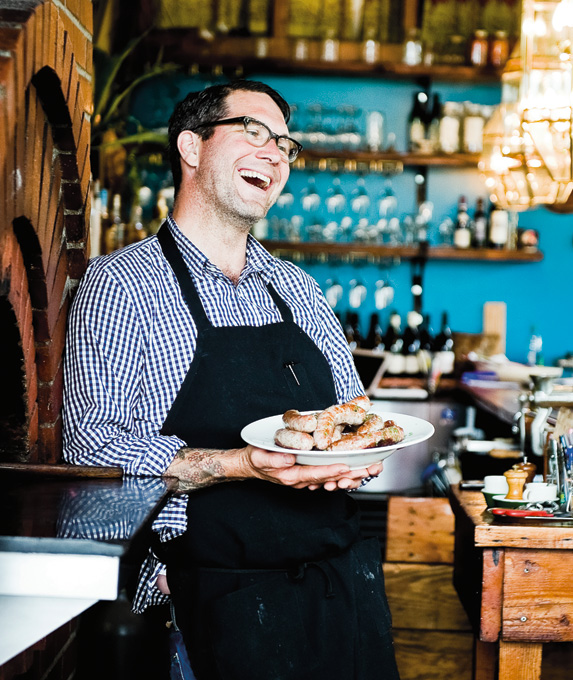 Ned Ludd chef Jason French helps butcher whole and half hogs from Afton Field Farms in Corvallis for the housemade sausages, which he cooks in cast iron in the wood-fired oven.
Photo by Leah Nash
Cabbage is another traditional ingredient in a German meal, either as sauerkraut, braised in stock, or sautéed in butter with a splash of white wine. "Will the cabbage be better with bacon?" Bennett asks. "Yeah, of course. What isn't?" He advises cooking two strips of bacon for every whole head of cabbage.
Bennett says most German food is traditional country-style cuisine, which means meat is served in small portions alongside a starch, which adds heft to the meal. Where Italians have pasta, Germans have potato dumplings (Bennett serves his with fried onions and a little sour cream) and spaetzel, the ubiquitous soft egg noodles that sometimes come shaped like mini-dumplings.
While German food isn't known for fiery spices, it does commonly include caraway, marjoram, black pepper, curry powder and paprika, great additions to meat and veggie dishes.
---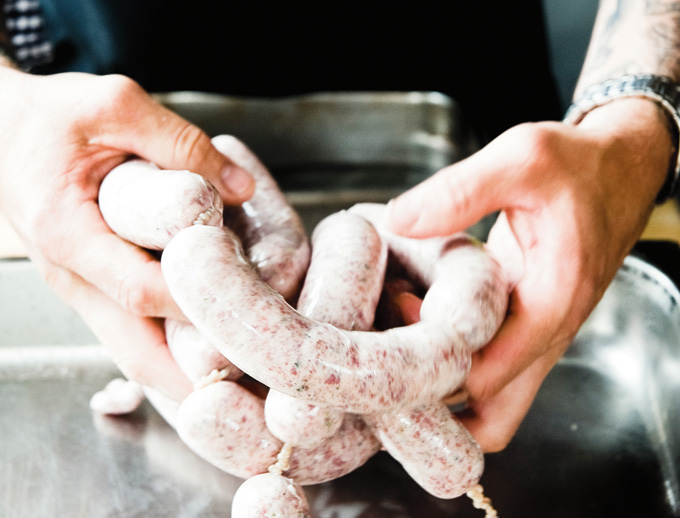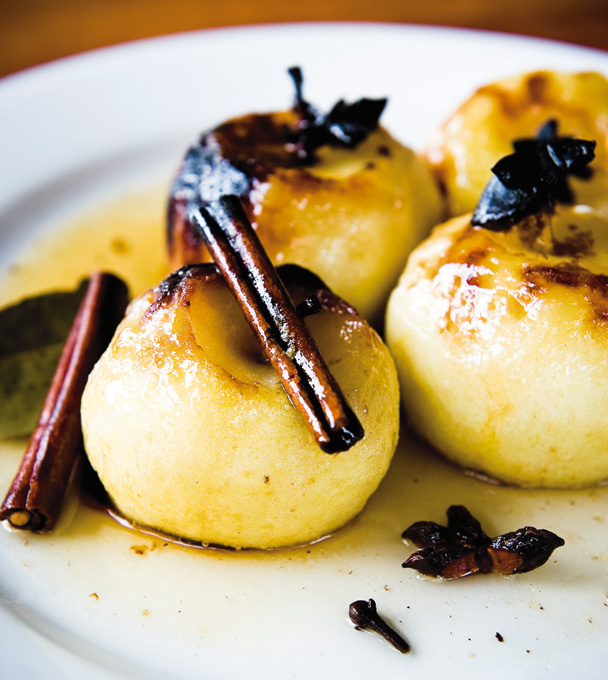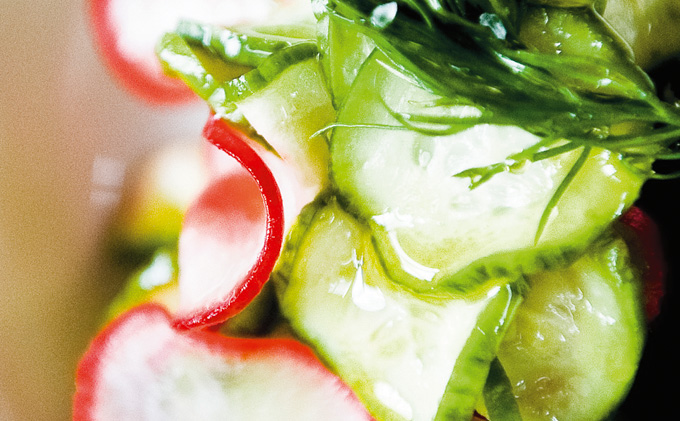 Sausages at Ned Ludd feature a rotating cast of spices, depending on the season; whole cloves, cinnamon sticks and star anise adorn apples baked in the restaurant's wood-fired oven; a fresh radish, cucumber and dill salad offsets the heaviness of the rest of the meal.
Photos by Leah Nash
A German-inspired meal wouldn't be complete without beer. "In Germany, a proper meal isn't enjoyed without beer and friends," says Van Havig. "It's only due to American influence in Germany post-WWII that the cafeterias in many businesses no longer serve beer at lunch."
Just because Germans take their beer so seriously (since 1516, brewers have been admonished by law to make beer from just four ingredients: water, yeast, barley and hops), doesn't mean you have to follow suit. It's more important to have some kind of beer at the table than none at all.
For the heartier dishes of fall and winter, choose maltier styles like Dunklesweizen, Rauchbier, Doppelbock or Märzen. Brews from German breweries Paulander, Spaten and Bitburger are easy to find in most Oregon grocery stores with good beer selections. Or look for German-inspired beers from local brewers.
For dessert? Go beyond the clichéd Black Forest torte (you know, with faux whipped cream and cherry filling), and choose something simple and light, such as a baked apple or a gingerbread cake served with warm sautéed apples.
Then throw another log in the fireplace, raise your stein and say "Prost" to dark nights and cool weather.
---
Great local ingredients for a German feast
Roasted hazelnuts from Freddy Guys Filberts, Monmouth
Desiree potatoes from Gathering Together Farm, Philomath
Cabbage from Detering Orchards, Harrisburg
Caraway from Penzey's Spices, Beaverton and two Portland locations
Brockwurst from Otto's Sausage Kitchen and Meat, Portland
Apples from Viridian Farms, Dayton
---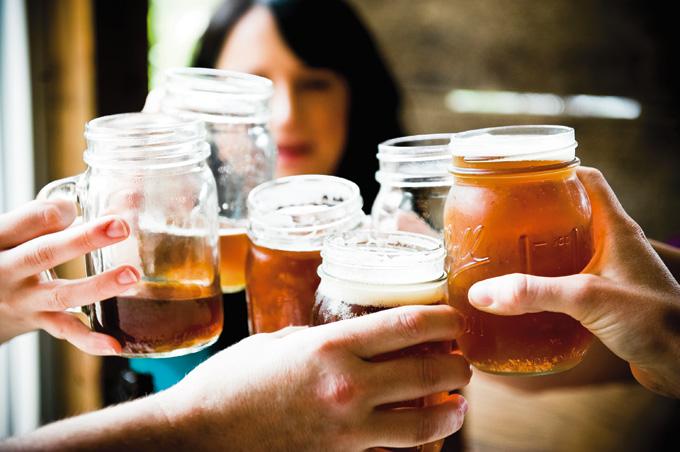 Photo by Leah Nash
The five best German-influenced Oregon beers
Widmer Brothers Altbier, a German-style Altbier with a bit of roastiness and a bitter backbone.
Heater Allen Dunkel, a dark reddish brown beer made with mostly Munich malt.
Vertigo Schwindel Alt, a lighter, crisp beer with a dry finish and a smooth mouthfeel.
Ninkasi Sleigh'r Dark Double Alt Ale, a warm, caramel-colored beer with hints of gingerbread.
Oakshire Harvest Ale, a Marzen-influenced beer that tastes toasty with a hint of floral hops.
---
Making it easy (recipes)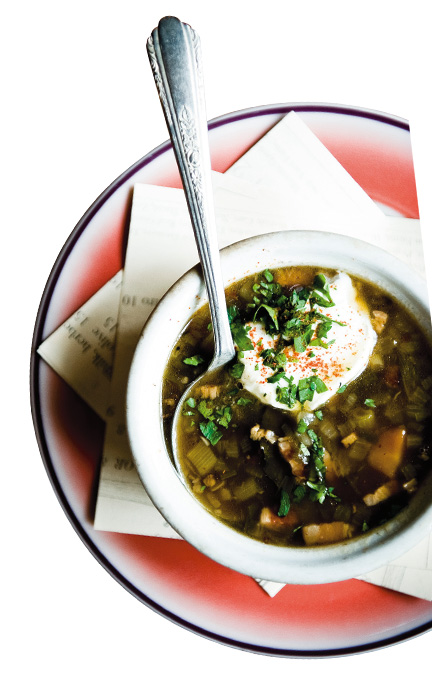 Easy German Soup
By Jason French at Ned Ludd
1 large onion, peeled and diced
2 leeks, trimmed, washed and diced
2 small carrots, washed and diced
1 stalk celery, diced
2 strips bacon, diced (can be omitted) or 2 tablespoons butter or olive oil
2 bay leaves
4 juniper berries, smashed
1 tablespoon caraway seed, smashed
10 small German Butterball potatoes,
washed and diced
4 qt. stock or water
salt and white pepper to taste
sauerkraut and crème fraiche as desired
Sweat vegetables in a skillet with the bacon on low heat, allowing the bacon fat to render (or use butter or oil in the same manner). Add spices and bay leaves as the vegetables soften. Increase the heat, add the potatoes and liquid. Season and bring to a boil.
 Simmer the soup over medium heat until the potatoes are soft. Taste, adjust seasoning and mash the potatoes a bit with a masher or spatula to create a nice rich soup. Garnish with a dollop of sauerkraut and crème fraiche, if desired. A nice warm rye bread would complement this dish well. Serves 6 as a side, 2 as a main.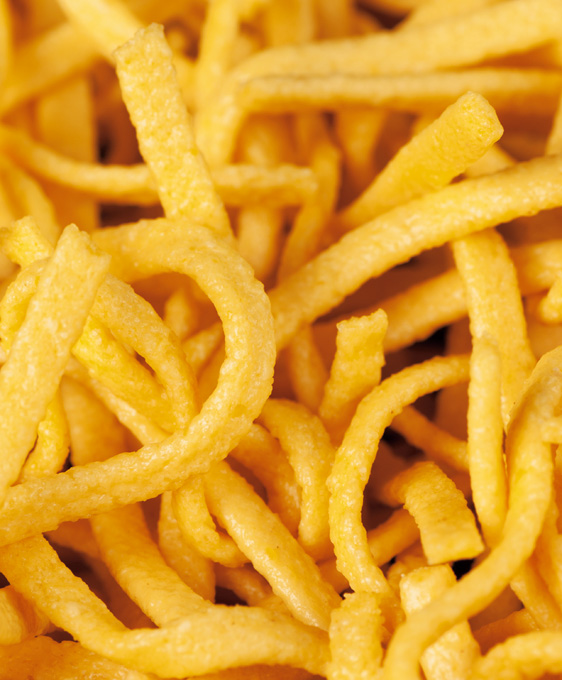 Spaetzle
By Matt Bennett at Sybaris
4 cups flour, sifted
1 teaspoon salt
½ teaspoon grated nutmeg
5 eggs, beaten
2 quarts boiling water, salted
with 2 teaspoons salt
5 tablespoons butter
Mix dry ingredients together. Add eggs and mix. Slowly add milk and mix with a sturdy wooden spoon to make a heavy dough. Using a heavy rubber spatula, force the dough through a large-holed colander into the rapidly boiling water. Boil until noodles float to the top. Remove spaetzle from boiling water and put into a bowl of ice water, drain. Sauté in butter (or bacon fat) until golden brown. Serves 6.